Sailboat racing on the Bay is a beloved pastime for many in Chesapeake country. During spring and summer, there are weekly races and regattas on the Bay and its many tributaries. But for those sailors wanting more of a challenge, there's the A2N.
The Annapolis to Newport (A2N) race sets sail on a 475-mile course from the Annapolis area June 1 with the finish line in Newport, Rhode Island. This will be the 39th running of the biennial event (alternating years with the Annapolis to Bermuda race) but the race has existed in various forms dating back to the 1970s. Until the mid-1950s, it was the Newport-Annapolis race, but after complaints from the sailors about slow trips up the Chesapeake after a long ocean race, the course was reversed in 1957.
In the beginning, the A2N was solely the domain of hardened offshore skippers with boats designed specifically for the purpose. That has changed over the years as organizers, with host Annapolis Yacht Club, made a conscious effort to attract a broader range of sailboats. An effort that began in 2015 has led owners who would never previously have considered the event to enter and finish.
"The club made a real effort to reinvigorate the race and involve folks who were not the usual suspects for offshore racing," Annapolis-to-Newport chairman Jim Praley said. "We have done a lot of things to bring in new folks and have refined those initiatives over time. It has succeeded in attracting a much more diverse fleet of raceboats. We're very pleased with the number of cruising-oriented boats that are now entering."
Chesapeake Bay Magazine's publisher emeritus John Stefancik will be competing for the first time in this year's A2N. With plenty of Bay sailing under his belt, the ocean race will be a new experience for him. "To this point, the biggest race that I've done was the Chicago to Mackinac race. I've spent so much time working on sailboats—both my own and other people's—I've rarely had time to compete in events other than here on the Chesapeake."
Stefancik will be on the A L'Assaut, a Dufour 40 owned by Kurt Cerny of Severna Park.
It's the lure of the ocean and the challenge of navigating different waters that appeals to sailors of all experience levels to sign up. "There's a lot of racing that goes on on the Chesapeake Bay, particularly in the Annapolis area. But since we are 130 miles from it, we don't experience the ocean," says Stefancik. "This is one of the rare events where we get to combine racing on the Bay with being out on the ocean."
History will be made during the 2023 A2N when an all-women crew joins the race. Leading the Change, a program with the Magenta Project, is a team of seven female sailors. They will be racing Kyrie, a Tartan 4100 owned by Annapolis resident Beth Berry, who skippered in four previous A2N races. The Magenta Project is a collective of sailors committed to creating equal access and opportunities for women in sailing.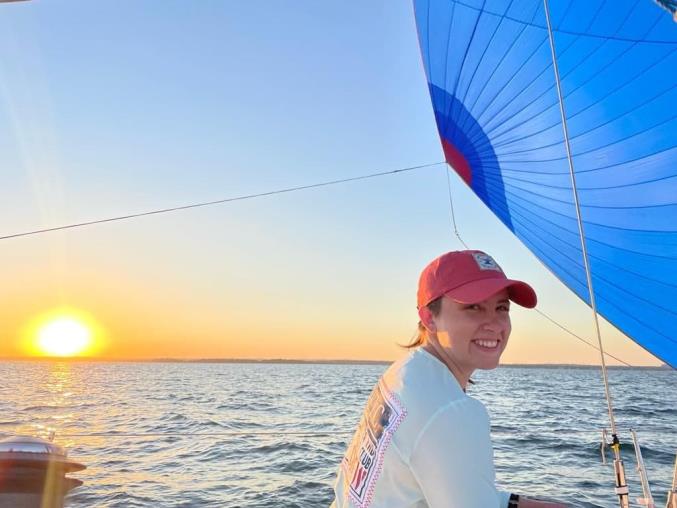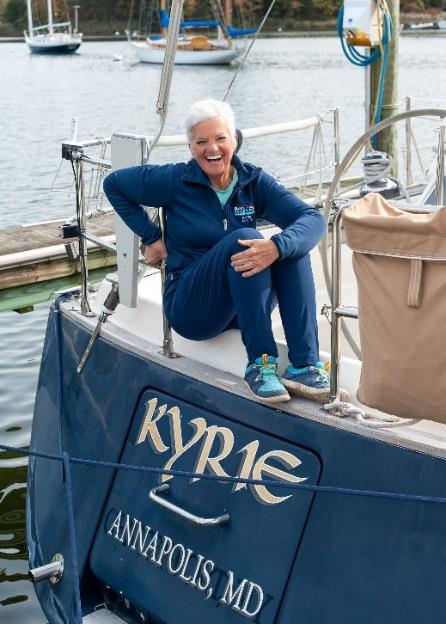 "What we're doing is very aligned with the Magenta Project mission. Women are underrepresented in positions of leadership in offshore racing," says skipper Maya Hoffman. "We are fully committed to advancing women in the sport by gaining more access and becoming more competitive. Our intent with this Annapolis-to-Newport Race program is to give young women with experience, skills, and talent a chance to be leaders offshore."
Hoffman spent summers living with her grandparents in Monterey, California, and learned to sail at age 8. She started racing dinghies at Monterey Peninsula Yacht Club then graduated to keelboats. She attended Mount Holyoke College and was a member of the Massachusetts-Amherst intercollegiate sailing team.
After graduating college, Hoffman lived in the Washington, D.C., area and got involved in racing on the Potomac River and the Chesapeake Bay. She competed in buoy racing out of Herrington Harbour and raced Lightnings out of Severn Sailing Association and the Potomac River Sailing Association. She did several point-to-point distance races, including the renowned Governor's Cup.
Duane Geruschat has raced every year since 2011 with the Navy's offshore teams. Although he is taking this year off, Geruschat says he has fond memories of the A2N. "For me, it's a special experience, being out in the middle of the ocean. To be alone with just your crew to rely on and experience Mother Nature—to witness a super clear night with no moonlight and see all the stars in the sky and to feel the motion of the boat underneath me. It's like yoga. It's very therapeutic."
Geruschat admits that the therapy also comes with some moments of stress. "For first-timers, it could take years to prepare for a race like this. The safety regulations are really stringent and have become more and more so over the years. There's a lot of details to consider that the average Bay cruiser probably wouldn't be aware of."
The race presents unique challenges to those hearty sailors who answer the call. For Stefancik, it's seasickness. "I hear that older sailors commonly develop seasickness as they age and I have medication to help combat that. But racing long distances—three to five days—is not something that is comfortable. But we do it. We do it for the same reasons people go tent camping in difficult terrain. It's a challenge, it makes you feel more alive. And the racing element makes it so satisfying to complete it. Even more so if you do well."
The current race lineup includes 69 boats from mostly mid-Atlantic states, a majority based in the Annapolis area. There are a variety of boats and the racers range from double-handers (two-person crew) to 12-person crews.
This will be the seventh race for sailor Randy Gray, racing on Cookie Monster. He also points out the technical challenges of the A2N. "It's a challenge to shift mindsets from the tactical first part of the race in the Bay where you can see your competition, have very localized wind and current, and then going offshore where you need to make your own plan and sail that plan."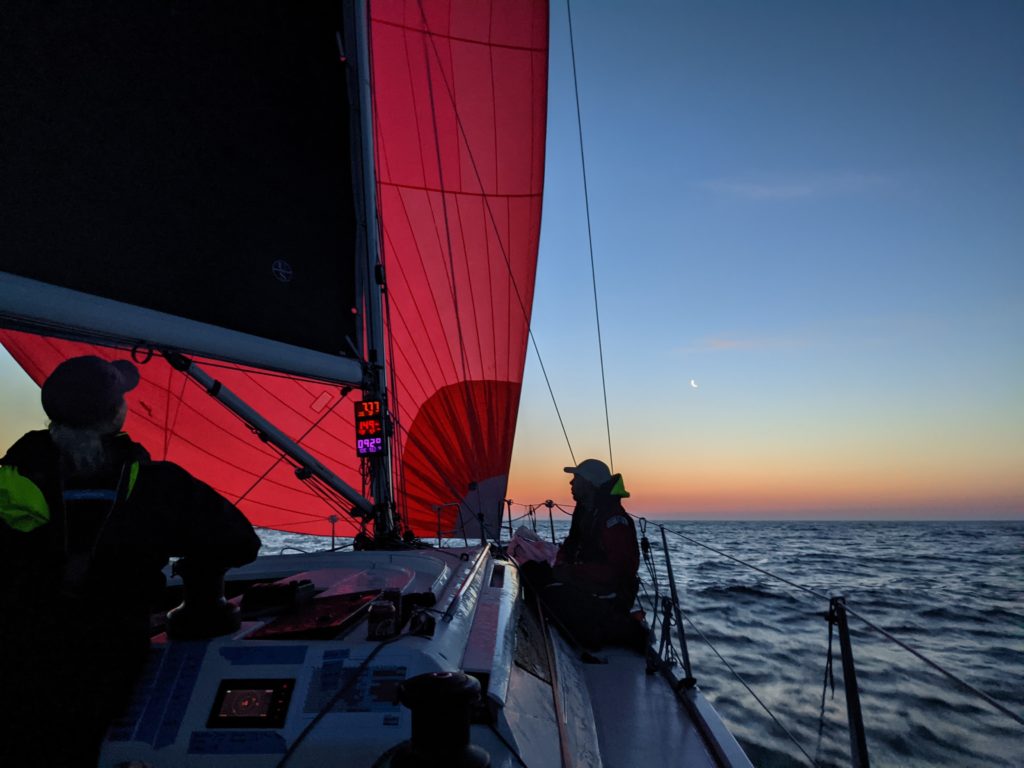 Gray says despite the challenge, it is a race he looks forward to. "You never know what the race will actually be like when you sign up, so initially you're mainly looking forward to sailing with your friends and (going) offshore. As it gets closer, maybe you have a good weather forecast and you're looking forward to some fast downwind sailing."
Whatever the weather forecast holds for the racers, these final days of preparation matter when it comes to crossing the finish line. The current record for the fastest race was set in 2017 by Warrior, a Volvo 70 skippered by Stephen Murray Jr. The boat finished the race in 40 hours, 14 minutes, 36 seconds.
The boats are all equipped with tracking devices so friends, fans and families can follow their progress online. "It's kinda fun to watch online," says Stefancik. "There are points in the race where you may have to anchor the boat because the tide is going out or coming in and if you are watching online, the tracker shows the boat just stopped and it's like a little game to figure out what's happening out there."