A bald eagle, found blind and unable to fend for itself, is getting the help it needs thanks to a chain of generous people.
A group of kayakers first spotted the eagle, which appeared to be struggling, sitting on the rocky banks at Susquehanna State Park. That's when the Susquehannock Wildlife Society, a nonprofit wildlife rescue that serves the lower Susquehanna area, stepped in.
Volunteer research assistant John Garrison scaled down the rocks to reach the bird. With help from another volunteer, Madison Lundon, Garrison was able to catch the eagle and bring it to Chadwell Animal Hospital, which does pro-bono wildlife work. The veterinarians there assessed the bald eagle's condition and found it to be at least partially blind.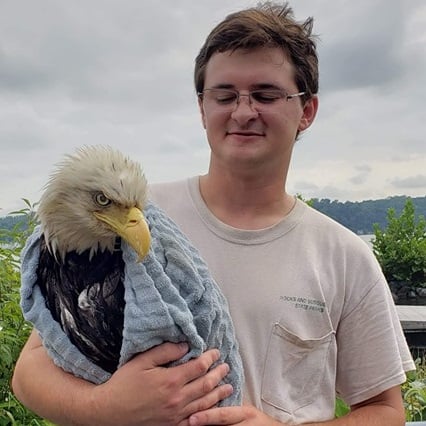 "It appeared to have flown into something," explains Susquehannock Wildlife Society Executive Director Scott McDaniel, and vets noticed "pretty severe cataracts" during their assessment.
It was clear the bald eagle probably couldn't function in the wild on its own, given the difficulty of hunting and eating. So rescuers and the animal hospital connected with TriState Bird Rescue & Research in Newark, Delaware, which agreed to take the eagle for rehabilitation.
"They're experts at treating raptors," McDaniel says. "The goal is to treat it, and hopefully it will end up in an educational program somewhere."
TriState Bird Rescue estimates it treats 3,000 wildlife patients a year, and 300 of them are birds of prey.
-Meg Walburn Viviano