In a surprising turn of events in an otherwise dismal year, the boating industry boomed in 2020 as families focused on spending quality time—and money—out on the water. Boat dealers and suppliers throughout the Chesapeake Bay region have adapted to the opportunities as well as the challenges that this sudden change in the industry presented.
"We were a little concerned in March when Governor Hogan decided to close the Bay," recalls Mark Andrews, co-owner of Annapolis Yacht Sales (AYS). "We actively campaigned to get him to change his mind and thankfully, he did; and once he did we turned to some marketing campaigns to say, 'You can't do much else, so why not get out on the Bay?'"
The Annapolis-based company has been in business since 1953, and currently has four locations selling new and brokerage power and sailboats, with a new location about to launch in Virginia Beach. "We saw most of the activity on the powerboat side in the 20- to 32-foot range," Andrews reports. "We saw sales uptick in both new units and brokerage boats, across the spectrum to the point where AYS and other dealers are sensing there are supply-chain challenges on both sides."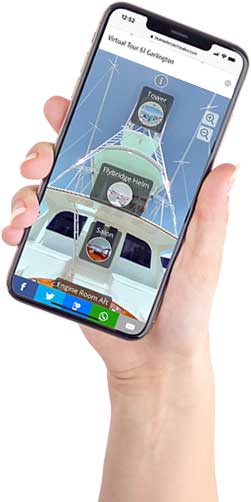 There are definitely fewer brokerage boats available, Andrews notes. "On the new-boat side, there are going to be challenges because the manufacturers have so many orders from across the country. Edgewater is completely sold out until 2022. Fortunately, we ordered ahead of time, but if people want a new boat for the spring, they'd better order them sooner than later. If people are interested in selling their boats, now's a great time; they're getting top dollar."
Manufacturers in the U.S. and around the globe had to shut down production in the spring, which meant most dealers missed one whole quarter of sales. "But they're all up and running, and we're caught up in the supply chain," Andrews notes. "Right down the line, parts, engines—everything was back-ordered and hard to get, but we've worked through those issues and we're close to being caught up. We also got an uptick on the service side because the more you use boats, the more you repair boats."
Many dealers had to modify their marketing plans on the fly when the fall boat shows were canceled owing to pandemic concerns, as have the winter shows. "We plan to shift a lot of our marketing strategy to more local sales events with limited crowds," Andrews explains. "Our Walk the Dock promotion in the fall worked very well, so we'll do more like that both in the spring and fall in 2021."
AYS has taken advantage of a unique opportunity presented by the changes in 2020. "One of the most exciting things that came out of this epidemic is that the charter business is forever changed," Andrews explains. Since travel to the Caribbean has been hampered, the fleet of charter boats there has been idle. AYS has been acquiring some of these vessels and bringing them to the Bay for charter.
"We opened a new company called Chesapeake Bay Yacht Charters featuring Beneteau monohulls and Lagoon catamarans, to give people from across the country the opportunity to sail on the Chesapeake. It allows us to take that customer from being two or three years away from owning their own boat to investing in a charter boat and being able to use it as much as they want to."
Baxter Lusink, National Sales Director of Bluewater Yacht Sales, manages nine offices in four states, including a new location in Annapolis. They represent seven brands of powerboats, from center consoles to ocean-going yachts, plus brokerage boats. "We're blessed that all of our territory from Florida through the mid-Atlantic is on fire," he notes.
Their marketing effort relies heavily on video walk-throughs on digital media. "Our website hits, our social media numbers have gone up over 1,000 percent," Lusink explains. "We do the 3-D tours and drone footage," he says, but not all of the presentations are so high-tech. "The 55 Viking tour, we did on a cell phone," he notes, and the boat was sold just a few days after the video was posted on their website.
"It's all about getting the listing from a for-sale sign on a post to experiencing the boat," Lusink explains. "It's not rocket science, but we've been amazed at the results. Without question, every single video we've shot has had a serious buyer within days."
Lusink notes that inventory is tight on certain boat models. "We're selling through all of our used boat inventory," he says. "It's obviously a seller's market. Depending upon the brand, some sellers are getting more than they paid for their boat. The market is so hot, we're always looking for good-quality listings to maximize the seller's return."
So this is not the time to be too picky, he cautions. "You're never going to be able to get a summer of boating back, so if you're waiting to get the perfect deal, you might lose a season. The industry is slowly catching up with demand, but if there's a build slot for a new boat or if there's a brokerage listing available that fits your criteria, jump on it now."
When the U.S. Powerboat Show got canceled, Chesapeake Whalertowne hosted a 10-day, mini boat show of their own last fall at their location at City Dock in Annapolis. "That was off the charts," reports Rick Boulay Jr., Whalertowne's general manager. "It was really meant to debut the 240 Advantage, the new bow rider we just launched to replace the 230. It's got more of an offshore-capable stance that makes it perfect for the Bay."
The sales event was by appointment only, and "it was exactly what the buyers wanted," Boulay recalls. The company has increased its social-media marketing along with its print ads in boating magazines. But "people still need access to the water to make a purchasing decision," Boulay notes, "and the fact that we were able to provide that was a home run. That was one of the most successful events we've ever produced. We'll have a follow-up one in the spring, and probably several of those, with the absence of boat shows. That's how we're going to reach our customers."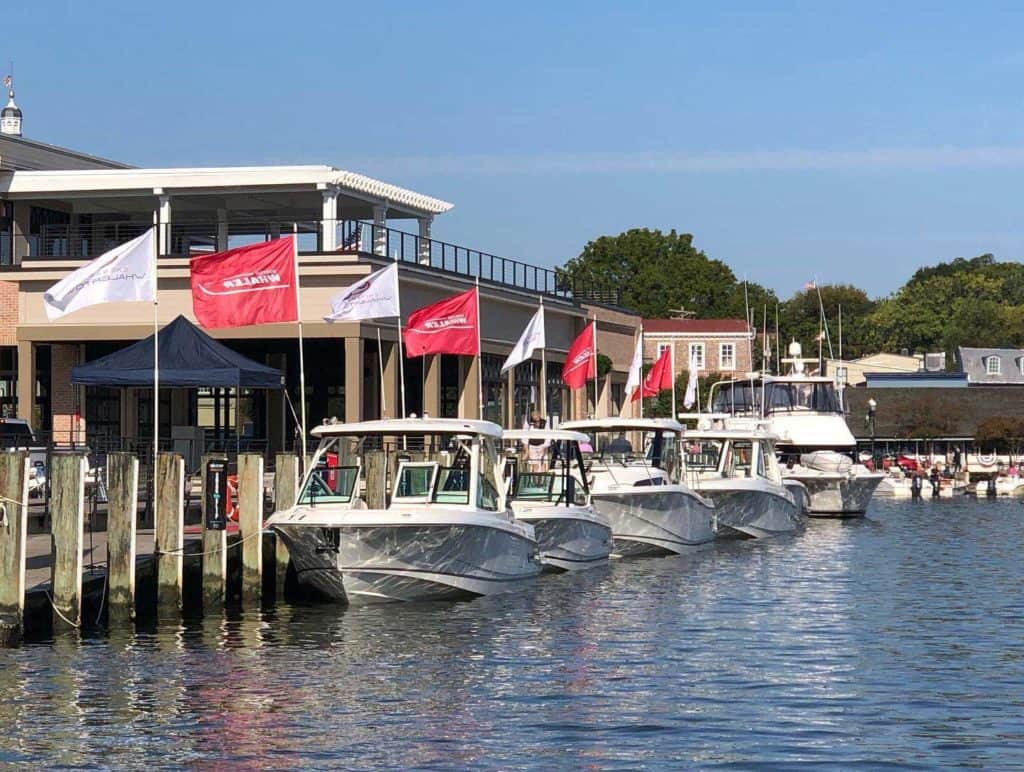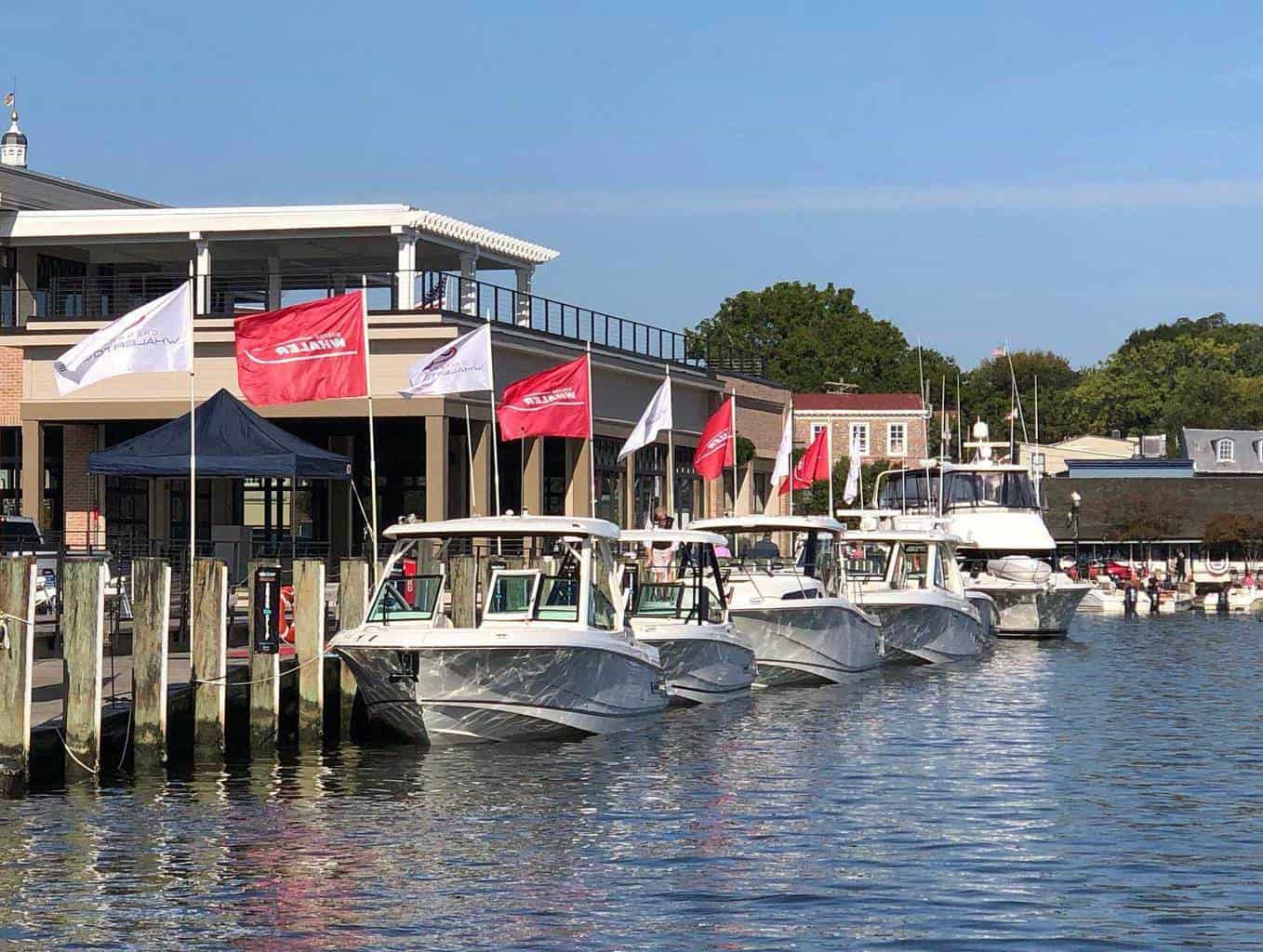 Sales of boating accessories and custom add-ons have been booming, too. Seakeeper, which manufactures gyrostabilizers for boats 23 feet and longer, is planning to increase production more than 40 percent in 2021 to keep pace with demand, according to Kelsey Barrett, Seakeeper's communications manager.
"I don't think anybody expected just how many people are buying boats," she admits. "That's a big plus, but it's also a big challenge. We've had to increase production; we're working day and night, everybody's pulled out all the stops. We're preparing now for a strong year ahead for us."
Their biggest focus for this whole year has been on 23- to 30-foot center consoles, Barrett explains. "The Seakeeper I and II are seeing the biggest growth. They're bringing stabilization to the people who have never had that before, and people who are new to boating appreciate having the option. It's one less thing to have to worry about, and everybody on board is more comfortable, so it's been helping that new boater as well."
Dave Baumgartner, owner of Riverside Marine in Essex, Maryland, has been selling new and pre-owned powerboats since 1976. He's found this past year challenging, but he's come up with creative ways to adapt his marketing strategy to make the most of the opportunities this new set of circumstances has presented.
"We're selling boats," he reports. "I've got more new boats on order than I've ever had in December. Our big fishing boats are backed out until the fall of 2021. I've got one customer who might have to wait until January 2022. We can't keep used boats in stock. We trade them as soon as they come in."
Baumgartner secured orders for a decent supply of new boats from Bayliner and other new boat manufacturers to present an event he's marketing as "Maryland's only winter boat show" at Riverside Marine from January 4 through February 28, 2021. He's purchased a tent the size of one of the larger exhibit tents at the Annapolis show and he's filling it with trailerable boats up to 35 feet long.
"The boats will be on display just like at the Baltimore show," Baumgartner explains. "That's how we're going to get through the winter. We're going to give the customer a chance to come and see the boat on an appointment basis. That way, the customer can get all of the options and accessories they want, built to order."
As to pricing, "all of the boats will be 'show priced,'" he says. "They come here, they order it, and they can have it for the summer." [Editors' note: Please check with Riverside Marine for their latest plans due to the fluid nature of pandemic restrictions].
CBM has an online resource for all of the new winter and spring boat dealer events as they're scheduled. Click here.
The message from these dealers seems clear: There are new and previously-owned boats available, but the demand is high and now's the time to buy if you want to get out on the water this summer.