By Capt. John Page Williams
It was good to see Stamas boats back at the Annapolis Powerboat Show last fall, after an absence of nearly 10 years. Nick and Pete Stamas grew up in the Greek maritime community of Tarpon Springs, Fla., and won a prize for a wooden boat they built as high school students in 1938. They continued building commercial and recreational boats through the 1940s and incorporated Stamas Yacht in 1952. The brothers made the transition to fiberglass in the late 1950s and quickly developed a reputation for creating strong, able hulls that did the jobs they were designed for and held their value well. Four generations later, the Stamas family still owns and runs the company with pride.
The Stamas 370 Aegean we tested recently with Annapolis Yacht Sales reflects both proud heritage and modern design. It's an express cruiser, a traditional model often overlooked with today's emphasis on dayboats with multiple lounges. Instead, it's fish-ready for a wide range of Chesapeake angling opportunities, it will serve a couple or a family well for weekend or week-long expeditions, and its large cockpit still adapts well to casual day use. The layout offers a large, bright cabin; a comfortable, elevated helm deck; a functional fishing cockpit with convertible seating; and a stern deck for handling fish or swimming. Instead of inboard gas V-8s shoehorned under the helm deck (as was common on express cruisers until a decade ago), power is twin outboards up to 850 horsepower. The outboard configuration allows cavernous storage, with good access to wiring, plumbing, and mechanical systems. The 370 Aegean is built for a family to care for and enjoy for many years.
The hull's design and structural layup reflect the long experience of the Stamas team. In all the company's boats, each hull remains in its mold after layup for installation of the stringer grid and liner, all bonded together and allowed to cure fully before removal. That practice ensures the boat's shape remains true to its design. Bottom deadrise starts with 18 degrees at the transom and sharpens progressively going forward to a wave-cleaving bow. Wide chines and bottom strakes with sharp edges damp spray and foster stability. Watch both of those features at work in the five-minute video of the 370 Aegean on the Stamas website.
Like the boat in the video, power on our test boat was a pair of Suzuki 350s, sophisticated 4.4-liter V-6s with dual, contra-rotating propellers that provide powerful lift and grip on the water. They happily boosted this three-quarter-ton rig onto plane around 17 knots and cruised happily at 19–26 knots (3600–4200 rpm), burning 17–22 gallons of fuel per hour. Top speed with three people aboard and a light load was 42 knots. At the same time, the 350s throttled down happily to 3 knots (600 rpm) for trolling, and we could drop below that by turning off one engine, if necessary to tune speed for specific lures like spoons and hoses. On test day, the open Bay gave us northwest winds in the 10- to 12-knot range, which the 370 Aegean handled easily at cruise speeds and more. Drifting was comfortable, with easy movement at all angles to the seas. The express deck helm is high enough to give a commanding view, excellent for piloting and spotting fish as well as close-in maneuvering. Our test boat included an Optimus joystick for maneuvering (optional, $16,709), but we found that the big Suzukis' propellers were powerful enough for easy maneuvering with the throttle and shift levers.
So what does the somewhat retro express layout offer families and anglers? First, the cabin is spacious, air-conditioned, and bright, with large, thoroughly modern windows. It offers a generous V-berth forward; a four-person dinette to port that converts to a double bunk; a full galley with microwave, cooktop, and refrigerator to starboard; and an enclosed head and shower just aft. Headroom throughout is 6'4″. Layout of storage reflects designers who cruise their own boats. Beneath the helm deck lies a small cabin athwartships with sitting headroom and a lounge with table that converts to a single berth. Accommodations would work easily for a cruising couple or a family's weekend trip.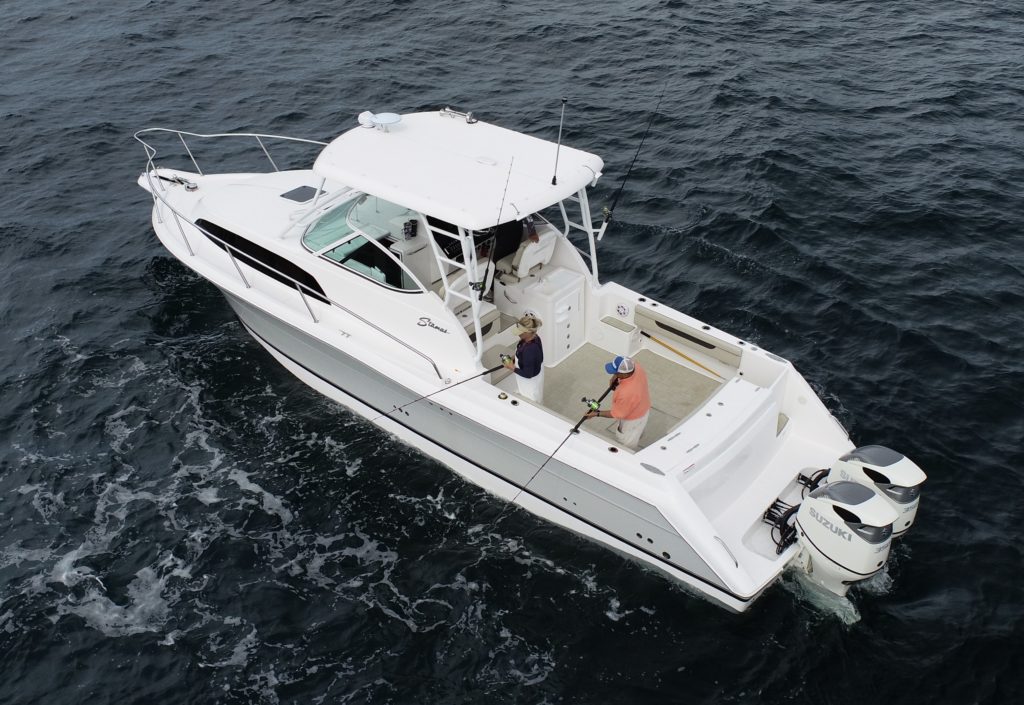 The express deck is compact and businesslike, with twin adjustable seats port and starboard. Each tilts forward to reveal an insulated, dry storage compartment with overboard drain. The helm dashboard to starboard offers a compass above, space for a pair of 12-inch electronic displays, linked VHF radio, engine display, stainless-steel wheel with turning knob, switch panel, and "the sticks." The dash on our test boat included a pair of cooling vents from the air conditioner (optional, $1,031). It tilts back for access to the devices and wiring. A curved windshield provides twin wipers and a sturdy aluminum frame that fits the human hand well, though Stamas has also added grab handles in appropriate places. The hardtop stands on a sturdy, powder-coated frame with additional handholds and rod holders. On our tester, it also included cooling misters hanging overhead (optional, $2,453) and a remote-controlled spotlight (optional, $2,123).
Then there's the cockpit. It's businesslike too, self-bailing and large, with room for two anglers to work jigs on each side. An aft-facing seat to port allows two anglers to watch trolling lines, with an insulated cooler beneath. To starboard is a tackle center with freshwater sink, cutting board, three drawers, and a compartment to stack five 3600-size tackle boxes. There's a step on each side for climbing up to the side decks for going forward to handle the anchor (a windlass is standard). Each gunwale is bolstered, with horizontal storage beneath for rods and vertical rod holders on top. The transom mounts a folding seat for three on its forward side, with a 235-quart, insulated fishbox on top and a 92-quart livewell to port. On the after side, our test boat included eight vertical rod holders (optional, $1,760). To starboard is a transom door with a stout latch. It leads to a full-beam platform for netting fish, swimming, or checking on the engines.
Stamas 370 Aegean
LOA: 39'5″
Beam: 11'2″
Draft: 21″/32″ (engines up/down)
Transom Deadrise:  18º
Weight: 14,400 lb (w/T-Suzuki 350s)
Max Power: 850 hp
Fuel Capacity: 356 gal
Water Capacity: 40 gal
Waste Capacity: 20 gal
Cabin Headroom: 6'4″
For more information, visit stamas.com, annapolisyachtsales.com
Oh, yes, about access for maintenance and storage. Put outboards on an express cruiser and you'll free up a huge space under the cockpit sole for access to wiring, plumbing, and mechanical systems. On the 370 Aegean, that includes the fuel tanks port and starboard, a Westerbeke gas generator (with its automatic fire suppression system), and a SeaKeeper (not necessarily needed). There's plenty of space left over for anything else a boating family might need to stash. Access comes via a huge hatch forward that lifts on electric rams and an after hatch that's manual. Both areas are sized for humans.
Traditional and modern all at once? Yes, that describes the Stamas family's boat company in general, and it certainly applies to the 370 Aegean in particular. Base price with twin Suzuki 350s is $498,047.