Story and photos by Wendy Mitman Clarke
Just the sound of those three words is so spare, so lonely, so . . . Shackleton. The syllables have a certain weight to them, a finality. And it is always those words used to describe the conflation of humans and ice, whether you're talking about the legendary Arctic or Antarctic explorers who calculated poorly, or buoy "R4" off the tip of Tilghman Point in Eastern Bay here in late February of 2015, when much of the Chesapeake Bay is just that: beset by ice.
Though it's not as heeled over or pressed under as the other buoys we've passed on this pale winter day aboard the A.V. Sandusky, "R4"s base is nearly obliterated by a shelf of thick, white ice that threatens to pull it under. Streaming off behind it is a small patch of clear water approximately as wide as the buoy, as if the current of the outbound tide were a great can opener, prying the ice open around the buoy's base. Other than our slushy wake, this dark, narrow slot is the only open water as far as the eye can see.
I've sailed around this mark too many times to count. So has anyone else heading northeast for the Wye River, the ever-popular destination of St. Michaels or up to Kent Narrows. But on this day, this place is as alien as the moon. Amid a frozen desert of white, and under a steely press of sky, the buoy's bright red is the only color in sight, but even at that, it's a feeble thing, small and struggling.
"I've never seen it freeze up so late in the year," says Shawn Orr, the captain of the Sandusky, who took me aboard in Kent Narrows where the buoy tender/icebreaker spends the winter. Ordinarily she berths in Matapeake on Kent Island's western shore, but winter's blowout tides make it impossible for her to navigate the channel and basin there. "Spinner will tell you, [if] you don't get any ice by Valentine's Day, you won't get any. But this started after Valentine's Day, and now it's almost March. So this is unusual. And once it forms, it's hard to get rid of."
Spinner is Chris Spinner, one of the three crew aboard the Sandusky, hanging out down below in what is at this moment an environment equivalent to the inside of a rock tumbler, or maybe a maraca. The ice is thick in this part of Eastern Bay, and at full throttle, the Sandusky's SOG on the chartplotter reads a strained three knots. The windows rattle, the wheel beneath Orr's hands vibrates, and every now and then the unnerving motion of the boat lurching into the ice throws me off balance.
Yesterday, Orr tells me, they tried to go north up to Rock Hall. "We got about one-and-a-half miles from the first buoy, and it took us three hours to go six miles," he says. "We were going through six inches of solid ice, and then we got to the pack ice, which is several feet thick. We didn't even start to go through that. We just turned around."
The Sandusky was built in 1989 by General Ship in Baltimore. At 80 feet long, with a 20-foot beam and a 4-foot draft, her main purpose is to tend about 400 seasonal buoys on the upper Bay and its tributaries for the Maryland Department of Natural Resources (DNR). Breaking ice is a secondary mission, but this winter she has had to join two other DNR working vessels—the John C. Widener out of Annapolis and the J. Millard Tawes out of Crisfield—to help keep waterways at least somewhat open. The Tawes, for instance, provided critical support to Smith Island's residents, and the Widener had to open waterways for local fireboats, among others.
Of the three, the Tawes is the most powerful at 100 feet long and with 1,000 horsepower, which, according to the DNR's website, equates to icebreaking capability up to 10 inches. The Sandusky, at 700 horsepower, is next, with up to 8 inches of icebreaking ability. All three vessels have had their work cut out for them this winter.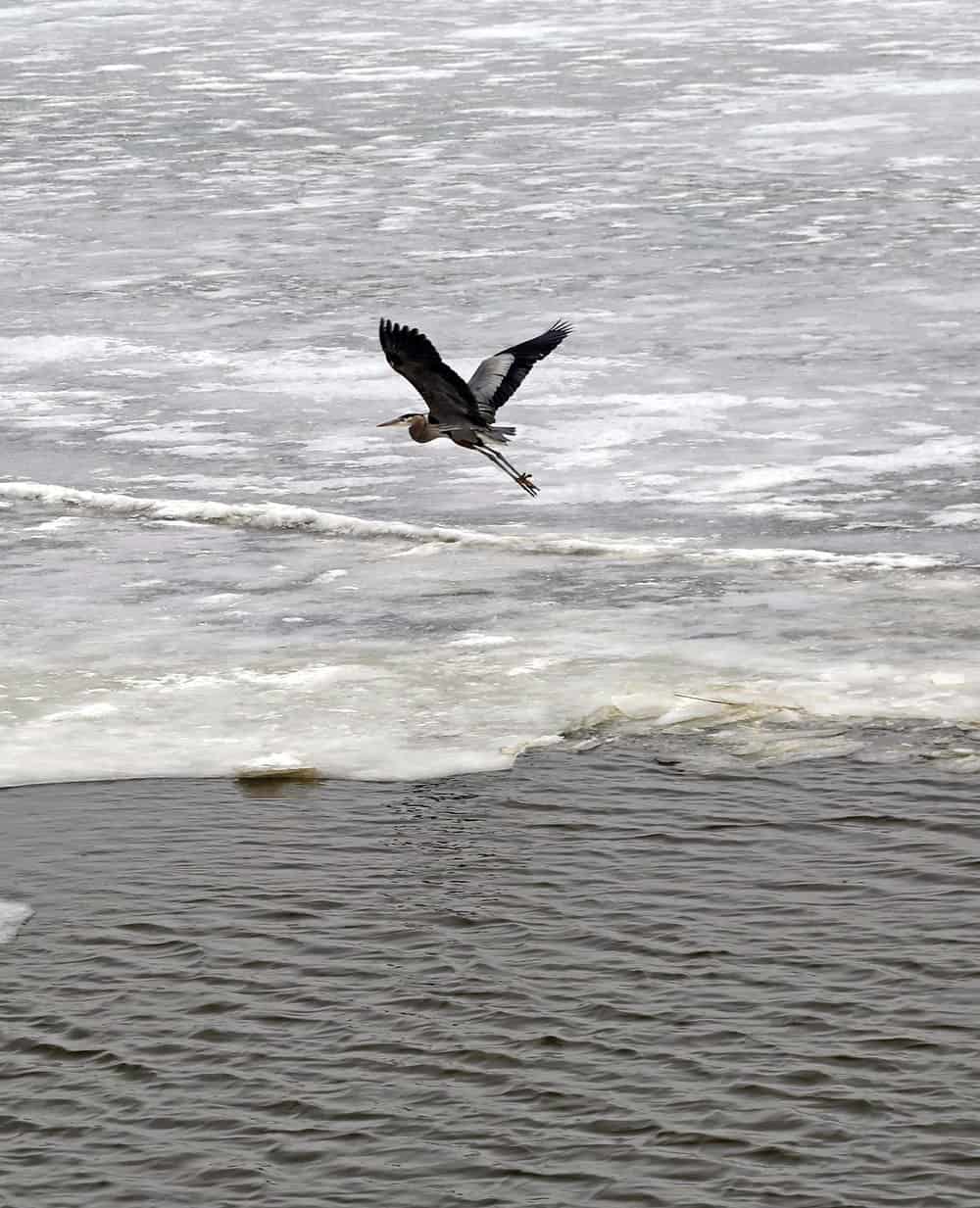 A blue Heron rises from an ice floe at the Sandusky's approach. Photo by Wendy Mitman Clarke
According to a Feb. 27, 2015 story in the Baltimore Sun, more than 90 percent of the Bay north of the Bay Bridge was ice covered in early 2015, compared to only about 30 percent the year before (that's according to statistics compiled by the National Ice Center). To the south, stories that made national news included the U.S. Coast Guard's using a cutter to open Tangier Sound and, along with the Virginia Air National Guard, deliver supplies to residents of Tangier Island.
"Most of the Bay is frozen," Brian Jackson, an analyst at the National Ice Center, told the Washington Post. "The coverage extent is way above normal."
Along with the island dwellers, many others were affected by the ice, among them the Bay pilots and tug captains, who struggled to find channel marks for the ships and tugs that still had to access the Port of Baltimore and the C&D Canal, and watermen and fishermen, who were positively trapped unless they were able to moor their boats near ports where the icebreakers were working. Even then, they couldn't get very far.
The Sandusky's youngest crewmember, Jordan Melvin, knows personally of the latter problem. His father is a waterman who has been stuck at the docks for weeks with other fishermen in Dogwood Harbor just east of Knapps Narrows. "They said, 'Hey, come and bust us out,' '' Orr says. "It was hard to get there. There was a lot of ice in the Bay." The Sandusky cleared the Narrows and the channels on either side, as well as Dogwood Harbor—at least for a little while.
One of Sandusky's primary jobs this winter has been keeping the waters near the Kent Narrows drawbridge open to assist crews who are working on it and dredging. But while the Narrows stays mostly clear—largely due to the fast-running current there—both the north and south channels have frozen up solid. These efforts to keep some water open are really reaching toward a spring that at the moment seems far off; theory has it that the ice that's been cut at least somewhat will break out more quickly when temperatures eventually start to rise.
Yet as alien and empty as it seems out here, there is a strange and stark beauty to it. I've often felt cheated that a winter this cold means there's an entire world of the Chesapeake that I'm not able to know or see, a rare season and character witnessed and understood only by the few animals and people, like Orr and his crew, who live within it.
Orr, who has a master's degree in English from Washington College in Chestertown (where he also got his undergraduate degree in English), has traveled the world as a merchant mariner and seems uniquely qualified to appreciate this as well, though he couches his curiosity and his poet's eye in the daily work of a captain.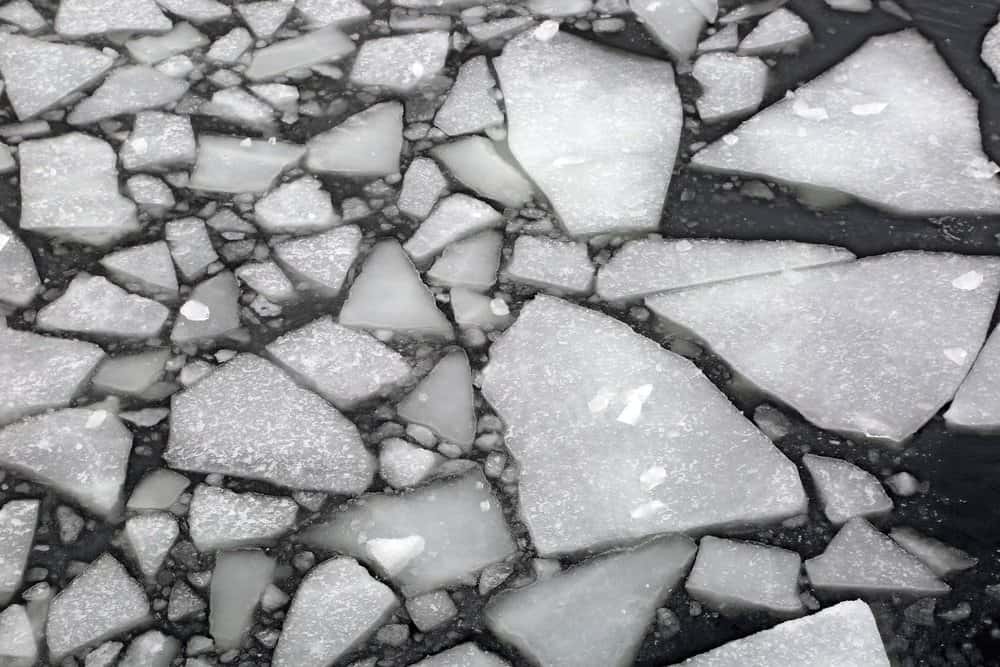 Broken floes spin away from the Sandusky's hull in geometric patterns. Photo by Wendy Mitman Clarke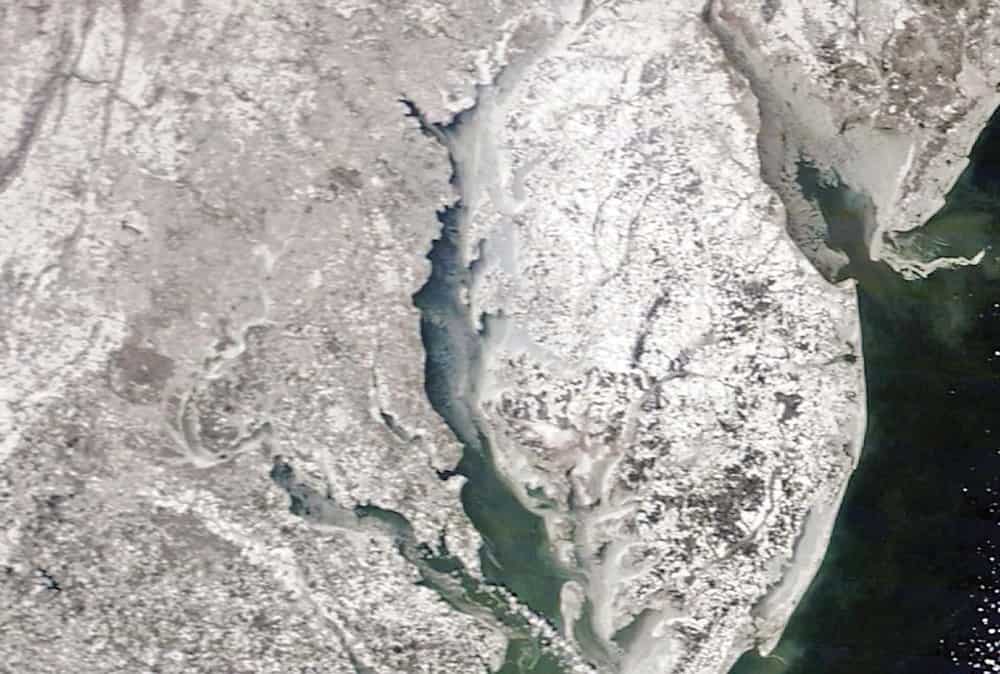 Satellite view taken from Feb. 20, 2015, shows the iced up northern Chesapeake.
As we pass one of the channel buoys, he says, "You see how the ice walks through the buoy? Sometimes it pulls them right down." He notes how, when the Sandusky was working its way down the Bay toward Knapps Narrows, he saw ice floes painted bright red by the blood of the fish that gulls had hauled up to eat (now that's not something you see in the summertime!). And he takes note of the odd patterns and formations that appear on the ice, giant discs in some places, strange seams in others that speak of forces unseen.
"You wonder why there's a crack there. What made it happen? Maybe it's a shoal there, I don't know." He shrugs. "I'm not the expert. They just want me to break ice, and I do."
Despite the seemingly barren icescape, the ice itself is an ever-changing element as the Sandusky pushes through it. At times, it takes the form of tiny fragments and chips shot away from the hull and skidding onto the vast expanse beyond; at others, huge slabs break off, pivoting and capsizing or even sliding up on top of each other. It forms endless diverse and unexpected patterns, while the water at its edge flutters as if a school of baitfish were below, the vibration of the straining vessel's hull transmitting through the solid into the liquid.
When Orr stops the Sandusky briefly to examine a buoy, the silence, despite the low rumble of her diesels below, is as wide as the sky. In the distance, a brown stump stands out amid the whiteness. Orr hands me one set of binoculars while he peers through another. The stump is a bald eagle, sitting on the ice.
"I saw one yesterday, too," he says. "When I was growing up I never saw bald eagles. Now they're all around. Rachel Carson. Silent Spring. God bless her."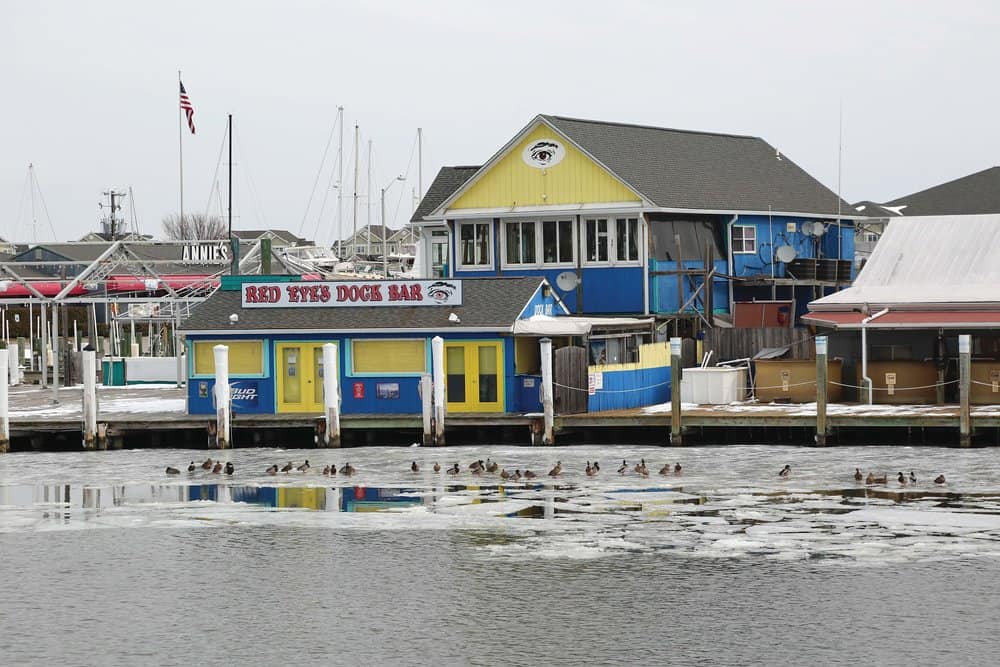 Ducks chill out on the ice in front of Red Eye's Dock Bar in Kent Narrows. Photo by Wendy Mitman Clarke
As we plow north on top of an old seam it gracefully parts, and Orr tells me that he grew up in Cecil County in a farming family. He's not, he says, a boater. He's on the water all week long for work, and his years around the globe as a merchant mariner pretty much satisfied his travel bug. As we approach the southern end of Kent Narrows we emerge from the ice into a clear patch and suddenly Sandusky feels like a boat again, smooth and easy. Orr is philosophical. "It's all going to knit up again," he says.
We pass the watermen's slips just south of the Kent Narrows bridge amid a thundering flight of ducks whose wing beats paint the open water black. Farther up, a group of mallards stands on the edges of ice that borders the docks at Red Eye's Dock Bar and Harris Crab House, where a few brightly colored Adirondack chairs left outside look forlornly out of season.
A gull works over a fish on a small ice floe, and two blue herons lift up off another piece of ice, flustered as the Sandusky pushes toward her slip at Piney Narrows Yacht Haven. Cars and trucks rumble over the bridge on Route 50, and the juxtaposition of this sudden, busy world to the pure and startling stillness of where we have just been makes the icebound Bay's strangeness all the more compelling.
Orr looks thoughtfully out across the white world that is the Chester River north of the Narrows, where only yesterday he, his boat and his crew were stopped cold by ice that seemed to be from another country entirely.
"Usually by March first we're heading back to Matapeake and loading up our buoys, but that's not going to happen at least for another week, maybe two." he says. "It's going to take awhile for this ice to go away."
Indeed.