Who doesn't love a boat with a story behind it?
This Kent Island vintage powerboat will give you a great story to tell, plus generate enough income to cover its own costs—a rarity among old boats.
You may recognize Seafood from the 1980 sports comedy Caddyshack, starring Rodney Dangerfield, Bill Murray, Ted Knight and Chevy Chase. A 1979 Striker 60′ Convertible, the boat has Corian counters, three staterooms, three heads, and Caddyshack memorabilia framed on the walls. It's listed for sale, priced at $349,900.
In the movie, Dangerfield's character, a nouveau-riche businessman, sends his yacht Seafood barreling into a beautiful wooden sailboat being christened at the yacht club by Knight's character.
As the sailboat is destroyed and quickly fills up with water, Seafood gets its moment of fame when Dangerfield utters the classic line, "Hey, you scratched my anchor!"
The yacht used in the film became a fishing boat in the Dominican Republic and changed hands before it eventually popped up for sale five or six years ago in Pasadena, Md. in bad need of restoration.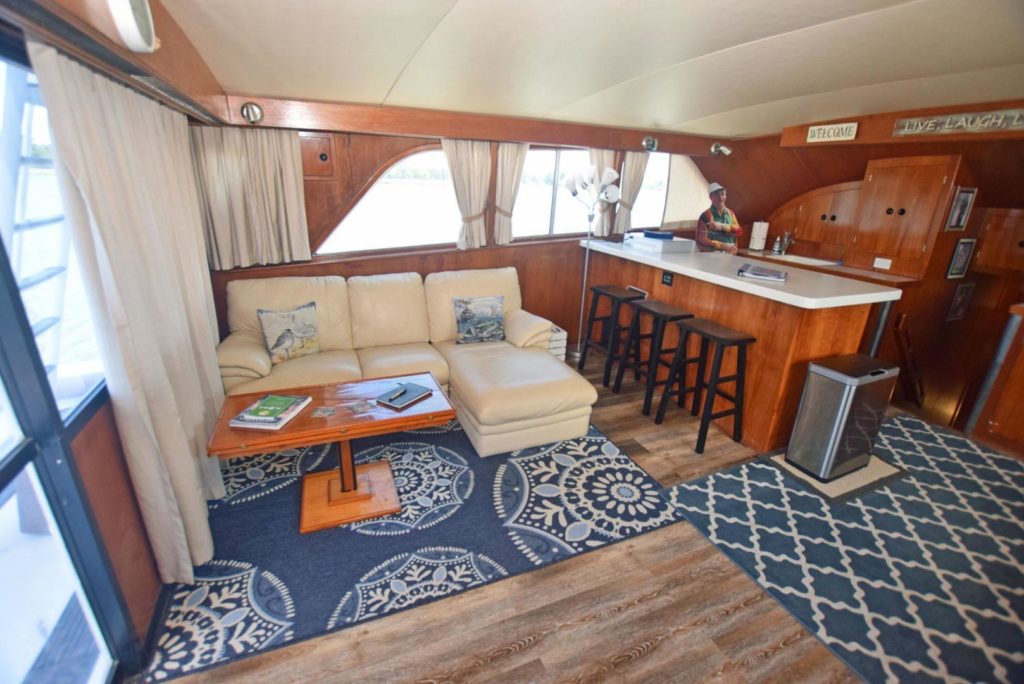 Capt. Rich Schott, who has been in the sportfishing business for 18 years, got a tip from a friend that Seafood could be a good investment. He went to see the boat and bought it on the spot with his company, Chesapeake Bay Sportfishing.
"It was kind of an impulse buy. It was for sale here locally where it was actually caught up in an estate and the gentleman who originally bought it was going to restore it and he didn't get a chance to do that."
Schott took on the restoration, which took six to nine months to complete. "When I got it, the boat was floating so I kind of bought it as-is and we put another $150,000 plus into the boat, doing restorations, repainting, interior."
Seafood has been extremely popular for charter cruises and as an Airbnb. It was featured in Chesapeake Bay Magazine's Unique Stays Around the Bay in July 2021. The obvious appeal comes from its role in Caddyshack, a movie with a cult following. "Everybody comes to stay on the boat just because of Caddyshack." 
Schott collected autographed photos, memorabilia and even a life-sized cardboard cutout of Bill Murray that stands in the corner of the boat's salon.
Currently the Airbnb is rented 3-4 nights a week from May through October at prices from $400-$600 a night. Schott says it sees $60,000-$80,000 annual revenue, which means the boat pays for itself.
"In most cases you buy a boat where it's just a money pit where here you got something that's an asset that spins off revenue."
Even so, Schott is ready to walk away. He listed it for sale with Joe Longobardi of United Yacht Sales because Scott is ready to retire to the Caribbean and isn't taking the boat with him.
The $349,900 listing has had a lot of interest in the first few weeks it's been on the market. Schott says the challenge for the broker is to sort out the serious buyers from the people who are just curious to come see the boat.
That's not a surprise, given Seafood's unique history. Schott says it's been interesting and fun to own.
"Every time we go on a cruise, people are always coming up next to us on boats taking pictures. It's amazing how many people locally know the boat."
To see the full listing, click here.
-Meg Walburn Viviano & Cheryl Costello