A group of fossil hunters near Chesapeake Beach in Calvert County, Maryland got a scare when a portion of the beach cliff collapsed.
According to the Town of Chesapeake Beach, the group was looking for fossils in an area just south of the town-owned beach Bayfront Park, on private property. There are posted signs restricting access to that area because of unstable and shifting cliffs.
When the cliff collapsed Thursday morning, one member of the fossil-hunting group was initially missing. The Calvert County Sheriff's Department, Twin Beach Deputies and North Beach Volunteer Fire Department launched a search, including a boat looking along the shoreline and a State Police Helicopter searching from the air.
After about 40 minutes, all of the group members were accounted for, including the one who was initially missing a quarter-mile from the collapse site, still searching for fossils and shark teeth uninjured and okay.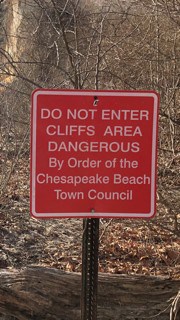 The Town of Chesapeake Beach reminds everyone that while Bayfront Park, known locally as Brownies Beach, is a natural habitat full of fossils and expansive views of the Chesapeake Bay, the private property areas beyond it are restricted. It is considered trespassing and is illegal to enter those areas, even through Bayfront Park.
"We are thankful that there were no injuries and want to remind citizens to learn from this close call and adhere to the signage posted restricting public access to dangerous areas", stated Mayor Pat "Irish" Mahoney.  
The North Beach Volunteer Fire Department echoes this warning:
"We would like to remind fossil searchers, hikers and beachwalkers the cliffs areas are very inviting, but extremely dangerous. The land mass making up the cliffs is very unstable and subject to collapse without warning. We are all thankful the incident turned out with a happy outcome."
There were no injuries to any members of Thursday's fossil-hunting group.
–Meg Walburn Viviano