A barge on the Delaware River lit up the sky with towering flames early Monday morning and burned until Tuesday afternoon.
The barge, which was apparently carrying household appliances for scrap, caught fire around 1 a.m. Monday. The Coast Guard says it happened about nine miles south of Port Mahon, not far from Dover, Del.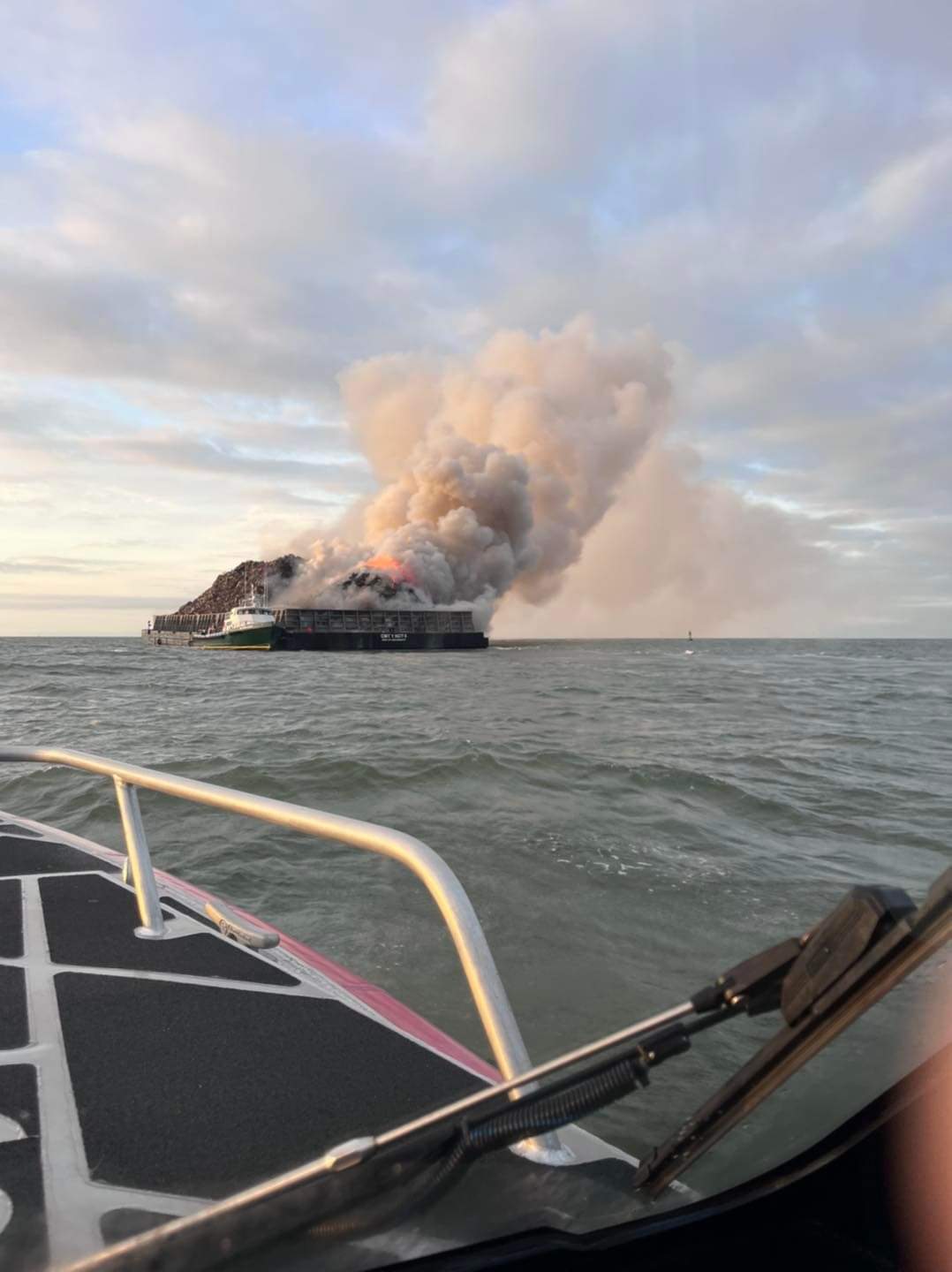 Several fire departments rushed to the scene with fire boats, along with the Coast Guard's 29-foot response boat. The South Bowers Volunteer Fire Department's Marine 57 was among the boats responding. They said the 400-by-100-foot barge carried a pile 40 feet tall, and was on fire in the shipping channel off South Bowers. Slaughter Beach's Memorial Fire Company Station 89 captured eye-popping photos of flames going high into the air. A large plume was visible from shore.
By Monday afternoon, fire boats from as far away as Maryland and the New York City Fire Department (FDNY) were called in as reinforcements.
As the materials on board the barge continued to burn steadily, the Coast Guard asked all boaters to steer clear of the area.
"Our highest priority is ensuring the safety of firefighters and response personnel on scene," said Capt. Jonathan Theel, Sector Delaware Bay Captain of the Port.
The Coast Guard said late Tuesday night that the fire had finally been extinguished, and a contractor was hired to assess the integrity of the vessel and manage salvage operations. Eastern Metal Recycling and New Jersey state and county emergency management agencies will oversee the salvage.
FDNY, who spent about 20 hours helping with firefighting operations from Monday afternoon through Tuesday morning, estimates it used about a million gallons of water to suppress the fire.
The Coast Guard is enforcing a 500-yard safety zone around the barge and Northstar Independence, the contractor's 185-foot salvage vessel. That boat has firefighting capabilities, in case the fire reignites.
Delaware Gov. John Carney declared a state of emergency for Kent County, Del. Tuesday afternoon "to help assess the possible impact on the environment, the bay, and wildlife."
There were no reported injuries and so far, no sheening or other evidence of pollution impacting the Delaware Bay has been seen.
"We will work to mitigate any environmental threats and protect the flow of commerce within this vital port," Capt. Theel says.
The Coast Guard says the cause of the fire is still unknown.
"I want to thank all the responders, especially Fire Chief Aaron Warren, the local fire companies, and Delaware Department of Natural Resources and Environmental Control who initially responded to this complex and dynamic situation," says Captain of the Port Theel. "The fire is out due to their dedication and adaptability."
-Meg Walburn Viviano