Solomons Island got a feast for the eyes this weekend: the tall ship Kalmar Nyckel, sailing on the Patuxent for a last stop of its East Coast tour before heading back to Wilmington, Delaware.
Blue skies dotted with a few wispy clouds made for a good sailing day. A light breeze of 5 to 10 knots was enough to have the flags of Finland, Sweden and the Netherlands atop the masts billowing slightly.
Onboard, the ship's 22-person crew dressed in pirate and sailor costumes, fully immersed the ship's guests in helping to raise the yards and sails, instructing them how to pull the lines hand-over-hand to the tune of "Haul Away Joe," an old sea shanty sung to keep the ship's crew in rhythm.
The 141-foot square-rigged sailing vessel, a recreation of a 17th-century ship, made a stop in Solomons as a part of its educational tour around the region.
The original Kalmar Nyckel was a Swedish vessel carrying Europeans to the first permanent settlement in in the Delaware Valley, now present-day Wilmington, in 1638. The manifest included around 50 people, half crew members and half soldiers.
The ship was initially named Sleutel (Dutch for key), but was sold to the Swedish city Kalmar prior to its voyage across the Atlantic and then renamed the "Key to Kalmar," or Kalmar Nyckel.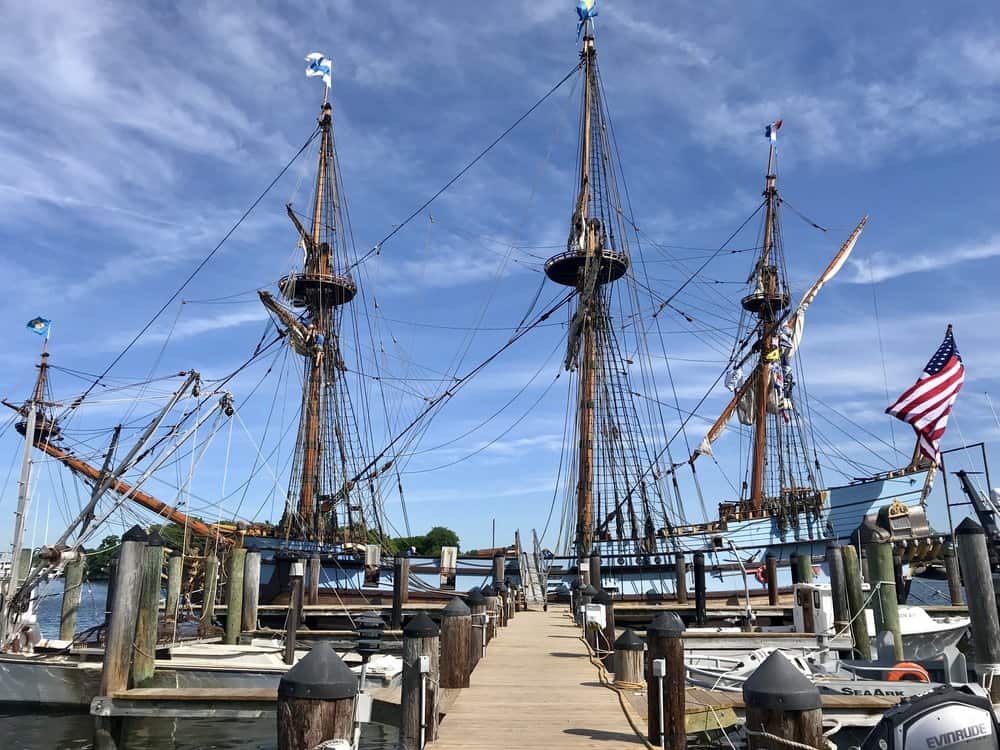 The ship was sold to private Dutch merchants in 1651 after being decommissioned from the navy, and was likely later resold to the Dutch navy as an escort vessel. Kalmar Nyckel is believed to have sunk off of the coast of England while defending the Dutch in a war against the English in 1652.
A recreation of the Kalmar Nyckel was built in 1995 and launched in 1997. Weighing 320 tons with 8,000 yards of sails and eight miles of rigging, the three-masted tall ship is not a full replica of the original, as the intricate details of its design weren't fully recorded, but the recreation has similar details and carvings reminiscent of the time period. Her 164,000-pound lead ballast keeps the ship steady as she sails, averaging three to four knots on a good day.
The crew of Kalmar Nyckel rotates as it tours, with over 300 volunteers of all ages performing the tasks necessary to sail the ship and climb its rigging. The ship has four full-time paid staff members: Captain Sharon Dounce, two engineers and a chef.
Despite appearing as a 17th century tall ship, the Kalmar Nyckel is required to be outfitted with modern navigation electronics and has one engine running at all times, per the Coast Guard standards for a vessel of its type.
If you missed the Kalmar Nyckel this time, the ship will be back to Baltimore's Inner Harbor in early September for sails and tours.
—Natalie Jones