By Whitney Pipkin, Bay Journal News Service
Birdsong is the soundtrack of life in the country, and a coalition of conservation groups aims to keep it that way.
To do so in Virginia's Piedmont and Shenandoah Valley pastures, though, requires working in concert with private landowners who care for the vast majority of local grasslands. These grassy expanses are used primarily to support livestock, as either grazing pasture or harvested feed. But they can also provide rich year-round habitat to a cadre of birds, from the yellow-bellied Eastern meadowlark to the rust-winged American kestrel.
These grassland and shrubland birds are experiencing a steeper decline than any other guild of birds. Many of them call Virginia's rolling meadows and shrubby pastures home for at least part of the year.
The Piedmont Grassland Bird Initiative, a collaboration started this year between the Piedmont Environmental Council and Virginia Working Landscapes (a program of the Smithsonian Conservation Biology Institute) are trying to change that. The local groups are also working with American Farmland Trust and Quail Forever, national nonprofits that bring expertise and local staff to the effort.
Virginia's Piedmont grasslands—think of the area surrounding Shenandoah National Park—are frequented by more than 100 bird species, including the bobolink and bobwhite quail, that use the grasses for breeding, overwintering and nesting. This landscape has steadily been converted to agricultural lands.
In the Piedmont, well-managed fields can double as habitat for the birds that have persisted in prairie-like environs despite decades of change. Still, Virginia's northern bobwhite quail and Eastern meadowlarks have lost more than 75 percent of their populations over the past 30 to 40 years.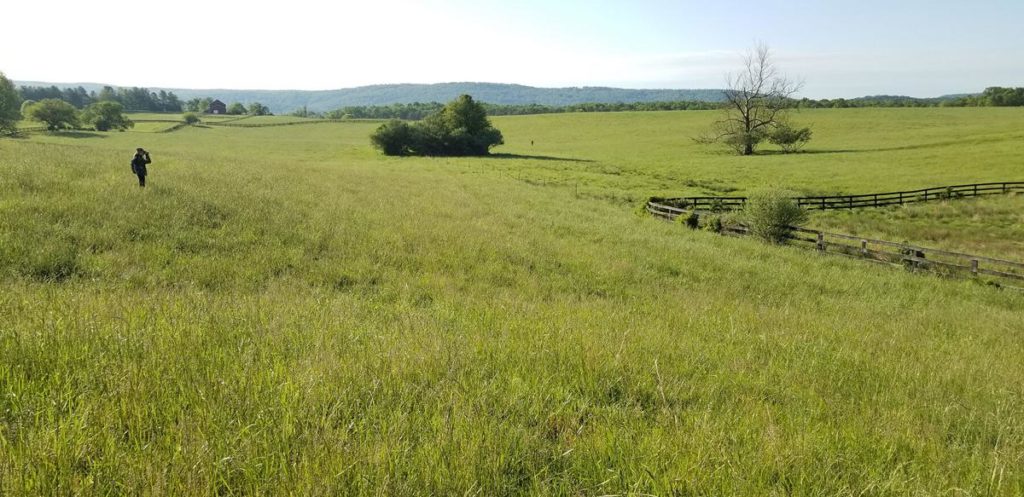 The American Bird Conservatory recently deemed this Piedmont-Shenandoah Valley area a unique "birdscape" worth protecting for its support of a range of migratory and resident bird populations. This comes after more than a decade of surveys and research largely by staff from the Virginia Working Landscapes office in Front Royal, Va. The team has surveyed at least 150 properties across 16 counties, totaling more than 80,000 acres.
Along the way, they've developed a suite of best management practices that, if implemented on working lands, could benefit both the birds and the farmers' bottom lines. A $25,000 grant from The Cornell Lab's Land Trust Bird Conservation Initiative is helping to get the local Piedmont bird program off the ground, with more outreach planned for early 2022.
"The idea is that it will be a win-win," said Justin Proctor, who joined Virginia Working Landscapes early this year to help coordinate the Piedmont Grassland Bird Initiative. "The more diversity you have, the more birds you have. The more ecosystem services, the more nature works for you [and not] against you."
These conversations with landowners, Proctor said, often begin with some birdwatching. When people realize—or hear—that an Eastern meadowlark has made a home in their grasses, they get interested.
"To be able to go on these bigger working landscapes and get them connected to the birds they haven't even noticed because [the birds are] down there in the grasses—it's a big deal," he said.
Many of the partners in this initiative are also able to link interested landowners to state and federal programs that share the cost of major changes to the landscape. These include building fences to rotate cattle through paddocks in the field rather than letting them graze it all to the same stubble. In this way, the bird program is an on-ramp to conservation practices that could help build local ecosystems and benefit regional water quality.
Proctor said the program now has a list of about 40 best management practices that landowners can choose from "à la carte." Some entail significant changes in the ways land is managed, such as setting aside patches of fields or field edges for bird habitat. Others hinge on relatively minor tweaks, asking landowners not to mow or graze when certain birds are nesting or otherwise vulnerable.
Adding a buffer of tall grasses and shrubs along a stream, for example, can benefit water quality while providing run-and-hide habitat for bobwhite quail, said Celia Vuocolo, a private lands biologist for northeastern Virginia working in a quasi-governmental position at the nonprofit Quail Forever.
Vuocolo came to the job from the Piedmont Environmental Council, bringing her experience working with federal and state conservation programs that provide cost-share. Birds, she said, can be another entry point for people to consider implementing conservation practices and programs on their land.
"Oftentimes, I will go on a site visit to provide technical advice to a landowner about an old field they want to restore. But, while I'm there, we talk about other goals for their property," she said.
Now, they'll talk about quail, too. Vuocolo regularly meets older Virginians who remember growing up to the tune of quail song a half-century ago. They want to hear what they can do on their land to help it return.
The program aims to work with several new landowners in the coming months, with a goal of having 250 acres assessed and being improved for grassland birds starting this spring.
"The overall hope is that we can stem the tide of grassland bird decline," Greenfield said, "that this will improve the resiliency of these lands and positively impact the livelihoods depending on them."