Bay Calendar

Baltimore Oysters and Brews: A Reef to Table Event
September 14, 2019 @ 5:00 pm

-

8:00 pm

$20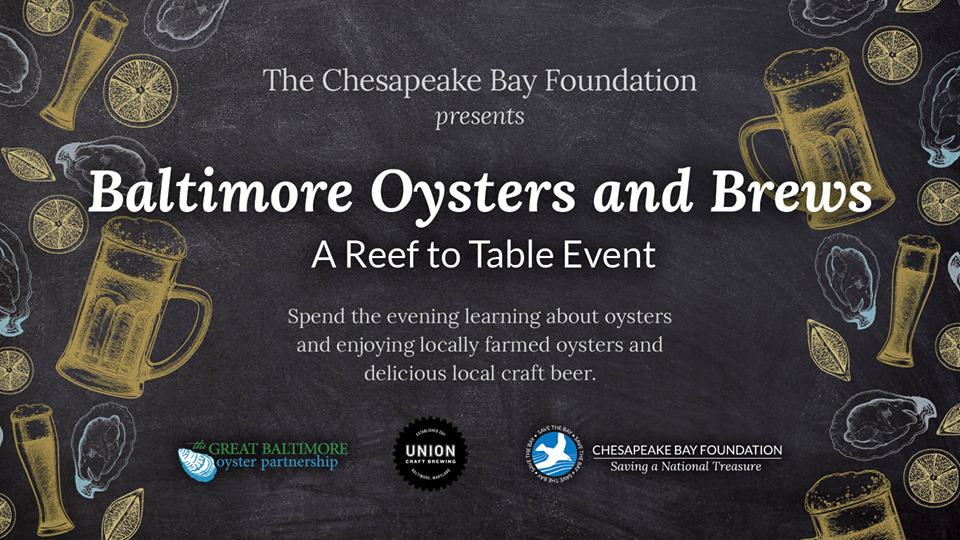 A new Baltimore event will combine two of the region's growing industries—locally brewed craft beer and sustainably-raised Chesapeake Bay oysters.
Baltimore Oysters and Brews takes place Sept. 14 from 5 to 8 p.m. at Union Craft Brewery's Union Hall. Tickets cost just $20 and include beer from Union Craft Brewing as well as oysters from a variety of Maryland oyster farms. Several oyster farmers will be on hand to discuss oyster aquaculture and how their operations benefit the Bay.
Oyster farmers buy spat—juvenile oysters—and raise them until they are harvested and sold. The farm-raised oysters help clarify the water and are replaced each year.
Well-Crafted Kitchen will be catering the event using locally-sourced ingredients for the food. The brewery is family-friendly, but anyone under 21 must be accompanied by an adult. Non-alcoholic drinks will be served as well.
The event is being organized by the Chesapeake Bay Foundation (CBF) in partnership with Union Craft Brewing Co. and the Great Baltimore Oyster Partnership.
Each year, the Great Baltimore Oyster Partnership helps Baltimore area students, local companies, and volunteers raise thousands of oysters in cages in the Baltimore Harbor. The oysters grown in those cages are later planted at a sanctuary reef near Fort Carroll in the Patapsco River.
Since 2014, the volunteers have raised more than 1 million oysters in the harbor. CBF has complimented these efforts by planting more than 5 million additional oysters near Fort Carroll. These oysters in the Patapsco River cannot be harvested and are being planted for their water quality and ecological benefits. Oyster reefs also provide habitat to marine life such as crabs and fish.
The oysters planted near Baltimore contribute toward the Chesapeake Oyster Alliance's goal of adding 10 billion new oysters in the Bay by 2025. The alliance is composed of government agencies, universities, conservation groups, community organizations, oyster farmers, watermen, and seafood businesses.
Event details:
Baltimore Oysters and Brews: A Reef to Table Event
Date: Saturday, Sept. 14, 2019
Time: 5 to 8 p.m.
Location: Union Craft Brewing Company Union Hall, 1700 W. 41st Street, Suite 420, Baltimore, MD, 21211
Cost: $20 per ticket