A powerful, slow-moving storm flooded three of Baltimore's most popular waterfront neighborhoods this week, sent hail and trees crashing down, and waterkeepers say the harbor took a hit.
The storm pounded Southeast Baltimore from about 5:30 p.m. to 7:15 p.m., dropping almost two inches of rain in that two-hour span. Flash floods overtook Fells Point, Harbor East, and Little Italy, all at the foot of the Jones Falls watershed. Cars and buildings were partly underwater along busy sections of Fleet, Aliceanna, and S. Caroline Streets.
Some people posted dramatic photos of stranded cars on Twitter, including one that shows a man taking refuge on his roof. Another photo shows water above the doorways to the Whole Foods Market.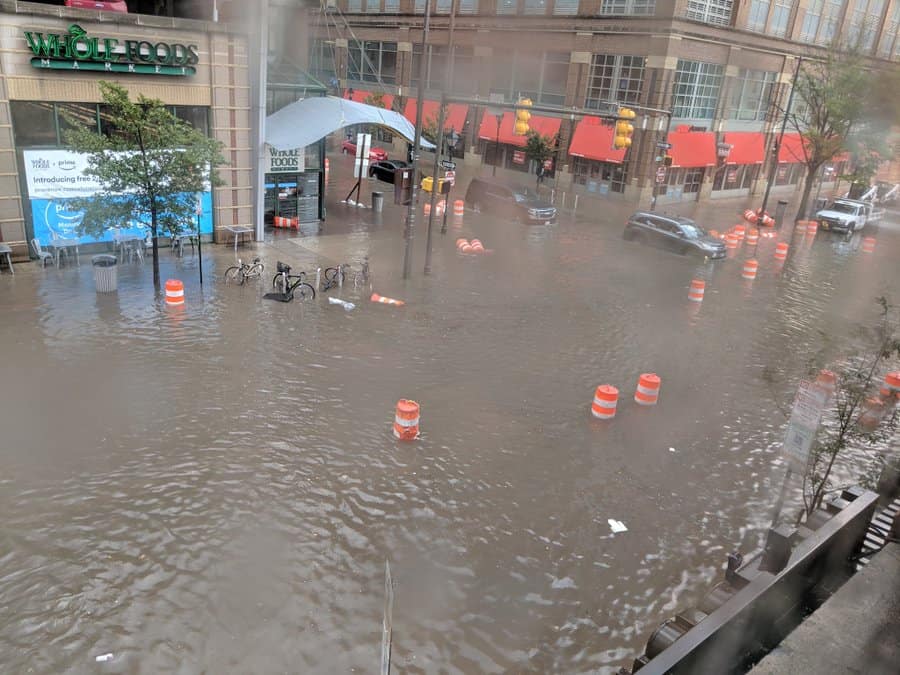 How did the flooding get that bad, that quickly? Blue Water Baltimore, the city's waterkeeper organization, tells Bay Bulletin it's a one-two punch:
First, the city has a high percentage of impervious cover– 45% is made up of surfaces like streets, sidewalks, and roofs that don't soak up rain, so the water has no place to go but to flow into low-lying areas like Harbor East and Fells Point.
Second, the city's infrastructure "just isn't built to handle that amount of water," explains Alice Volpitta, Blue Water Baltimore's Lead Water Quality Scientist. Storm drains get inundated by rainfall and many are already choked with litter like plastic bags and bottles.
And high water wasn't the only danger: high winds brought down trees and even roofing material in the Canton neighborhood. Dozens of branches and large trees fell in Patterson Park, less than a mile north of the waterfront. The National Weather Service Baltimore/ Washington region analyzed photos of the fallen trees, posting on Twitter, " Based on radar and nearby observations, it looks like straight line winds from a downburst (60-70 MPH), out of a north or northwest direction."
When the storm subsided, all of that flash flooding inevitably had to flow into the sewage system, causing at least two sewage overflows, documented along the Jones Falls Trail. Those overflows sent wastewater right down to the Jones Falls outfall, dumping into the Inner Harbor.
Blue Water Baltimore was out the morning after the storm to sample the water, and sure enough, Wednesday's rapid bacteria test results show all eight of its sampling sites failed to meet water quality standards safe for human contact.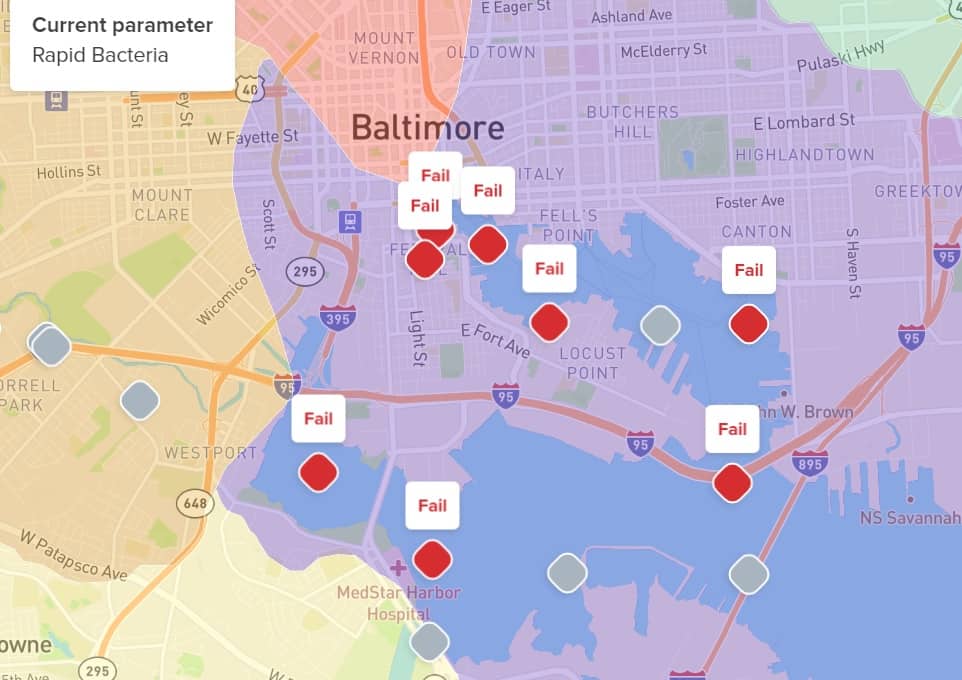 Tuesday's storm was notable in that it hung over the Baltimore waterfront for a prolonged period, dumping rain all the while. Volpitta says it was "closer to the impact of Ellicott City flooding," even if it wasn't quite as extreme.
"Downtown [Baltimore] is absolutely susceptible, and we need to be able to model for this type of event as it becomes more common."
Volpitta says this is the first year her organization has been able to do rapid bacteria monitoring, which makes water quality results available the very next day after sampling. From April to November, waterkeepers will collect samples every Wednesday and post them on the Baltimore Waterwatch website. See up-to-date results here.
-Meg Walburn Viviano