If you think it's a special treat to spot dolphins in the wild, you now have the chance for an even more close-up encounter. The Virginia Aquarium and Marine Science Center in Virginia Beach has just added a smaller vessel to their watching fleet, and it's a big hit. The aquarium has offered dolphin tours for a number of years, but this puts you closer to all the ocean has to offer.
Previously, the aquarium's dolphin watching tours took place on the Atlantic Explorer. This vessel has restrooms, a snack bar, and even an air conditioned cabin. Trips are a comfortable 90 minutes. The Atlantic Explorer is still operating, if you want to experience the ocean with some creature comforts.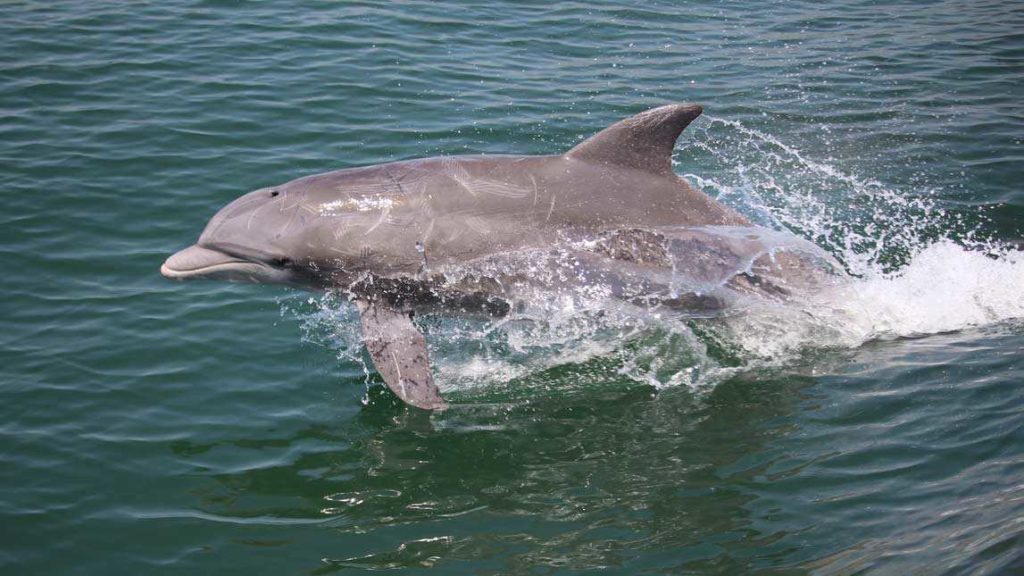 But if you are up for a little more adventure, the new Atlantic Scout might be the better option. It is a rigid hull inflatable boat designed by Naiad Design of New Zealand. Naiad is known for making high performance Rigid-Hulled Inflatable Boats (RHIB)  that are used by tourism, law enforcement, and rescue organizations around the world.  From Naiad Design's website, "For business and pleasure, for pioneers and professionals, Naiad is for those who operate in the extremes. Naiad handles the ocean like nothing you have ever experienced, which is why rescue and patrol agencies, tour operators, and maritime specialists choose Naiad."    
The Atlantic Scout is quiet, nimble, and puts you closer to any action in the water. It is a more intimate experience. There is no snack bar, and no air conditioning. But since you are closer to the water, you'll have a chance to catch a cooling splash. There is a restroom. Led by Rover Cruises, tours last 70 minutes, run every two hours between 10 a.m. and 2 p.m., and are narrated by aquarium staff. The age limit is 6 and over, and passengers must be able to travel stairs. Tickets are $35.  You can make a reservation at  tickets.virginiaaquarium.com/shows/atlantic%20scout/events.
-Kendall Osborne