Fresh Chesapeake Bay shrimp? They might be closer to the table than you think.
Story & photos by Robert Gustafson
As we drove the truck out on the neck on a summer evening, I looked to the left to catch a glimpse of the creek over the phragmites grass. Beyond the reeds I saw a young man throwing a cast net off a skiff. "He says he can catch shrimp—real shrimp—in the creek, using his net and cat food," my well-informed son told me.
At that moment, clues that had been subconsciously accumulating in my brain for a year all stitched together into a cogent thought: There are edible shrimp in the Chesapeake Bay!
When the boys were little, for fun we used to run a hand-net through the eelgrass in front of our house. We would catch and release small fish and crabs, snails, the occasional seahorse, and lots of tiny, translucent grass shrimp, each an inch long.
A couple of times we gathered a few spoonfuls of these tiny shrimp, flash fried them, and ate them, shell and all. They turned fiery red and tasted a bit like crunchy sticks that had been dipped in marsh mud. Ketchup much improved the experience.
But I sensed something had changed in the intervening 10 years. It seems the boys had grown and so had the shrimp.
A friend had mentioned "big shrimp" skipping on top of the water when he worked his oyster cages. I recalled having seen what looked like shrimp off a dock on the Bayside the previous summer. I had also read that there was now an experimental shrimp fishery off the Virginia coast.
I asked a few local watermen if they had seen these shrimp. Yes, more and more over the past five years, was the collective answer. The more I asked, the more I heard about people seeing these visitors to the Bay. There was a shadowy rumor that "a guy" had caught "two basketfuls" at the head of a creek to our south.
"There has been a huge increase in Penaeid shrimp in the Chesapeake Bay," confirms Dr. Troy Tuckey, Senior Research Scientist at the Virginia Institute of Marine Science (VIMS). Penaeid shrimp are also commonly called food, cocktail, or southern eating shrimp, and include the Atlantic white shrimp (Litopenaeus setiferus), which is commonly caught, both commercially and recreationally, just to our south in North Carolina.
Shrimp were noted in small numbers in the Chesapeake as early as the 1880s, but Tuckey confirms that the VIMS trawl survey of Virginia waters of the Chesapeake has seen 10 times as many shrimp in the 2010s compared with the 2000s. Staff for the Virginia Marine Resources Commission (VMRC) have reported a 155 percent increase in shrimp in the Bay in just the past couple of years.
Scientists do not have definitive evidence as to why shrimp have come to Virginia waters in greater numbers, but climate change seems to be the smoking gun. "It's a function of changing physical parameters that result in
an adjustment by the species," says Charles Carlson, Marine Science teacher at Broadwater Academy in Exmore, Va. "Warmer water, in addition to fresher water, is likely allowing for new species to come into the Bay
and colonize."
Climate-impacted currents and winds may also be at play. "If the coastal water temperatures don't force the shrimp to migrate further south," says Tuckey, "they will spawn on the coastal shelf off Virginia." The eggs hatch and eventually larvae drift with the currents into the Bay between April and June. The Bay provides excellent habitat for shrimp to grow. Small shrimp tend to seek lower salinity portions of the Bay's tributaries and then tend to move to higher salinity as they get larger.
In autumn, cooler water drives the shrimp out of the Bay and back to the Atlantic off the Virginia coast to start the process over again. Although some shrimp may live more than 12 months, they are considered an annual crop that regenerates each year.
It is unclear whether large numbers of edible shrimp will make it to the northern reaches of the Chesapeake Bay. Because larger shrimp prefer saltier water, "you might not catch them at the size you'd like to eat them" farther up the Bay, says Tuckey. But no one knows for sure.
The science, habitat, and taxonomy of shrimp are fascinating, but I wanted to know how I could get some for dinner! A little research uncovered that recreational shrimpers from North Carolina to Texas use cast nets and bait to haul in their shrimp. I had neither but was more than willing to learn.
First, I looked into the legality of taking shrimp recreationally in Virginia. Recreational harvesting of shrimp in Virginia is unregulated and therefore legal, as long as you hold a saltwater fishing license or a cast net license. (You don't need both; a fishing license allows you to cast a net.) However, I am told that VMRC is currently in the process of establishing its first-ever regulations for recreational harvest of shrimp, so check the VMRC website before gathering your own Chesapeake Bay shrimp.
Cast nets had always seemed like a daunting proposition to me—they're big, unwieldy, and I was pretty certain you had to hold some of the lead weights in your mouth to throw the net properly. My wife bought me one fifteen years ago, but I had never taken it out of the bucket it came in. So I fished it out of the rod and reel room and logged onto our spotty rural Internet to search YouTube.
I quickly found out that there are about as many ways to throw a cast net as there are crab traps in the Bay. "Easy" and "foolproof" are common in titles of YouTube videos giving advice to aspiring cast-netters. None looked easy to me. I searched for a little while, then decided I should just choose one method and give it a try.
I would like to be able to report that I suffered mightily, enduring character-building setbacks before ultimately persevering in mastering the secrets of throwing a cast net. But in reality, I think I just picked a good video (youtu.be/eTSG6xz4YMQ). It was not that difficult and did not involve putting toxic lead in my mouth.
I practiced throwing off my back deck into the grass. By the end of the first hour, I was getting the net to open up (mostly) on occasional throws. By the end of the week, I felt I was throwing well enough to make a trial run.
The best time to net shrimp is low tide and it appears that most folks use bait to attract the shrimp (e.g., my neighbor's cat food). The idea is that if you place food that shrimp like on the bottom, they will congregate, and you can throw the net over the top of them with some increased degree of efficiency.
I am usually a do-it-yourself kind of guy, but in this instance I decided my net skills already put me at a steep disadvantage and I needed to try to even the odds. I sent away for a commercial "bait ball" product made of fish meal and powdered clay, said to be used widely in the Carolinas and the Gulf of Mexico (baitbinder.com). When you moisten some and pat it into hockey puck-sized discs, it sinks and stays together while releasing a piscine smorgasbord into the water column.
My wife and I set out on a muggy Friday evening in July in our 17-foot homemade wooden skiff and fought over the sandbars at the mouth of a nearby creek at low tide. Once in the creek I stuck long poles in the muddy bottom in about six feet of water in two separate locations. I dropped a bait ball a few feet from the base of each pole. The poles served as a guide to remind me where I had placed the bait and where to cast the net.
We waited for ten minutes, hoping that any nearby shrimp would find the bait irresistible and be unlucky enough to be caught in my net. We drifted close to a pole. I cast. The net opened up, mostly, and the weights pulled the mesh to the bottom. I carefully retrieved it.
Lo and behold, three silversides and one shrimp!
This was not a grass shrimp, but a decent-sized shrimp you could boil and eat. OK, honestly it would probably be classified as "small," but it was so much bigger than any shrimp I'd ever caught in the Bay it looked like The Kraken to me.
Over the next hour we drifted back and forth between the poles. I caught hundreds of small fish, dozens of crabs, and about 70 shrimp, all between the size of my index finger and my pinky. They were a pretty, light gray with big black eyes and tiny black spots, a very prominent (and sharp!) "horn" that stuck out from their foreheads, and long antennae.
These were the same white shrimp being caught by the commercial boats out in the Atlantic and further down the coast.
It was not a massive haul, but it proved the point: There are edible shrimp in the Bay and novices can catch them with a little equipment and preparation. We collected over a pound of shrimp, then motored back into the Bay and on home as the sun fell across the water.
We hadn't thought of what we'd do with shrimp if we actually caught any. They were the freshest shrimp we had ever had in the kitchen. We quickly decided their highest use was ceviche. Ceviche (recipe in the sidebar) "cooks" the shrimp without heat, using only the chemical action of lime juice, and includes red onion, cilantro, and slivers of hot pepper. I raided the garden and started shelling the shrimp.
An hour later, we were eating citrusy Chesapeake Bay shrimp on crispy tortilla chips washed down with locally-made Assateague Ale from the Cape Charles Brewery (capecharlesbrewing.com). They were tremendous—firm and sweet with a very fresh "shrimp" taste.
Over the course of the summer, I baited and threw my net at various locations on the southern Eastern Shore. I cast off boats, from docks, and while standing knee-deep in saltwater in both the Bay and seaside marshes. I never failed to catch shrimp. Sometimes they were sparse. On a few rare occasions I caught several dozen per cast. The largest was nearly five inches long.
I quickly learned to be discriminating. The smaller shrimp are tedious to shell and shrink considerably when they are cooked, so what looks like an easy dinner at the dock may become an imposing mountain of work in the kitchen. I culled my catch after each cast and only kept the largest specimens, immediately returning the rest to the water to live and grow.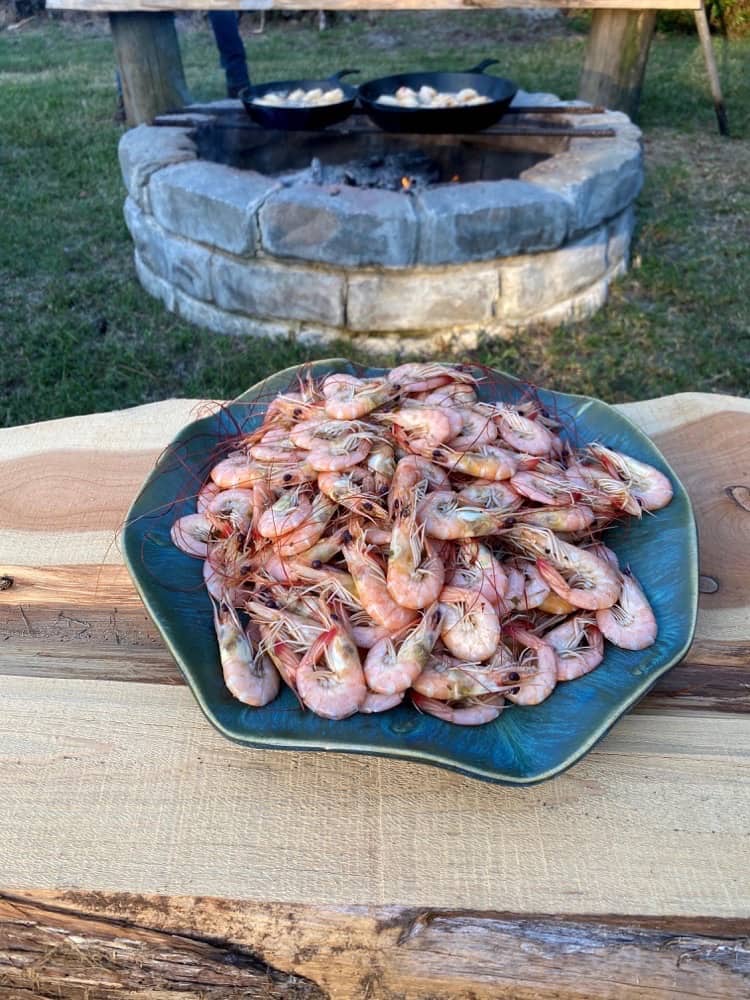 I lack the culinary repertoire of Bubba Gump, but we ate boiled shrimp, shrimp ceviche, fried shrimp, smoked shrimp, shrimp gumbo, shrimp and benne soup, and shrimp salad sandwiches. I froze some shrimp for the winter. I wasn't sure if the harvest would end or whether shrimp were permanent visitors to the Bay, but we were going to make the most of it!
My sons informed me they were sick of me serving shrimp. I ignored them and caught more.
Just before Halloween, we invited a small number of friends to a socially distanced and masked shrimp boil at our century-old clam house on the seaside. I was so confident there would be shrimp, I showed up with a pot, a camp stove, and my cast net. And there were! We feasted.
But all good things come to an end. The weather was getting cooler. On November 1, I cast my net at the same spot that had yielded a hearty dinner for eight the previous week. I caught precisely zero shrimp in a half-hour of casting. The shrimp had moved on.
I now know that the shrimp were following their natural pattern and migrating to the open Atlantic, kicking off the start of Virginia's commercial shrimp season. The big boats with their 16′ beam trawls scoop up these shrimp in the open ocean. The shrimp that escape those nets will spawn and send their progeny riding the currents into the Bay to start the cycle over again in the spring.
Catching Chesapeake Bay shrimp is possible for anyone with access to a dock or boat, is great fun, and yields outstanding food. People living on the shores of the Chesapeake have created a unique cuisine based on the foodstuffs available to them, from Hayman sweet potatoes and fish peppers to terrapin and black ducks. Shrimp has now migrated onto the list of locally available ingredients. As long as they remain in the Bay, it is incumbent on us to harvest them sustainably and use them creatively in the kitchen. How the presence of shrimp in the Bay will impact the Chesapeake economy, cuisine, and environment is unknown, but I am already envisioning folding shrimp into many of our favorite local dishes—crab and shrimp boils, shrimp and oyster pie, and shrimp and crab dip.
Robert Gustafson is an Eastern shoreman by way of Chicago, Harvard, and a career on Capitol Hill. He lives near Exmore, Va., where he coaches the Broadwater Academy track and field team.