When Chesapeake Bay Maritime Museum Shipwright Educator Matt Engel started the first after-school boatbuilding class for middle schoolers two years ago, he spent much of the first few weeks reteaching basic grade-school math. The kids couldn't cope with fractions or take accurate measurements—two critical skills when constructing a boat out of wood. They thought rulers were only used to draw straight lines.
To make the concepts more visual, Engel crafted a large-scale model of a pencil-case ruler using an eight-foot section of a 1×12 board. Then he hit on a sweet idea. "A candy bar works really well," he says. "A large Hershey bar is divided into 16 equal pieces. One-sixteenth of an inch is the smallest fraction we usually work with. Every kid could suddenly see that three-sixteenths were bigger than an eighth." Rising Tide, the woodworking program Engel runs on CBMM's St. Michaels campus, will start its third season in the fall as it continues to grow and mature.
CBMM President Kristen L. Greenaway says Rising Tide began as a hands-on way of making math and science fun and interactive. It was patterned after the successful "Rocking the Boat" school program in the South Bronx where boatbuilding has been part of the science curriculum for more than a decade. She says one of its goals is to give middle schoolers a glimpse of new skills and career paths for later life.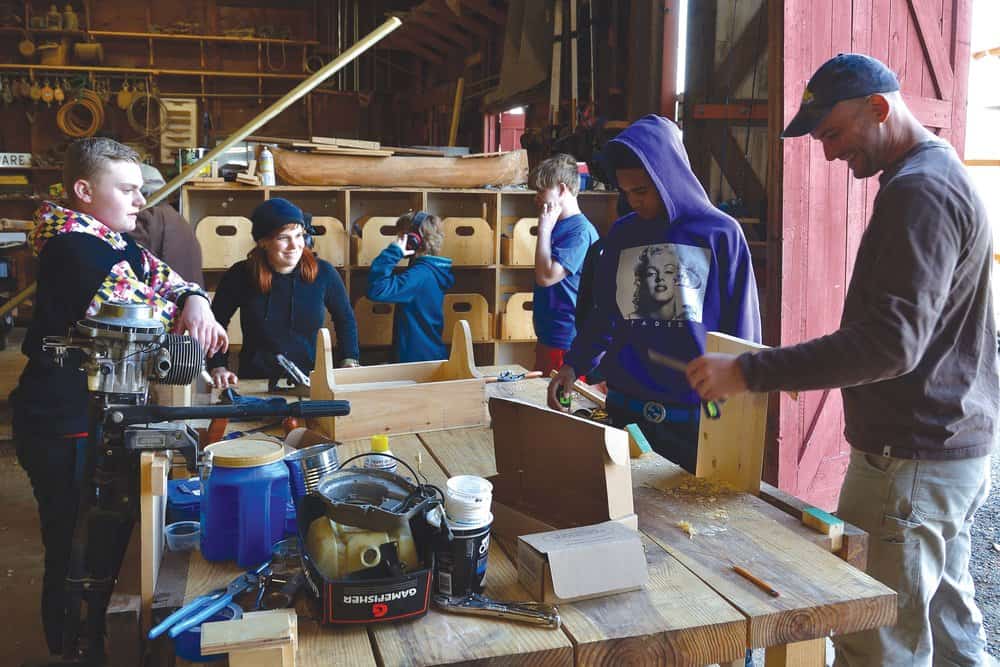 "We started out with grades six through eight, now we are six through nine, and each year we will add a year through high school," Greenaway says. "We were two days a week after school. Now we are four days with Fridays being Fishing on Fridays. The parents and the siblings are invited to come and fish from the museum docks and they are actually catching some fish."
This spring, Shipwright Apprentice Lauren Gaunt, who had been working the restoration of the museum's historic 1889 bugeye, Edna E. Lockwood, joined Engel on the Rising Tide teaching staff. "I have always had teaching as part of my plan. I still get to do woodworking and there is a lot of variation in the day," Gaunt says.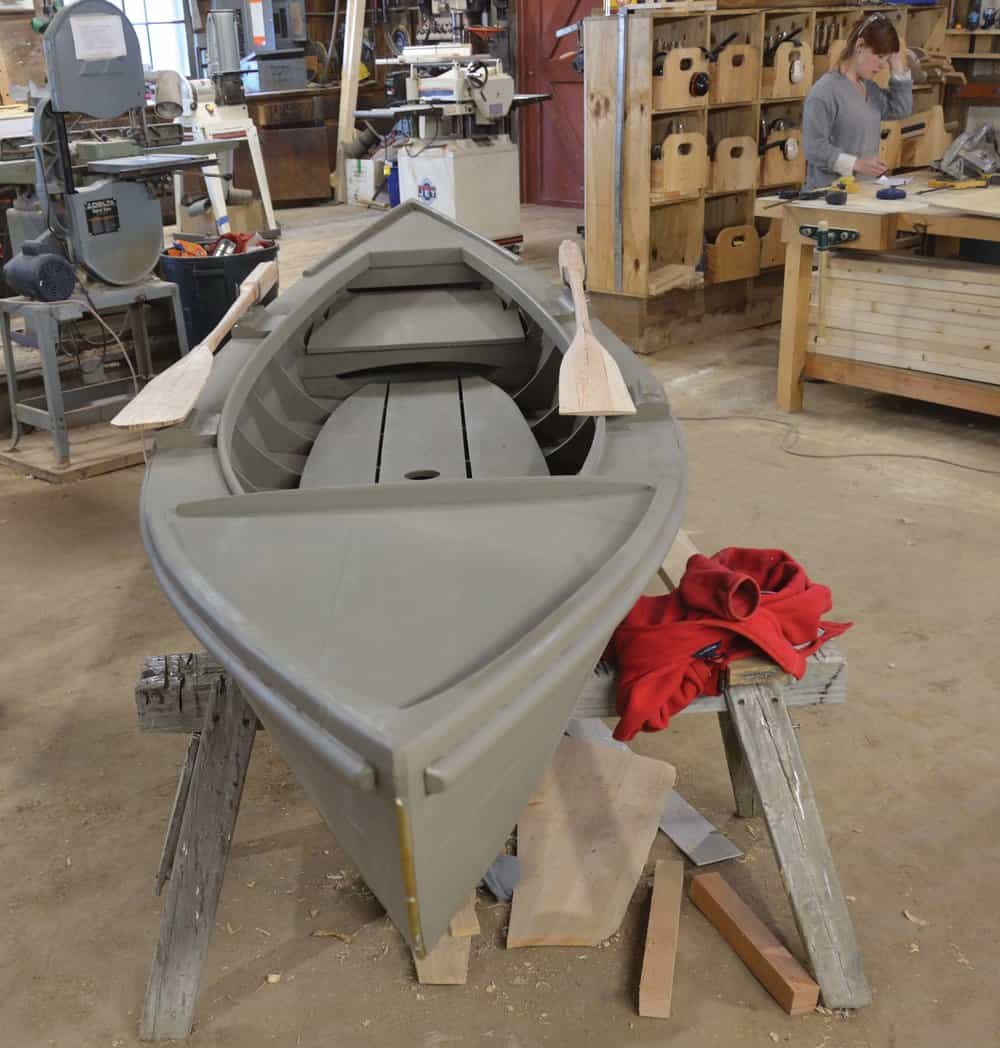 The program, which is free to the children, is one of the ways that CBMM is reaching out to the Eastern Shore community. The beginning students start by building their own wooden toolbox and gradually progress into more advanced projects. In the last year, they have built a traditional "Railbird" skiff, measuring, cutting and assembling the boat from scratch. They learned to carve and shape the oars and laminate the blades. While the students are working, the boatshop is alive with sounds of whirring saws and sanders, hammers and power drivers. Engel, Gaunt and CBMM volunteers watch over each phase of construction, making sure the students are wearing eye and ear protection and learning safe ways to handle sharp tools.
During the recent spring session, the students decided they wanted to build a floating dock. One of the students designed it and the others joined in, cutting the wood and assembling the platform to fit 55-gallon drums used as floats. "Next, we will design a pedal-powered boat," Engel says. "There are patents going back to the late 1800s for human powered boats. I am trying to get [the students] to put some thought into the process and have them to help guide the program."
The after-school classes and summer camp sessions are free, but space is limited and registration is required. For more information about Rising Tide, go to www.cbmm.org, email Matt Engel at [email protected] or call 410-745-4974.
—Dick Cooper