Hurricane Irma was one of the most powerful storms ever to move through the Atlantic, but the United States largely avoided its "worst case scenario." The southeast dealt with extensive power failures, storm surges in some places, and mass evacuations. But the deaths, biblical rainfall, and devastating winds didn't materialize as forecasters feared. In short, Florida and the East Coast got lucky.
The story was different, however, for those hoping to escape the hurricane by boat.
The U.S. Coast Guard released this video of a harrowing rescue 100 miles south of Apalachicola, Florida. Two sailors and their dog were trying to head for safety in Mississippi when their sailboat, the Magnolia Wind, lost steering in heavy seas. An MH-60 Jayhawk helicopter from Coast Guard Air Station Clearwater made the dangerous rescue:
In Martin County, Florida, police had to rescue two people from a small sailboat in 130-mile-per-hour winds, putting the boaters and the rescuers in peril. Officials do not recommend boaters try to "ride out" a hurricane offshore on a boat.
A number of Caribbean islands popular with cruisers felt the brunt of Irma, while she was still a powerful Category 5 storm, with sustained winds up to 185 miles per hour.
Scuttlebutt Sailing News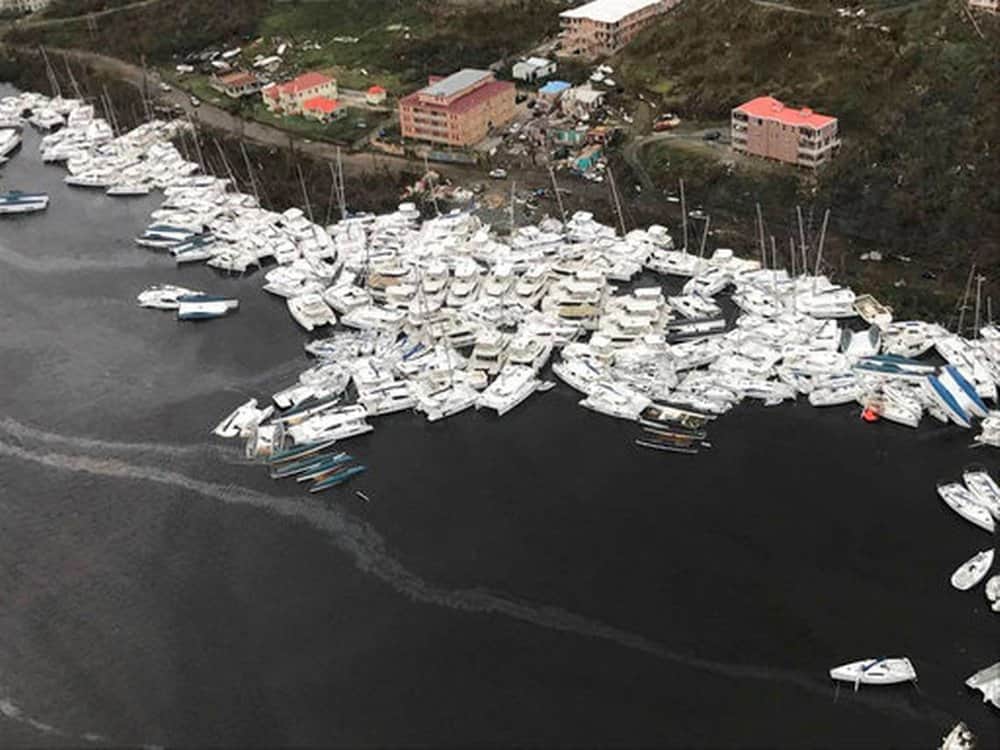 In the British Virgin Islands, what was a harbor full of boats became a pile of destruction on Tortola.
On Virgin Gorda, the Bitter End Yacht Club was mostly unrecognizable, but thankfully the resort was closed for the season, and employees were reportedly all safe.
On the next island over, Necker Island, billionaire Richard Branson rode out the storm. On a blog post, the founder of the Virgin Group wrote, "All of the team who stayed on Necker and Moskito during the hurricane are safe and well. We took shelter from the strongest hurricane ever inside the concrete cellar on Necker and very, very fortunately it held firm…I have never seen anything like this hurricane. Necker and the whole area have been completely and utterly devastated. We are still assessing the damage, but whole houses and trees have disappeared. Outside of the bunker, bathroom and bedroom doors and windows have flown 40 feet away."
Branson reported that his airline, Virgin Atlantic, was delivering supplies to other hard-hit islands. St. Martin, St. John and St. Thomas all endured the eyewall of Hurricane Irma, and losses on the islands are expected to reach into the billions of dollars.