Fred Hecklinger, sailor, founder of the Eastport Yacht Club, and legend in the worlds of yachting and traditional boats alike, has died at age 84 .
Hecklinger, born in Baltimore in 1936, found his calling in working on and around boats. He'd built a 15-foot lumberman's bateau from a design he found in Boy's Life magazine by the age of 15, and left home just a year later to find work on larger yachts.
He found it in Oxford, working for legendary yacht racer C. Sherman Hoyt.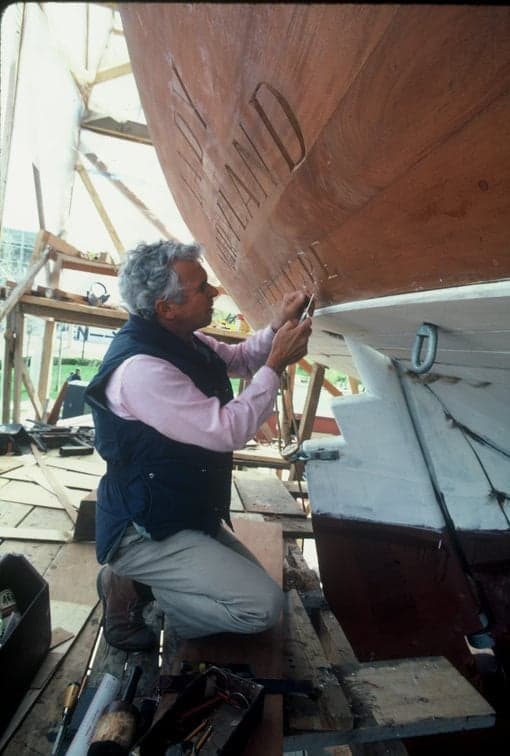 In the 2017 Chesapeake Bay Magazine feature "The Keeper of the Flame," Hecklinger recounted his memories working on all manner of ships and yachts to Wendy Mitman Clarke.
Pride of Baltimore I's former captain, Peter Boudreau, was in his early 20s when he met Hecklinger, the yard foreman building the replica privateer. He says the older man served as a mentor him and to many around the yard. Boudreau would go on to become master shipbuilder for the Pride II.
Boudreau calls Hecklinger "honorable, honest, but didn't suffer fools." In yachting circles, Hecklinger's opinion carried more weight than any other.
"If Fred said don't do it, then don't do it. He was the end of the book [to yacht owners]," Boudreau tells Bay Bulletin.
Current Pride II Captain Jan Miles recalls Hecklinger's "encyclopedic knowledge," crediting him with helping to preserve the legacy of classical yachting and traditional working sailing ways, including their construction and care.
The Living Classrooms Shipboard Baltimore nonprofit remembers Hecklinger for carving the stern lettering and trailboards for the Lady Maryland back in 1985, noting that he also helped establish Chesapeake Appreciation Days in 1965 and later served as a member of the Maryland Historical Society, Annapolis Maritime Museum and Chesapeake Bay Maritime Museum.
Former Chesapeake Bay Magazine editor Janie Meneely knew Hecklinger from the time she was a little girl, calling him an Eastport mainstay. She shares with Bay Bulletin, "Losing Freddy is like losing a maritime museum and the curator in the same flood."
An Eastport Yacht Club Facebook post reads, "We are devastated to report the passing of our Founder and first Past Commodore Fred Hecklinger." The post prompted condolences and memories from followers, including one that categorized him as the face of the Eastport Yacht Club, and more than one that called him "a true gentleman."
Hecklinger passed away on September 25 and is under the care of John M. Taylor Funeral Home.
-Meg Walburn Viviano