Oozing with luxury that would make even Robin Leach do a double-take, the 551-foot Scenic Eclipse, which arrived carrying two helicopters and a submarine, recently wowed visitors when it made stops in Baltimore and Norfolk.
Scenic Luxury Cruise & Tours, which offers river and ocean cruises worldwide, calls its newest vessel "the new benchmark in ultra luxury cruising." The ship has 114 suites, ten dining options, a spa, a gym, butler service for guests, and multiple pools.
But this yacht even seems to outdo itself; it cruises with Zodiacs, two helicopters (with room for six guests) aboard as well as a six-guest submarine, which can go down almost 1,000 feet. Scenic hails the vessel as the "World's First Discovery Yacht," a ship with the means to provide passengers with one-of-a-kind adventures as they cruise.
The company also says the Scenic Eclipse is equipped with technology like zero-speed stabilizer fins, a Polar Class 6 rating (the highest ice rating for a passenger ship), and a special GPS system that allows the vessel to remain in one place without an anchor.
Scenic Eclipse was christened in New York City in September by Dame Helen Mirren before stopping in Baltimore and Norfolk.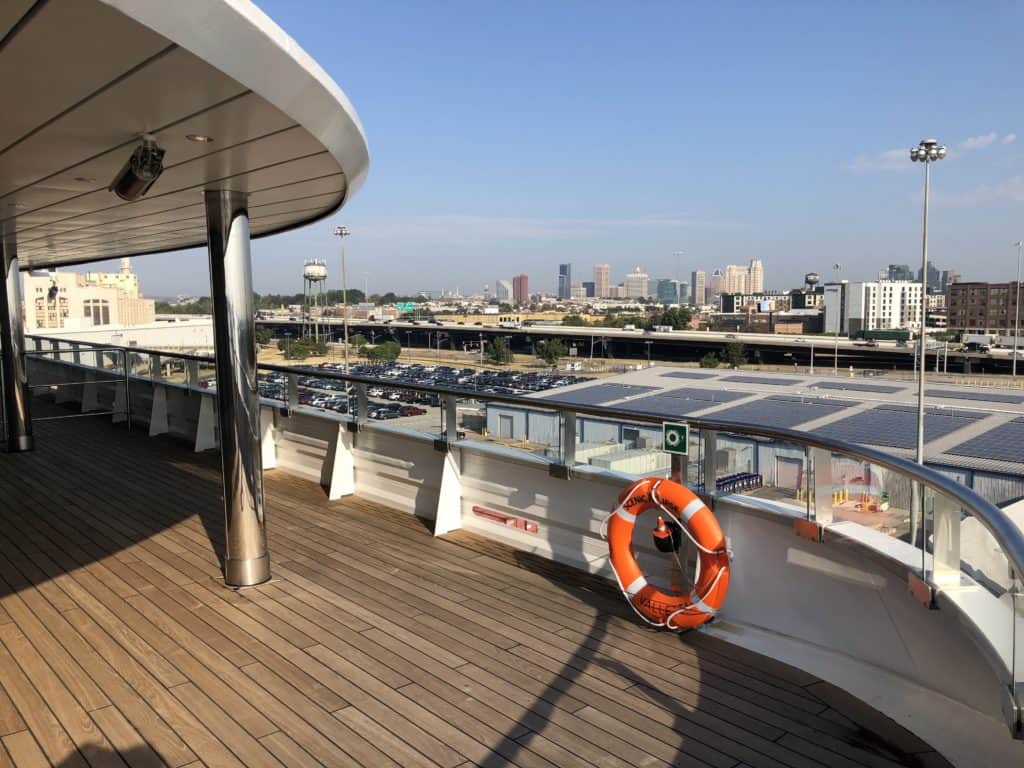 Chris Riehl of Baltimore Rent-A-Tour was able to get an up-close look at Scenic Eclipse when she visited Charm City.
"Some of our biggest clients are the cruise lines that stop in Baltimore for ports of call. While the ships are here, we offer passengers tour options," he says. "We were pleased to welcome the ultra-luxurious ocean yacht Scenic Eclipse to Charm City. She stopped in Baltimore en route to Antarctica, and while we treated passengers to guided tours of the city, our team was treated to a tour of the vessel – and it did not disappoint!"
Aside from being able to take in the sights aboard the ship, Riehl says he appreciates when vessels such as Scenic Eclipse stop in Baltimore.
"It really means a lot to Baltimore when travelers take the time to visit and really get to know our city, our history, our culture, and our people. Not only do their visits contribute to our local economy and support jobs, we hope their experiences here will also provide a different perspective on Baltimore; one they can take home and share with their families and friends."
For Shelia Harrison, Director of Marketing at Nauticus, which hosted Scenic Eclipse for her Hampton Roads visit, having the ship docked on the Elizabeth River is a testament to the type of waterfront destination Norfolk has become.
"Having a vessel like the world-class Scenic Eclipse call on us further confirms that Norfolk is a major cruise ship port stop."
To see more of the Scenic Eclipse, which calls itself a "six star lifestyle," click here.

–Laura Adams Boycourt