Buck Doughty sculpts metal with strength and a fine touch
By Bill Sterling
Standing at just over six feet, three inches and weighing in at 270 pounds, 48-year-old Albert "Buck" Kellam Doughty Jr. possesses strength and finesse, as proven by a long welding career and the delicate pieces of metal art he shapes. His home-based Hog Island Creations studio is just outside Eastville on the Eastern Shore of Virginia, equidistant from the Atlantic Ocean and Chesapeake Bay. There, he produces delicately-formed wildlife art that is a far cry from his industrial welding origins.
"I have lived all over Northampton County but never out of it," he says. "My family dates back to the first settlers who came to this country in 1608." He ticks
of off numerous ancestors, including several who lived on Hog Island when that barrier island was inhabited.
Doughty earned his welding certification at Eastern Shore Community College in 1992. "I was one of the Shields boys," says Doughty, referring to Louis Shield, a teacher who developed the welding program at ESCC and produced numerous classes of skilled welders. "He worked on some major ships during his career and really knew his stuff. When you left his class, you were ready for most anything."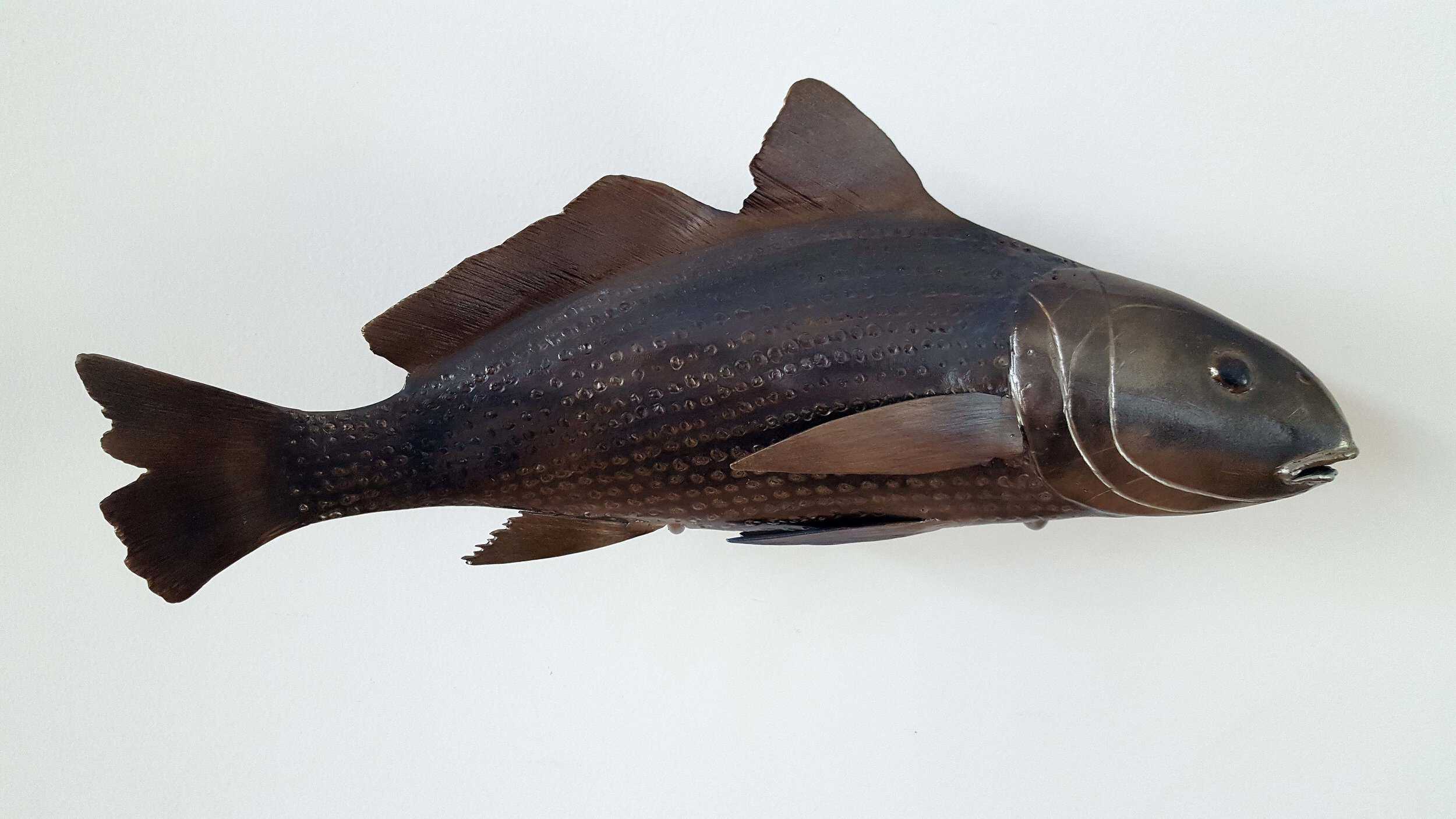 Doughty was a welder at Bayshore Concrete in Cape Charles and then for several area farms before trying his hand at artwork in 2006. "I sold three pieces at my first show and thought this might work out," says Doughty, who soon won best-in-show awards at art festivals in Chesapeake and Suffolk.
In 2008, he began producing artwork full-time, but when gas prices soared and the economy softened, he took on welding jobs to make ends meet.
These days, virtually all of his time is dedicated to artwork, although he will take on the occasional welding job for old customers if it fits his schedule. Meanwhile, he's a family man. He met his wife, Helené, when she was a French exchange student at Northampton High School, and they have a 15-year-old daughter, Chloe, and a 19-year-old
son Morgan.
Doughty was 10 years old when his 50-year-old father, a Northampton County deputy sheriff, died from skin cancer. He couldn't play high-school sports because he was busy working. Doughty learned from his cousins how to keep lawn mowers and cars running, which helped out.
"I had to grow up quick and help support the family. I had two sisters and my Mom at home, but I was the only boy in the house," recalled Doughty.
Today, he's restoring a 1966 Dodge Coronet. "I've got it running like a Singer sewing machine," he says. And he's making up for lost outdoor time by hunting and fishing whenever he can.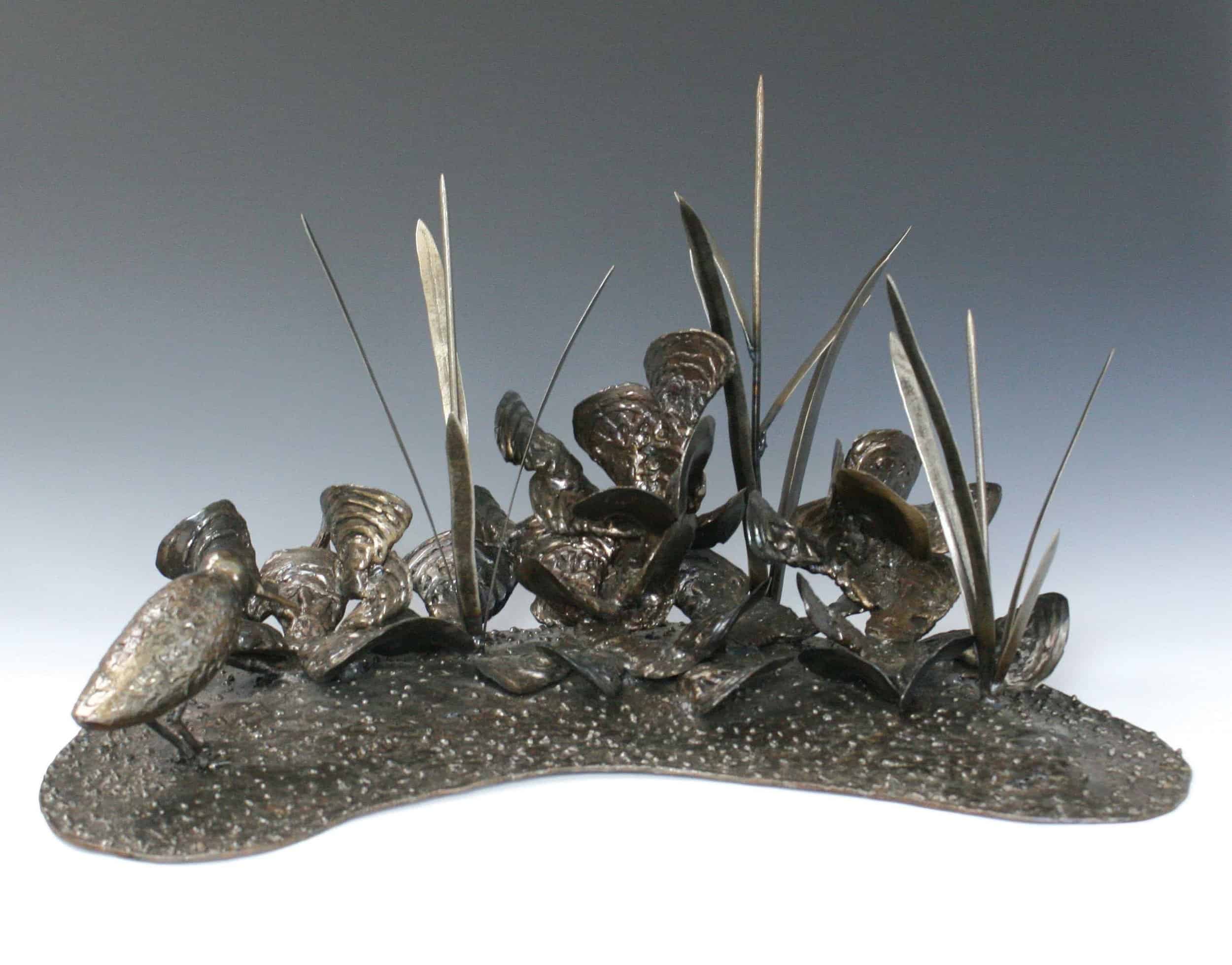 Time remains in short supply, as he recently took on the job of chief engineer, keeping the equipment running for the Eastville Volunteer Fire Company. Otherwise, he is shaping metal in his backyard shop after dropping his daughter off at school. His recent works include an octopus used as the base of a table, a seahorse, hunting scenes, and a surprising 3-D landscape of New York City. An exquisite piece showing a butterfly emerging from its cocoon is on display at the Cape Charles Brewery. Many pieces are on display at Chatham Vineyard in Machipongo.
"I can make anything. You name it, I can make it—clams, trees, crabs…it doesn't matter," he says. He has produced over 1,000 pieces, which have sold for as little as $50 and as much as $13,000. He uses scrap metal, often donated or found, for most of his works.
Doughty was the 2017 Eastern Shore Ducks Unlimited Artist of the Year and created a black duck sculpture that brought $1,600 in the annual auction. Doughty regularly demonstrates metal sculpting at the Ducks Unlimited Fall Greenwing Youth Event, and is well-known for his easygoing and generous nature. "I don't mind giving to good causes when asked, but sometimes I think I am giving away as many pieces as I sell," he says.
Doughty is a member of the local Ducks Unlimited committee. "I am a great believer in protecting the environment. People say we need more jobs," he adds. "But I've never had to look for work. If you are willing to learn and can fix things, there will always be work for you." h
Bill Sterling is a retired editor/general manager of the Eastern Shore News and outdoor editor for the Eastern Shore Post who enjoys hunting and fishing on Virginia's Eastern Shore.