Coordination is key to reaching their shared goal.
Editor's Note: Nearly 30 years into concerted efforts to restore the Bay, the Environmental Protection Agency (EPA) established a Clean Water Act provision in 2010 called the Chesapeake Bay Total Maximum Daily Load, which provides science-based, enforceable limits on the amount of pollution entering the Chesapeake in order to remove the Bay from the federal "dirty waters" list. The six states in the Bay watershed—Maryland, Pennsylvania, New York, Virginia, West Virginia and Delaware, along with the District of Columbia—agreed to develop individual plans and milestones to achieve those limits by 2025, which will lead to the "fishable, swimmable" waters promised by the Clean Water Act of 1972.
As the 40-year deadline for the Chesapeake Bay Agreement looms, it's possible to be simultaneously frustrated with the past and optimistic for the future. While most of the Agreement's own goals will not be met, improvements in sediment runoff, water quality and habitat recovery all show signs of changes being made in the right direction. Gone are the days of rampantly reeking rivers; instead, we look forward to more otter and dolphin sightings as the Bay rebounds. After all, if the goal is to make the Bay "fishable and swimmable," we can look at the presence of otters and dolphins fishing and swimming in the Bay as affirmations.
Perhaps the one goal that has been successful is the establishment of specific organizations to address concerns identified in the Agreement. The Chesapeake Bay is now one of the most studied bodies of water in the country, thanks to the work of organizations committed to long-term restoration efforts. And just as the Bay has changed over the last 40 years, so have the collective workings of these groups. The dialogue between policy makers, scientists, farmers and activists has reached a level of collective action unseen in the last 40 years.
The current leaders of some of the most effective restoration efforts happen to be women, several of whom were not even born when the Agreement was put into place. They are bringing expertise and a spirit of camaraderie that is giving new hope to the Bay restoration movement. We spoke to them about the personal experiences that make them so eager to usher in a new wave on the watershed.
---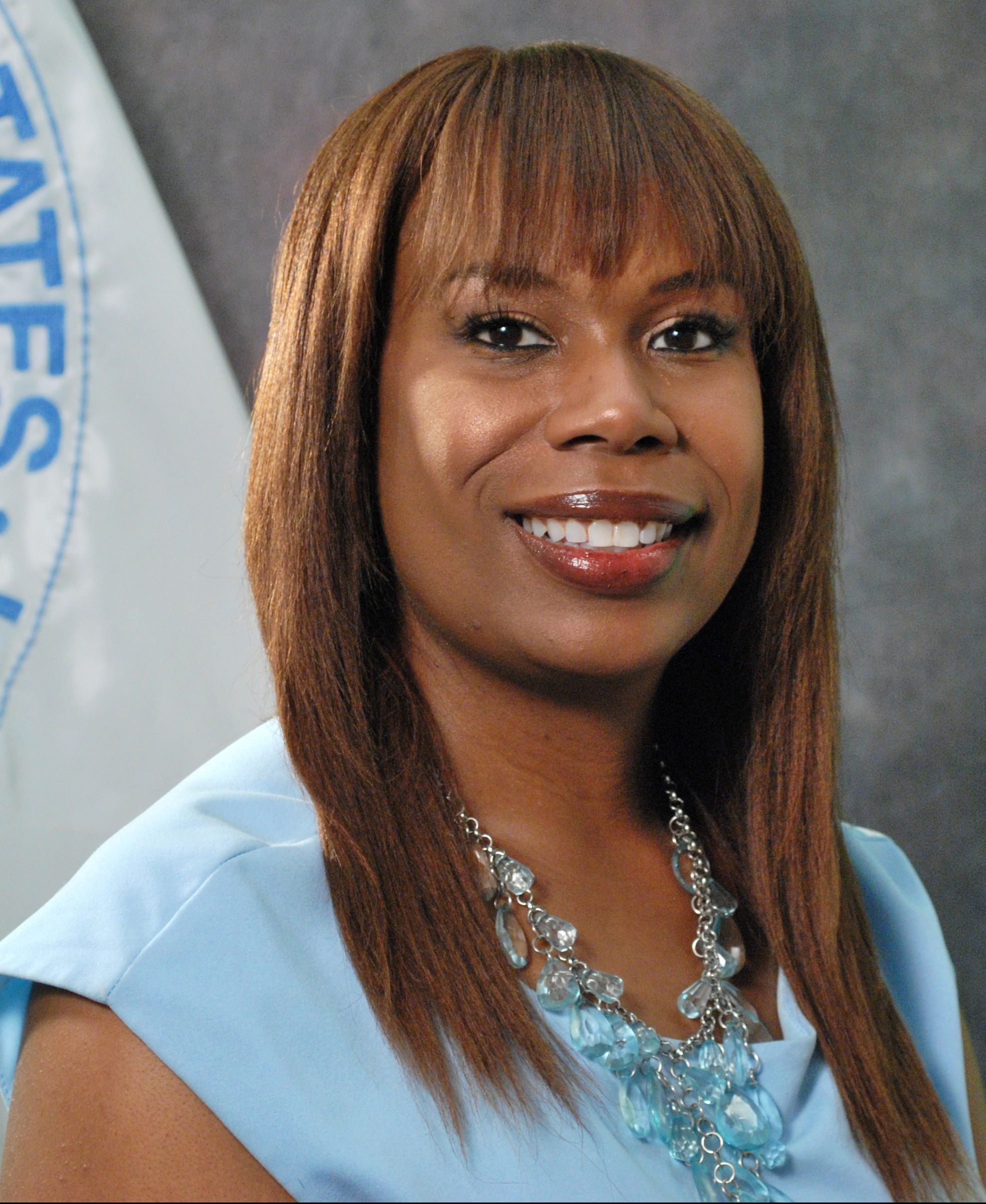 Dr. Kandis Boyd, Director, EPA's Chesapeake Bay Program
Dr. Kandis Boyd joined the EPA in 2022 after a 30-year career with the National Science Foundation and the National Oceanic and Atmospheric Administration (NOAA). Her career path was not a foregone conclusion, however. As the first African American woman to receive an undergraduate degree in meteorology from Iowa State University, Dr. Boyd was ready to be a storm chaser for Midwestern television stations. But when a television producer told her she "didn't fit the demographic" for her audience, she moved into a role where her work would be valued for its merit. She has a double masters degree in meteorology and water resources as well as a doctorate in public administration.
As a meteorologist, her scientific understanding of the impact of climate change brings science to the forefront of the conversation. The years she spent modeling and forecasting have given her an appreciation of the nuance (and often the chaos) of nature.
"I like the fact that the focus is shifting from STEM to STEAM," she says, referencing the "A" for "Art" in the acronym. "It's the artistic expression of science that makes it what it is." Dr. Boyd is also the author of several children's books examining the creative side of science.
As the daughter of two schoolteachers, she learned the vital importance of education around the dining room table. And as a Black woman, she experienced firsthand the roadblocks that so many have faced. As a director with the EPA, she prioritizes early education and eliminating the obstacles so many face in entering the science fields.
"There's no cookie cutter STEAM program that can be infused into every community," she says, highlighting the importance of diversity, equity and inclusion within all of the EPA's initiatives. "The education needs to be tailored to each individual community. Invite professionals into the classrooms and help expose kids to careers. Mentoring matters because people tend to do what they see, but you don't see meteorologists and environmental scientists every day."
When addressing the looming deadline and the inevitable shortcomings, Dr. Boyd is optimistic. She cites clean technologies as a leading agent of change and the necessity of their availability if we want to see change in our lifetimes.
"Over 28 years, I have seen advances," she says. "It's an indisputable fact that if we went back to 1983 and compared water levels, there is improvement. There may be outliers, but progress is being made. We aren't there yet, but we're on our way."
Chesapeake Bay Program
This regional partnership was founded in 1983 to meet the goals of the Chesapeake Bay Watershed Agreement. The program's Chesapeake Executive Council consists of the governors of the six watershed states (Maryland, Virginia, Delaware, West Virginia, Pennsylvania and New York), the mayor of the District of Columbia, the chair of the Chesapeake Bay Commission (Maryland Senator Sarah Elfreth) and the administrator from the U.S. Environmental Protection Agency (Kandis Boyd). The office is based in Annapolis, where their staff—comprised of employees from federal and state agencies, nonprofits and academia—works to achieve their vision: "an environmentally and economically sustainable Chesapeake Bay watershed with clean water, abundant life, conserved lands and access to the water, a vibrant cultural heritage, and a diversity of engaged stakeholders."
Learn more and find ways to help their work at chesapeakebay.net.
---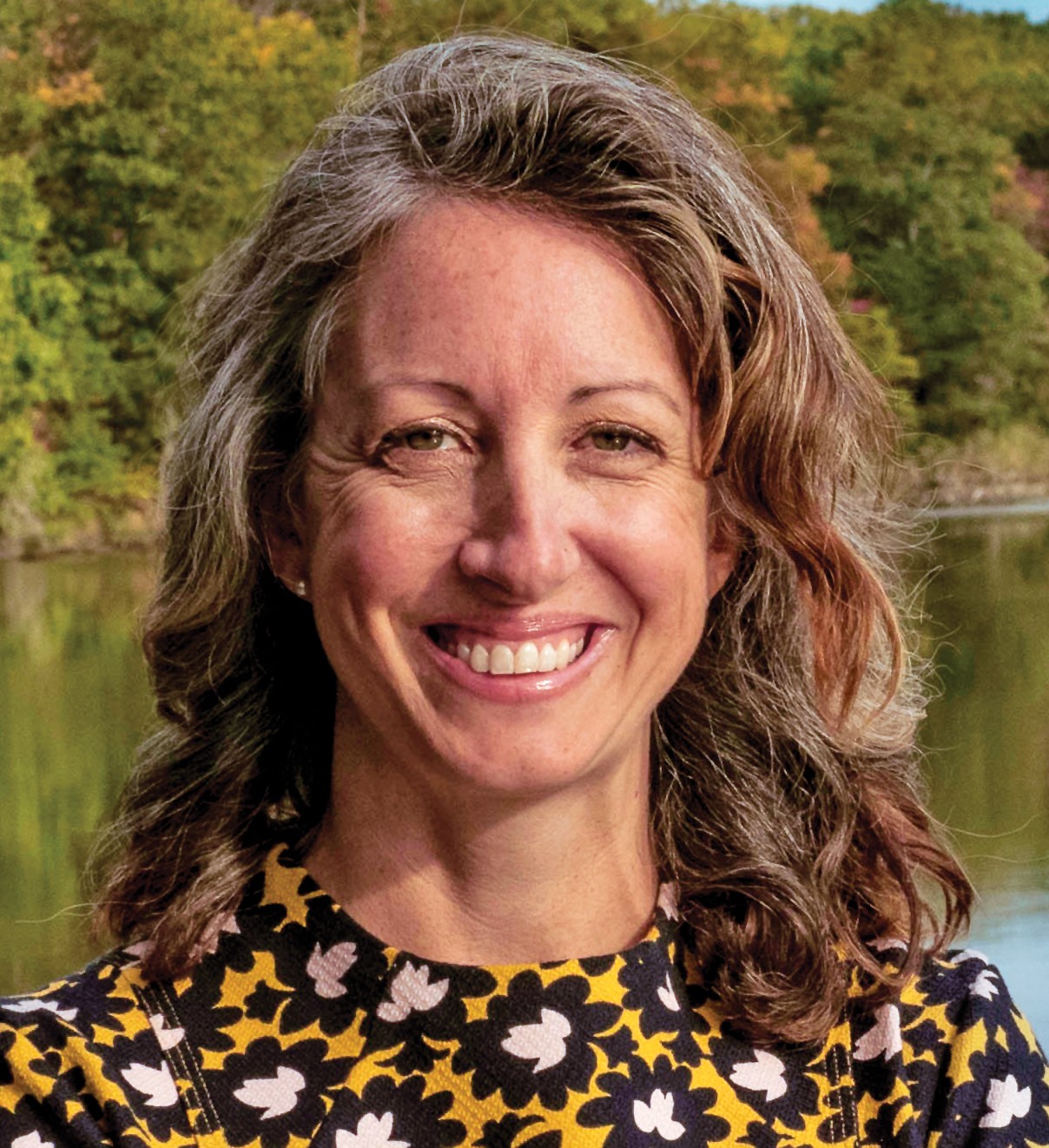 Hilary Falk, President and CEO, Chesapeake Bay Foundation
For Hilary Falk, lived experience established the backbone of her work at the Chesapeake Bay Foundation. The daughter of Dave Harp, a prominent photographer for the Bay Journal, Falk grew up shadowing her father on trips to profile Bay characters.
"Going on assignment with my dad was a wonderful introduction to the Bay," she says. "One of his specialties was 'People and Places'—the connection that people have to the Bay and the land around it. Those early mornings had a meaningful impact on me from a young age, and started me on my career path."
Falk's passion is met only with her own determination. As an undergraduate at Franklin and Marshall College, she knew that she wanted to work for the Chesapeake Bay Foundation. When they accepted her for an intern position directly out of college, she did not know how invested she would become in the future of Bay restoration. "That August after I graduated, I made the drive to Crisfield to catch the ferry to Port Isobel Island. I jumped on a boat with another educator and we ended up living together in the middle of the Chesapeake Bay. He later became my husband."
Not all of Falk's career has been spent at CBF, however. For 13 years she worked at the National Wildlife Federation, where she created and worked on projects such as the Choose Clean Water Coalition and the Wallis Annenberg Wildlife Crossing. For the latter, Falk helped protect the movement of wildlife across Highway 101 in the Santa Monica mountains by building a nature crossing over 10 lanes of freeway. "What struck me over and over again," she says, "was seeing people and wildlife in these interconnected challenges. When we solve the challenges for wildlife, we're actually solving them for people as well. We need to consider people and nature in the same space."
Whether it's moving mountain lions in California or focusing on farms in Pennsylvania, Falk is focused on engaging people rather than enforcing policy. "We have to meet people where they are," she says. "When we work with farmers, we focus on what will benefit them directly. What benefits the health of the soil will benefit the health of the herd. And when those two things occur, we'll see improvement in the health of a local river or stream. By looking to improve peoples' lives, we can connect the dots all the way down to a clean Chesapeake Bay."
To create this engagement, Falk commits herself to listening to voices other than her own. "Over the years, I watched phenomenal leaders who were collaborative and empowering," she says. "I wanted to be that leader. I feel responsible for making space at the table within the CBF and the broader community, because I know that the more voices we bring to the table, the better the outcome for the Bay will be."
Chesapeake Bay Foundation
The largest independent organization devoted to saving the Bay, CBF was founded in Annapolis in 1967. They bring a four-pronged approach to their mission: education, via working with schools; advocacy, by advising and being a watchdog on policy decisions at every level; restoration, through hands-on work rebuilding natural filters from oyster reefs to shorelines; and litigation, as relates to the Bay. (You may have heard about their recent big win, with the Maryland Court of Appeals vacating the Conowingo Dam license due to sidestepping water quality certification.)
Learn more and find ways to help their work at cbf.org.
---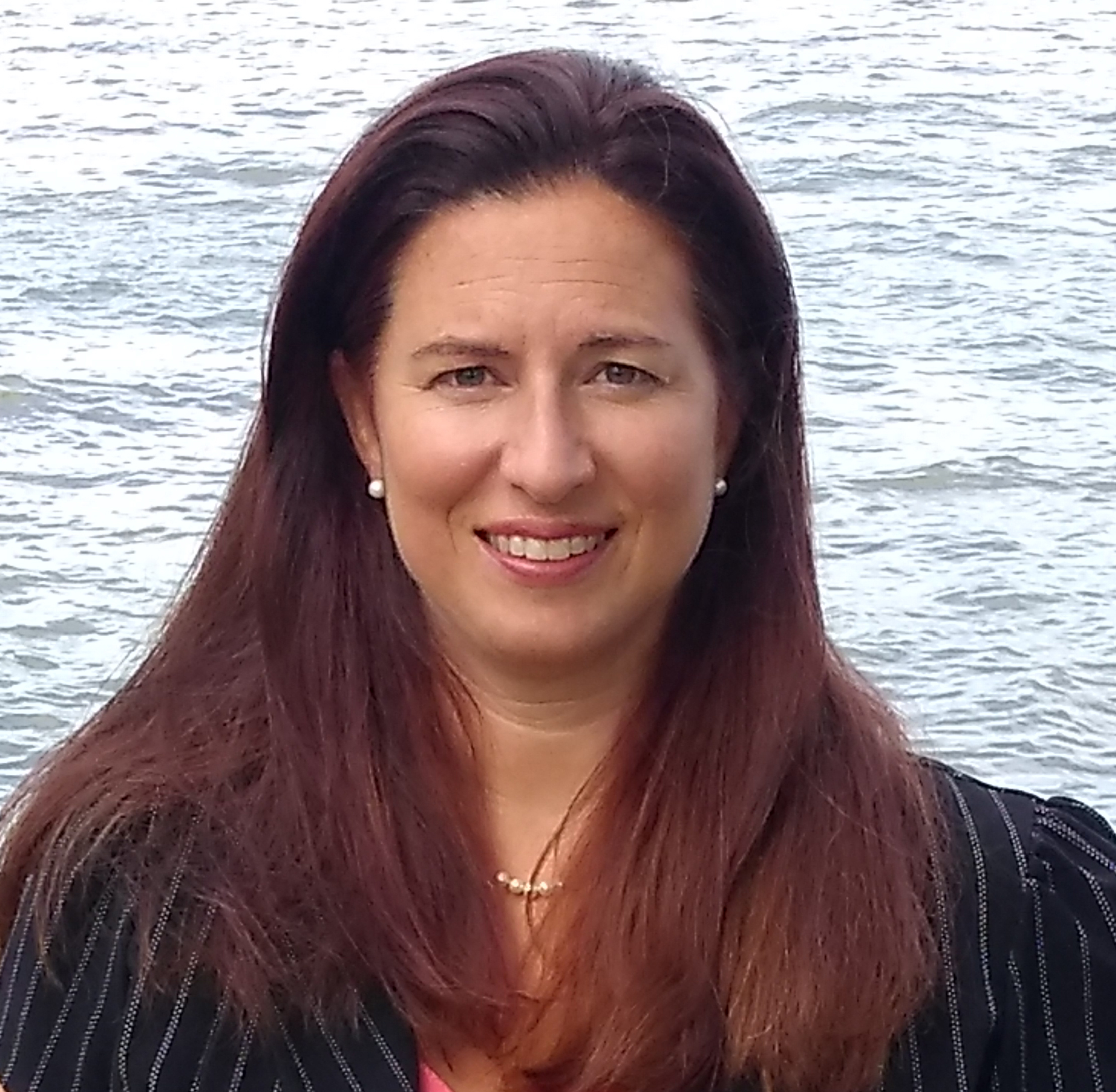 Dr. Jana Davis, President, Chesapeake Bay Trust
One of the biggest challenges in Bay cleanup efforts is funding. A 2014 report by CBF estimated the economic benefit of a healthy Bay could be within the range of $120–$130 billion annually across the states of New York, Delaware, Pennsylvania, Maryland and Virginia. But to get there, Bay stewards would need roughly $5 billion annually.
"The things that we have to do cost a lot of money," says Dr. Jana Davis of the Chesapeake Bay Trust. "The government will be a huge part of the solution, but most of the land in the watershed is privately owned. It's important for us to look for what communities want to do, and then help them raise money."
Davis is an ideal networker for this specific purpose. A marine ecologist by training, she approaches her work with a focus on the intersection between science and policy. This eye for both sides of the problem is both helpful and challenging. "I often worry that people will lose patience before we can make a difference, or that we aren't being as cost-effective as we can be."
This creates an opportunity for Davis. The Trust works to provide grants for residents and organizations aimed at improving local communities, which will in turn positively impact the Bay. The projects are creative and innovative, and often surprising. "In 2021, we funded a project within Patapsco Valley State Park," she says. "The group retrofitted some campsites to be accessible to disabled veterans, and I love that because it helped bring in people who need nature. If we don't provide access to resources, we can't expect people to want to protect them."
One of the Trust's bigger challenges is the fact that many of the communities who would benefit most are not applying for funding. "If there's a particular population who isn't applying to our grant program, we'll sometimes look further into it," she says. "Not everyone has a grant writer on staff, so we'll use connector groups to identify who we're missing from the story and help them put proposals together."
The Trust's greatest source of funding is the Bay plate, which sells for $20. The money from these license plates has provided more than $130 million to over 14,000 grant recipients since 1985. The Bay plate is one of the easiest ways to support restoration and bring awareness.
"People always ask, 'What's one thing we can do to make a difference?' And we always say that planting native plants is a good one," she says. "If you can't plant anything, buy a license plate. We'll invest that money in places where the work can happen."
Chesapeake Bay Trust
The Chesapeake Bay Trust is a nonprofit, grant-making organization that works to source and distribute assets along three core goals: environmental education in K–12 schools, and hands-on restoration and community engagement via a diverse network of community groups and nonprofits. One of the highest-profile campaigns is the Bay Plate license plate program, where a $20 donation lets you show you support every time you drive your car. CB Trust also administers popular programs like the Chesapeake Conservation Corps, which gives young adults onsite training in conservation work, and the Maryland Outdoor and Recreation Clean Water Fund, tailored towards anglers and boaters. Their website has a great interactive map where you can see the projects they support, all around the Bay.
Learn more and find ways to help at cbtrust.org.
---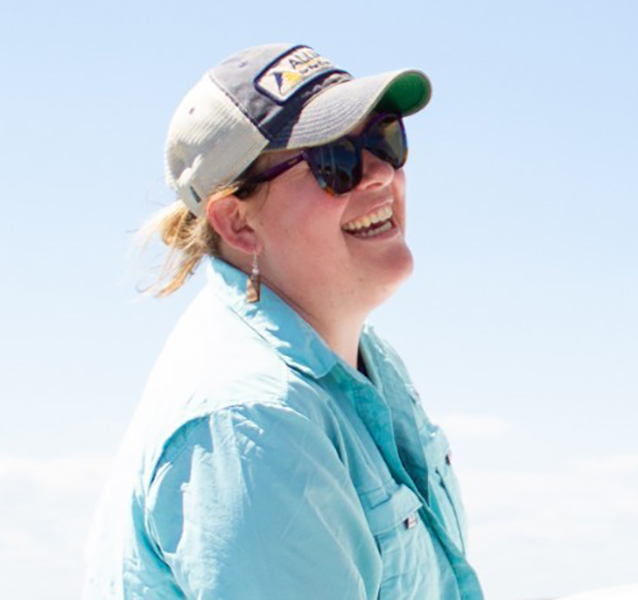 Kate Fritz, CEO of the Alliance for the Chesapeake Bay
In 1971, a group of local business owners came together from various fields to address the declining state of the Bay and the lack of political willingness to address the problems. Their idea was to use their professional backgrounds to create a coordinated approach to restoration efforts. The Alliance for the Chesapeake Bay was formed, and Frances Flanagan was their leader.
Almost 50 years later, in 2017, another woman was chosen to helm the organization. Kate Fritz was a biologist and environmental scientist working as a riverkeeper at the time. She had experience monitoring watersheds and creating land use policies as well as higher degrees in environmental management and leadership in sustainability. She was passionate about hunting and fishing. She had also lived in five of the Bay's jurisdictions and knew the Chesapeake like the back of her hand. She was the ideal leader for the Alliance's next 50 years, and still holds the position today.
"I feel honored to follow in Frances's footsteps," she says. "Her leadership was unprecedented for the 1970s. Collaboration and inclusivity are values that she brought to the table, and I hope to extend that in my time as well."
Fritz grew up in a military household and moved around often. These experiences have created the backbone of her leadership style. "Moving around so much as a kid has led me to be a humanist," she says. "I've moved around a lot within my career, as well. I've worked in the private and public sectors, and now with an NGO. I tell people that I know 'a little about a lot,' and that general knowledge has helped me evolve flexibly. Now, I'm able to leverage that at the Alliance."
Fritz needed that flexibility as the pandemic changed her workflow in early 2020. "When I started at the Alliance, my vision was focused on building an organization for the next 50 years. The pandemic brought a new world of work, however, with greater flexibility and work-life balance. We looked at our personnel and our practices with an eye for building those for the future."
This cultural shift allowed Fritz's Alliance to change the way they approached their work. They adapted schedules to prioritize families over work. They created space for personnel to feel appreciated and able to separate their work lives from their personal lives.
One other shift that occurred was the Alliance's consideration of partnerships. When Fritz assumed her position, she held social justice as a priority for the organization. "Since 2017, we've been working internally to dismantle unjust systems that disproportionately impact racially diverse communities," she says. Together with her Board of Directors, Fritz established a resolution to build a culture of diversity and inclusion within the workplace. Resources and trainings followed. Her work within the social justice space provided an example for other organizations to follow.
Starting in 2020, Kate began cultivating relationships with groups such as Bowie State students and Eco Latinos and put the Alliance's support behind their efforts. "I've always intellectually known that representation matters," Fritz says. "But when we're asking students what kind of speakers they want, and they say, 'We want a naturalist of color to lead this bird walk,' I understand it on a much deeper level."
Despite her success at the Alliance and the ripple effect her work has created, Fritz fears that it's not enough. "I ask myself, 'how do we maintain the urgency to keep doing what we've been doing?' How can we come together, work more efficiently, work more collectively? We can't wait anymore. We can always leave the conversation with an 'and.' We might not know what that is yet, and it could be someone else's 'and.' But it's continuously building it up, not shutting it down."
Alliance for the Chesapeake Bay
The ACB is a multi-state, citizen-led alliance born in 1971 to bring together communities, companies and conservationists from all around the Chesapeake Bay watershed to make real change around the Bay. With offices in Maryland, Pennsylvania, Virginia and Washington D.C., the ACB focuses on collaborative efforts in the areas of forestry, agriculture, green infrastructure and sustainable stewardship of our natural resources.
Learn more and find ways to help their work at allianceforthebay.org.
---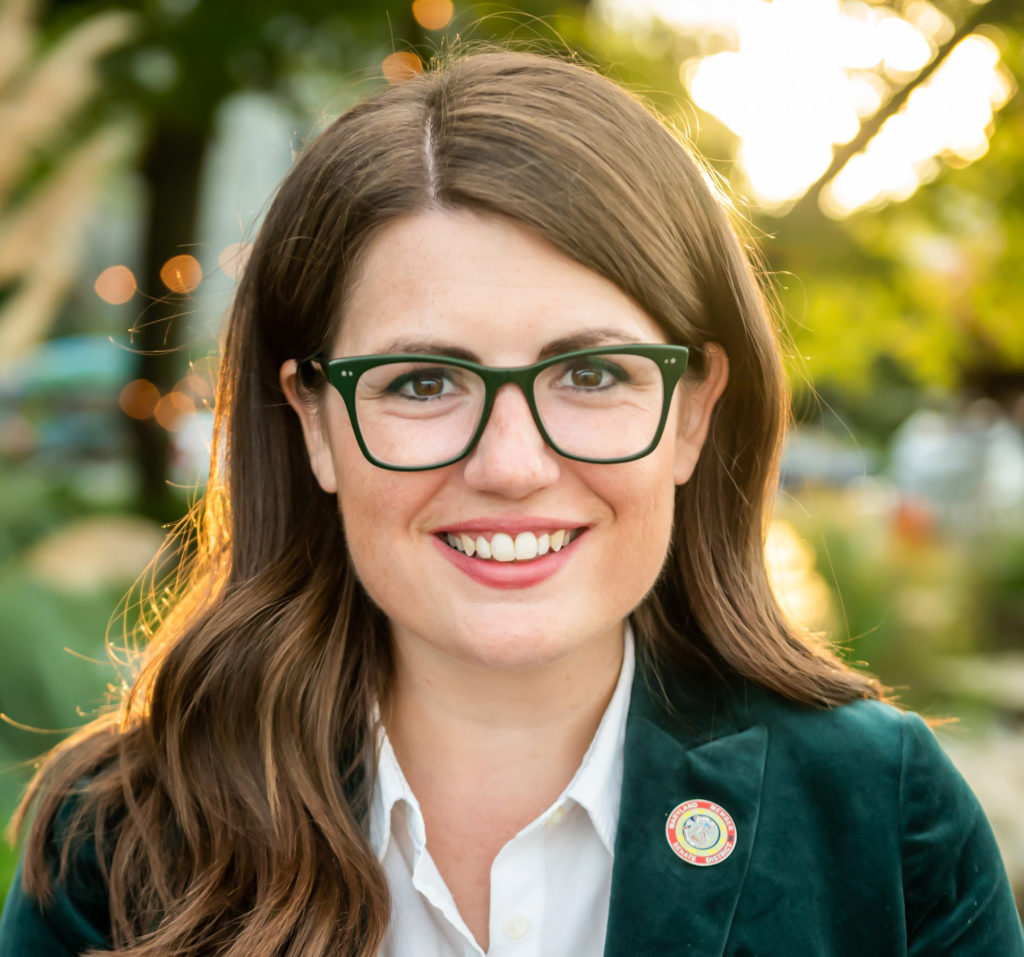 Sarah Elfreth, Maryland State Senator and Chair of the Chesapeake Bay Commission
The Bay restoration movement has benefitted from elected officials who are dedicated to the cause. But this is often a challenging role to assume.
"People want to hear that we're going to sue Pennsylvania, that we're going to throw the book at them," says Sarah Elfreth, who, in 2018 at age 30 became the youngest woman elected to the Maryland Senate. "In terms of effective change, though, I'm not sure that's going to create it."
Elfreth is now embarking upon her second term as a Maryland State Senator, where she is an effective strategist and communicator between people, states and governmental bodies. One of her greatest roles is Chair of the Chesapeake Bay Commission, which is comprised of legislators representing Pennsylvania and Maryland.
"When I go to see my colleagues in Pennsylvania, we don't talk about the health of the Bay. They don't have Bay waterfront, so our issues are not as visceral or visual there as they are here." Instead of pitching the importance of crabs to Pennsylvania farmers, Elfreth meets them where they are. There are more cows in Lancaster County than there are in the entire state of Maryland, and while Pennsylvania has the greatest stream density in the country, half of their streams are impaired. So she talks about farms and streams.
"We have 157 municipalities in Maryland," she says. "But in Pennsylvania, there are 2,560. That's more than 2,500 town councils, mayors who might be part time. Maybe they have engineers on staff in those towns, or a designated stormwater person. But all those towns are making land-use policy that affects what happens downstream. By providing technical assistance to farms and support to municipalities, we'll have the most impact on water quality in Maryland."
Elfreth knows that her middle way approach isn't going to make her flashy as a politician. "It's a long answer," she says of her approach. "And that's a death knell in politics, where we're supposed to have quick, 10-second answers. But we are seeing progress."
That progress is challenging to quantify. Elfreth recognizes that within the last 40 years of the movement, the area has suffered the loss of forests and wetlands while its population has tripled. But time does have its benefits. "Our science is far superior to what it was back when the Bay movement began," she says. "And we have more grassroots organizations operating on the ground. Almost every stream has a group advocating for it. For the first time, we're sending money upstream to Pennsylvania and helping them pay for their efforts. And this seems to be working."
The work of creating interstate policies and reaching across the aisle politically is an art form, and Elfreth considers this her creative process. "I can't paint a picture or play the guitar, but my creative juices flow in legislating."
This involves the consideration of nuance, which Elfreth not only understands but also teaches as an instructor of political science and public policy at Towson University. "My job is to get the smartest people in the room to talk (and sometimes fight) a problem out. You compromise to the point where everybody is a little happy and a little pissed off, and that's when you know you have the best policy."
As a young politician who is fighting to solve problems her generation did not create, Elfreth maintains an optimism not often seen among her peers. But she says that this is crucial for moving forward. "If people don't feel optimistic about the future, they'll vote for the people who feed into their worst fears," she says. "And then we aren't going to see progress at all."
Chesapeake Bay Commission
The Chesapeake Bay Commission was created in the early 1980s as a tri-state legislative assembly representing Maryland, Pennsylvania and Virginia, whose goal is to coordinate policy in the restoration of the Chesapeake Bay watershed. The Commission's leadership covers a full spectrum of Bay issues, from managing living resources and conserving land to protecting water quality.
Learn more and find ways to help their work at chesbay.us.
---
MacDuff Perkins lives in Annapolis, Md., where she is the co-founder of Blue Lotus Yoga Studio. She and her family enjoy sailing their Sabre 42 around the East Coast.