Baltimore's Mr. Trash Wheel recently celebrated his fourth birthday with a tasty trash cake and the good news that his diet will now include fewer foam containers.
Photo: Waterfront Partnership
Mr. Trash Wheel, the water-wheeled trash interceptor in the Inner Harbor, marked four years of gobbling up trash floating down the Jones Falls River. A project of the Waterfront Partnership of Baltimore's Healthy Harbor Initiative, the wheel and his colleague Professor Trash Wheel (located at the end of Harris Creek in Canton) have collectively snagged more than 1.5 million pounds of garbage since May of 2014.
According to the Initiative, advocates think that the city's foam container ban, which was signed into law in April, "will greatly reduce the amount of foam packaging Mr. Trash Wheel collects- 700,000 containers over the last four years."
Councilman John Bullock, who introduced the legislation, thanked students and advocates for their support of the ban. The Initiative says that the student-led group Baltimore Beyond Plastic, which met with Council President Jack Young to convince him of the positive impact a ban would have on the environment, played a big role in the success. Blue Water Baltimore, Trash Free Maryland, and the Waterfront Partnership also extended their thanks.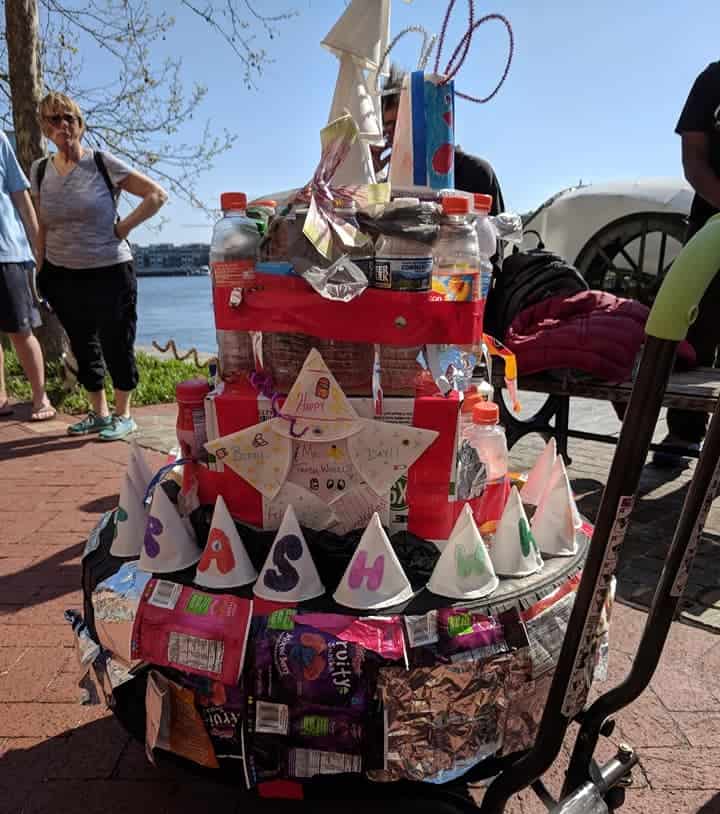 Adam Lindquist, the Director of the Partnership's Healthy Harbor Initiative, and Jonathan Jenson led party guests in a song about Mr. Trash Wheel, written by Jenson.
To conclude the event, Mr. Trash Wheel received a birthday cake made of litter that had been collected by students from City College, and the crowd serenaded the machine of honor with a round of "Happy Birthday."
Learn more about Mr. Trash Wheel and the Healthy Harbor Initiative by clicking here.
-Laura Boycourt