Wendy Mitman Clarke
The Chesapeake Region Accessible Boating (CRAB) Board of Directors has announced two new members, and one is Chesapeake Bay Magazine's own editor-at-large Wendy Mitman Clarke.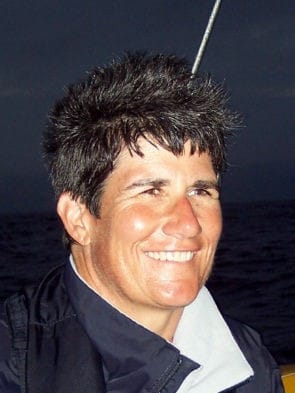 Clarke and Annapolis Yacht Club Race Committee head Sandy Grosvenor were both unanimously elected to the CRAB Board for a two-year term.
The CRAB organization gives therapeutic sailing opportunities to physically or developmentally-challenged people and their families, wounded warriors, and at-risk children.
Its specially-outfitted, top-of-the-line Beneteau sailboats allow someone without the use of their legs to take the helm of a sailboat.
CRAB President Brad LaTour introduced Grosvenor and Clarke at their first board meeting by saying, "We are exceptionally pleased to have added to the CRAB Board two wonderful people with incredibly extensive boating experience on Chesapeake Bay and a vast knowledge of sailboat racing that can be shared with CRAB's volunteers and special guests."
Sandy Grosvenor is recognized by World Sailing as an International Judge, Umpire, and Race Officer. She competed for many years in keelboats like the J/22 and J/24 all around the country. She match-raced for several years rising at one point to 13th rank among women internationally.
Grosvenor says she was inspired to join CRAB's Board after seeing the role CRAB played in helping a friend and fellow race official, who was disabled in a car accident, put his life back together.
"Now it's time for me to give back."
Clarke has also long admired CRAB's mission. She is an editor-at-large for Chesapeake Bay Magazine, award-winning writer, author, and Director of Communications for Washington College in Chestertown.
Wendy says, " I look forward to using my communications skills to tell the stories of those who
find this same magic through CRAB and its sailing programs for all of CRAB's guests.
-Meg Walburn Viviano