In just a month, Hampton Roads will get its highest astronomical tide of the year, the "King Tide." And a group of environmental interests are asking locals to document flooding on that day with a new app, developed just for that purpose.
On the morning of November 5, the water will peak two feet above mean sea level, flooding low-lying areas throughout Hampton Roads. The "Catch the King" event will ask regular people to use the free SeaLevelRise app to record the GPS coordinates of a flooded area. The app then translates those points into an online map that anyone can see.
Researchers say the high water from the King Tide is likely to be the "new normal" by 2050, as sea levels rise. That's why they want to document this one so closely.
"King tides are increasingly viewed as harbingers of things to come as sea levels rise," says Dr. Derek Loftis, an assistant research scientist at William & Mary's Virginia Institute of Marine Science. "Where the tide reaches on November 5th is where you can expect the water to be just about every day at mid-century."
Loftis has teamed with environmental reporter David Mayfield of The Virginian-Pilot, which along with WHRO Public Media, the Daily Press, and WVEC-TV are sponsoring Catch the King.
The SeaLevelRise app was created by the nonprofit Wetlands Watch and software developer Concursive, both based in Norfolk. People interested in participating in the Catch the King event can download the app for either Android or iOS beforehand; to contribute pictures or GPS data requires establishing a free account. High tides on October 7-8 will provide good opportunities for practice.
Loftis describes the Catch the King event as "a low-stakes dress rehearsal that will help us better understand the risk of recurrent flooding in Hampton Roads, while laying the groundwork for a volunteer data-collection network for use during more substantial flood events."
In addition to helping local citizens visualize and recognize the threat of rising seas, the Catch the King event will provide critical data for improving the computer models that researchers at VIMS and elsewhere have developed to forecast the reach of coastal flooding.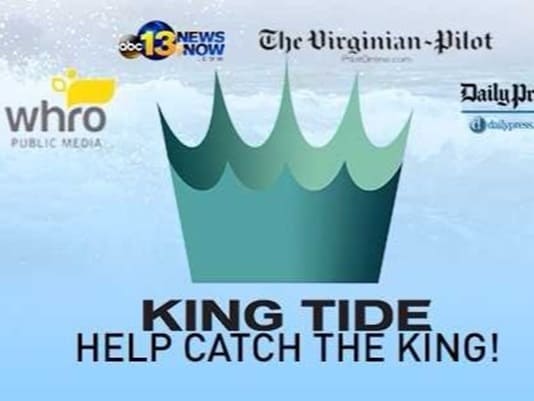 Flood extent as captured by users of the SeaLevelRise app (red circles) helps validate forecasts made with VIMS' street-level storm-surge model (in blue).
Supporting the Catch the King event is the Commonwealth Center for Recurrent Flooding Resiliency, a partnership between VIMS, Old Dominion University, and the Virginia Coastal Policy Center at W&M Law School. Professor Mark Luckenbach, Associate Dean of Research and Advisory Services at VIMS, describes the CCRFR as a " 'one-stop shop' for scientific, socio-economic, legal, and policy analyses aimed at building Virginia's resiliency against flooding." The Center was established in 2016 by Virginia's General Assembly through the support of chief patron Delegate Chris Stolle.
"The Commonwealth's continued support enables Center researchers like myself to focus on flood-related issues that matter in Virginia," says Loftis. "Virginia's investment in research allows me to address issues of national and even global scale, while applying solutions locally."