by Karen Soule
Visual stories by this quintessential Chesapeake artist come alive on canvas.
Maritime artist John Barber has illustrated stories about life on the Chesapeake Bay for the better part of 40 years. With paint, brush and canvas, he captures the essence of the Chesapeake's maritime occupation.
Spend a minute or two surveying one of his paintings and you're quickly immersed into his deep understanding and appreciation of the story. How did Annapolis look 140 years ago? There it is. Perhaps you're nostalgic for the time your grandfather took you fishing for blues up the Sassafras River. Barber remembers it too.
From modern racing yachts to rust-stained buyboats with even rustier watermen, his life-work immortalizes more than a century on the Chesapeake from Norfolk to Annapolis to Baltimore.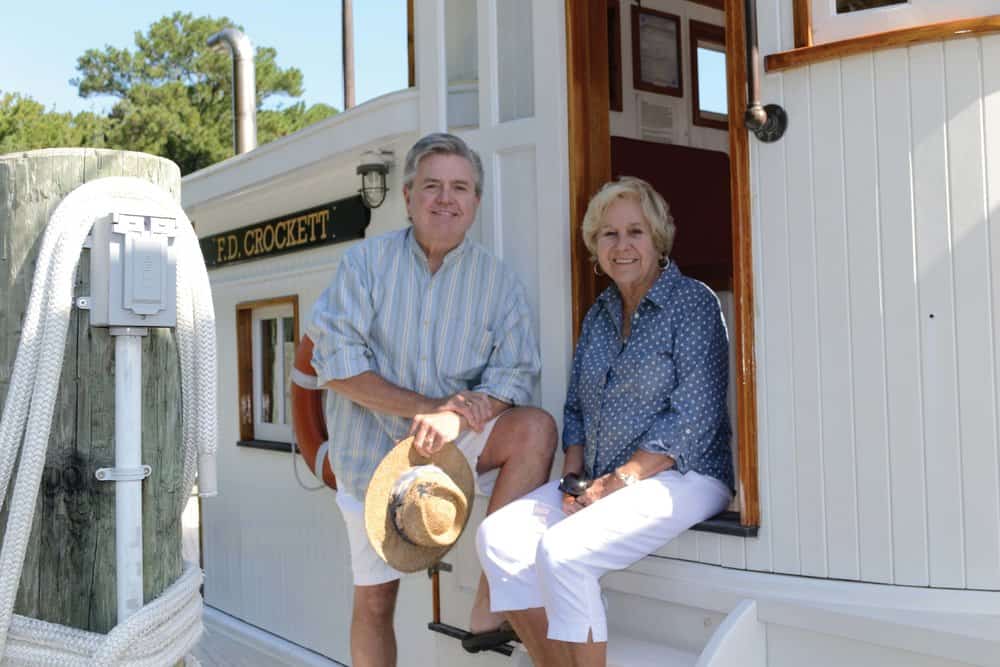 Barber has been called the "premier chronicler of Chesapeake Bay life," but he thinks of himself as a preservationist, safeguarding the people, their boats and their communities. "The watermen with whom I've worked are all facing a potential end to their livelihoods," he explains. "If the average person can see the beauty of the Bay through my artwork, then I've made a connection. However, if someone is motivated to actively help preserve the Bay, I would be elated. That's the highest compliment I could ever receive."
The Call of the Skipjack
Before he could capture the Bay, Barber felt he had to learn firsthand about everything. "I've always needed to know the smallest details of my subjects in order to depict them well," he explains. "Especially if it's a boat." Of all the boats that caught his fancy, the Chesapeake skipjack called to him the most.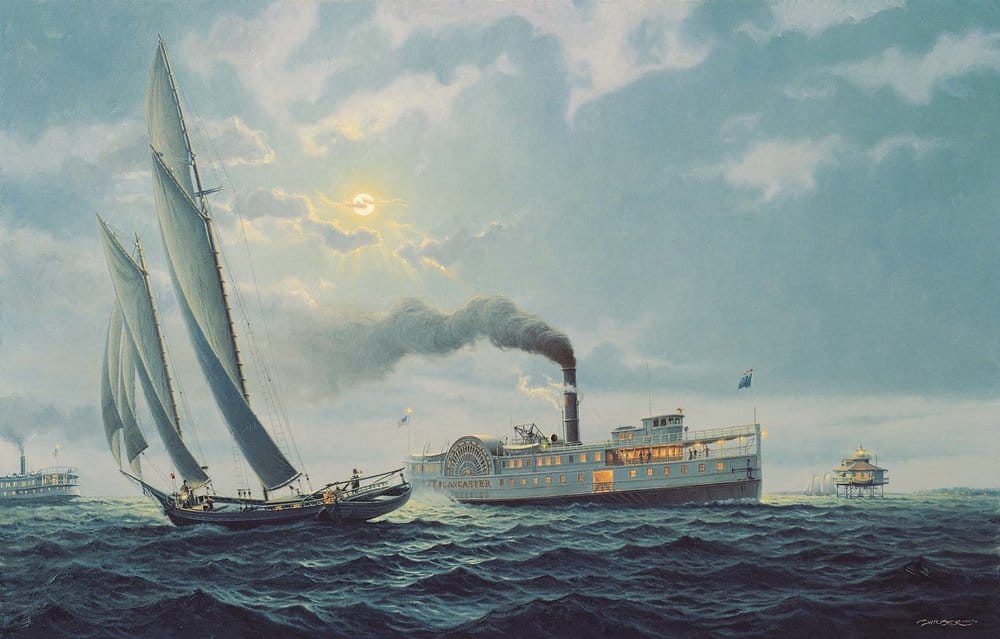 He had been painting scenes of lighthouses and deadrises for a few years, but knew little about about the Bay's traditional sailing oyster "dredge" boats or their captains. In the early 1980s, to better understand how skipjacks functioned, he signed on to crew on the Elsworth and went oyster dredging. He had little experience oystering, he had even less with cold weather. "Frigid is the only word to describe that February morning aboard the Elsworth," he recalls. He remembers wearing a cheap, puffy orange coat and three pairs of cotton socks, and he noticed that the captain, Darryl Larrimore, was standing at the helm with bare hands. "Cap'n, when's it going to get warm?" Barber asked. Decades later, he still remembers Larrimore's, reply: "Get warm? It is warm!"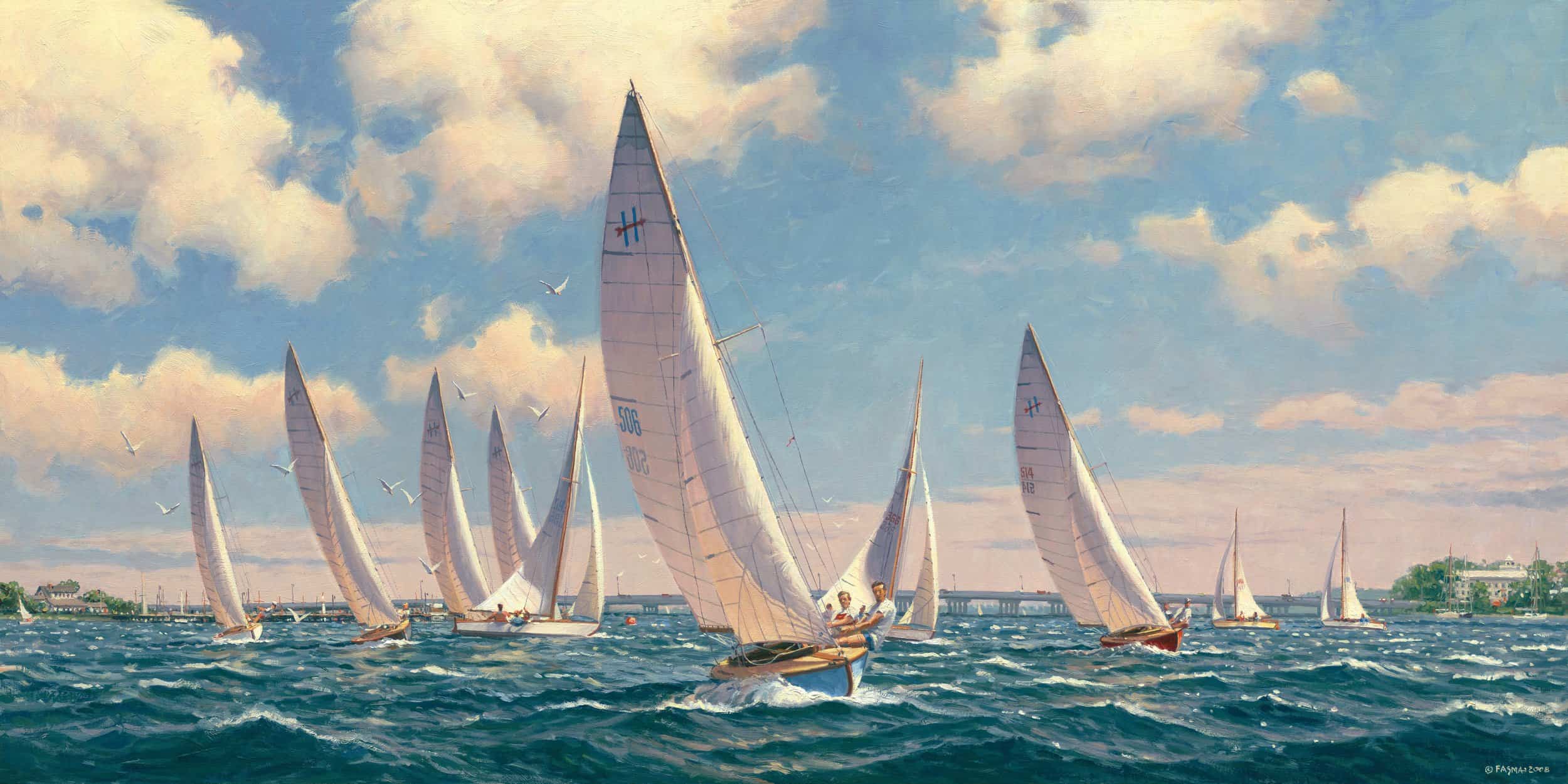 From that auspicious beginning, his affection for skipjacks and their captains grew. He learned which days of the week the skipjacks could drop their dredges and that the little push-boats, the boat's only mechanical propulsion, had to be hauled out of the water by sunrise. From the Elsworth's "raking longhead bow and her well-tucked transom," Barber came to cherish, paint and ultimately safeguard each small detail. He's painted the Kathryn numerous times, the Stanley Norman, and the Ruby G. Ford and others. Of all the skipjacks and the captains he's sailed with, "the Elsworth was my first, and she remains special to me," he says.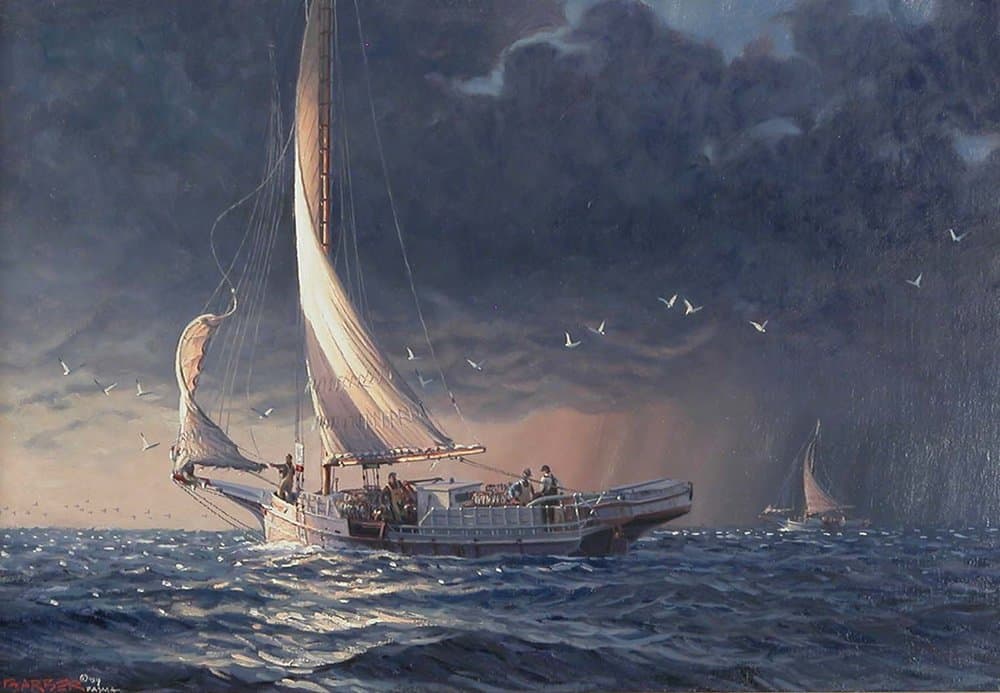 Yet Barber also finds beauty in dilapidated deadrise workboats slowly sinking into the Chesapeake's muddy bottom (Rappahannock River Boneyard). He catches the resolve and weariness of a fisherman hauling in a gill net off of Gwynn's Island (Gill Netting) and a morning's tranquil sunrise over Urbanna Creek (Golden Dawn). Annapolis, Circa 1900 bustles with sailing ships and a side-wheel steamer. Barber has also captured the essence of Chesapeake sailing with such works as the 1938 Concordia yawl Wild Rose approaching New Point Comfort Lighthouse (Red Sky at Night) and a fleet of yachts close-hauled and crossing the starting line at Fishing Bay Yacht Club in Deltaville, Va. (Windward Start).
More than the boats, however, it was the people the artist came to value. "I appreciate their way of life and the techniques they use to wrest a living from the sea," Barber explains. "I got to interact with them and understand what makes them tick." To this day, he calls these watermen friends and stays in touch with those who are still around.
A Land-Based Beginning and National Reputation
Barber's path to becoming a premier painter of the Chesapeake was far from certain when he started his career. He ruefully remembers, "When I told my art professor in college I wanted to be a maritime artist, she said, 'Don't quit your day job.'" So Barber began working professionally as a graphic artist for a large corporation. "But it sucked my soul dry. After ten years, I collected my briefcase and left." He started painting full-time.
While he was focusing on his passion, Barber was also thinking strategically about the business side of art. He targeted the Chesapeake Bay because it was a defined geography and the scenes he painted would be recognized and appreciated by many potential buyers. Later on, he and a partner invested some money and together made 500 prints each of four original oils. They sold fairly well, and he was encouraged to make more individually signed and numbered prints of other paintings. He recounts that the heyday of the print market was when they made
950 copies of Moonlight Over St. Michael's. They charged $295 a piece and sold out in two and a half hours. "I realized then that I could make a living at this," says Barber, still a bit surprised at his success.
His Chesapeake works earned him national recognition. In 1985, the National Geographic Society commissioned him to paint a skipjack for Ronald Reagan. Barber presented it personally to the President. He has rendered the White House and other national monuments in oil. His paintings hang in U.S. embassies around the globe. But Barber's heart and soul remain dedicated to the Chesapeake. He's a past trustee for the Chesapeake Bay Foundation and continues to help raise funds for the Foundation and museums throughout the area. In 2009 he was given the Distinguished Service Award by the National Maritime Historical Society and is a Fellow Emeritus of the American Society of Marine Artists.
The national reputation also brought some other interesting commissions. As he tells the story:
"In 1998, I was at the Galley Restaurant in Deltaville and noticed a guy trying to get the bartender's attention. It was crowded and the bartender was a friend of mine, so I helped him get a drink.
We got to talking, and I could tell he was just passing through, a transient sailor. So I asked him about his boat. He says it's a Camper and Nicholson 60 named Wyntje.
Now I recalled reading about that ketch and asked him, 'Is that Uncle Walter's?' Turns out, he was the skipper of Walter Cronkite's sailboat, and he invited me for a tour next day."
"When I went down the companionway steps, there in the main saloon was one of my prints, Deale Island Morning. I was tickled and wrote Cronkite a letter thanking him for the tour.
He called back, said he admired my work and asked if I would do a painting of his boat. I ended up sailing with him to Martha's Vineyard and did three studies of Wyntje
before he picked the scene that would become Wyntje—Returning Home. We remained friends until his death."
Where the Magic Happens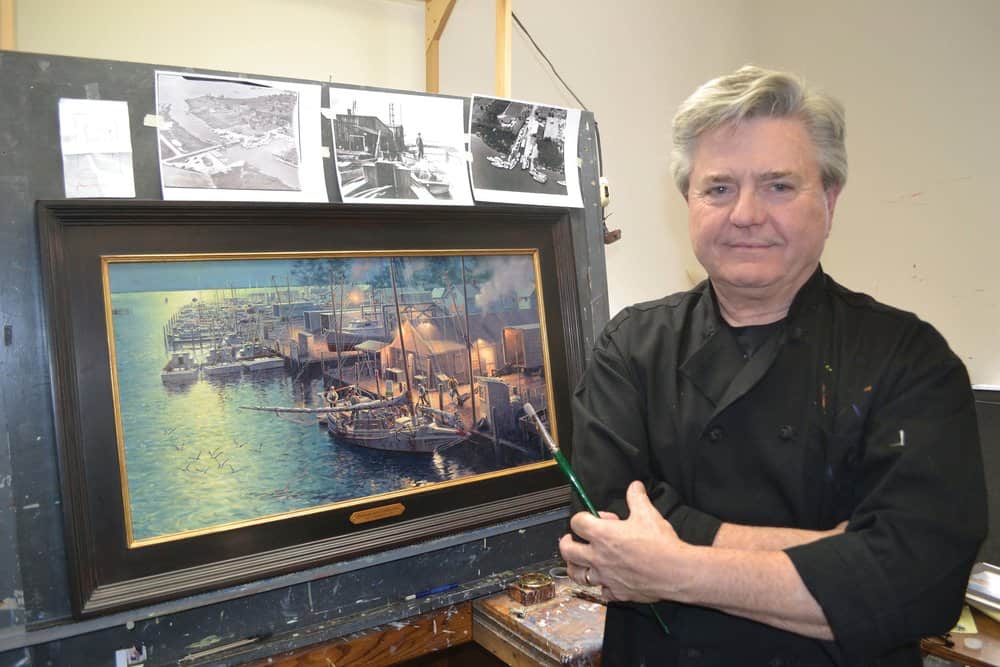 In 2002, Barber sold his print business and today does mainly commissioned pieces—of homes, boats and other scenes. For many of these pieces, the process is the same. He'll take multiple photos of his subject under different conditions. Sometimes he uses a drone to get a shot from a unique perspective. "Then it's back to the studio where the magic happens," he explains. For commissioned pieces, he'll discuss with the client what he's considering—the coloring and the layout—and then do a small sketch. "If everything is just right, I'll then spend weeks in the studio, focusing on each meticulous detail to get it just so."
Barber gets more than just the details down pat. He also strives to evoke the feeling, especially when it involves the Bay. "I'm only interested in painting tidal water. To me it represents freedom; the freedom to go anywhere you want," he explains. "I try to capture how the water makes me feel, not how it looks."
Many who own an original oil painting have long made it a family heirloom. But it's his prints, with more than 135,000 in existence, that so many immediately recognize as a Barber. Barber and his wife Kathy remain humble and grateful to everyone who has bought a print or original oil painting. Says Kathy, "When I married a starving artist, I never dreamed I would one day meet presidents or national celebrities."
Ultimately, it's the Bay's watermen whom Barber most seeks to please. "I hope that they would look at my artwork and remember when we sailed together. I want them to recall that day, when the oysters were scarce and the wind was blustery. I want them to say, 'Barber did it well. He did it honestly. And that's how it was.' "
Karen and David Soule sail their Ericson 38 Soulmate out of Fishing Bay Yacht Club in Deltaville.
See more at Johnbarberart.com
Prints are available through the Annapolis Maritime Art Gallery—annapolismarineart.com