Perfecting Maryland's iconic pit beef sandwich is not as simple as it seems
Known throughout the Chesapeake Bay region and closely identified with neighborhoods across Baltimore, pit beef on a bun is either good or bad. There's no middle ground. When it's good, it's very good—nostalgia on a kaiser roll, reminding one of the church hall bull roasts of their youth. If bad, you may be disgusted enough (disappointed is too mild a word) to toss it on the way across the parking lot.
"When I find something I like, I stick with it," says Richard S. McHenry, 59, after his shift at a roofing shingle factory on Ponca Street near Dundalk. A resident of Edgemere, McHenry was enjoying dinner at Chaps, a Pulaski Highway shack synonymous with pit beef since 1987. "I've been here many a time."
A provincial treasure of the Old Line State with roots in late 19th century (the turf to the crabcake surf), a pit beef sandwich is simple: a fresh hamburger-sized roll; top or bottom round beef cooked slowly over smoke from the wood of a fruit tree and flame from briquettes; a slice of raw onion; and the condiment of one's choice, traditionally horseradish and a squirt of barbecue sauce. (If you're getting mayo on your pit beef—more common than can be fathomed—you might be asked to sit at the far end of the picnic table.)
And the meat must be sliced thin—paper thin, with a slicer and not by hand in order to feather the beef two to three inches high on the bun. Easy to produce and easier to screw up.
"It must be sliced thin and moist, and the bread can't be too hard or fall apart," says Tyrone Crawley, a retired Social Security Administration systems analyst enjoying a fine repast at Pioneer Pit Beef on the parking lot of a liquor store at the corner of Johnnycake and Rolling Roads in Catonsville. (Rule of thumb: If a pit beef shack is on an asphalt parking lot riddled with potholes and stands within an onion's throw of a liquor store or a dollar store, chances are it's the real deal.)
Crawley doesn't live far from Pioneer, just a few miles over the city line. To get there, he drives past at least two other pit beef joints to a yellow shack with the words "Al's Pit Beef" carved above the window. The name reportedly belongs to the late Albert Beck, but no one at Pioneer—or anywhere else—knew anything about him.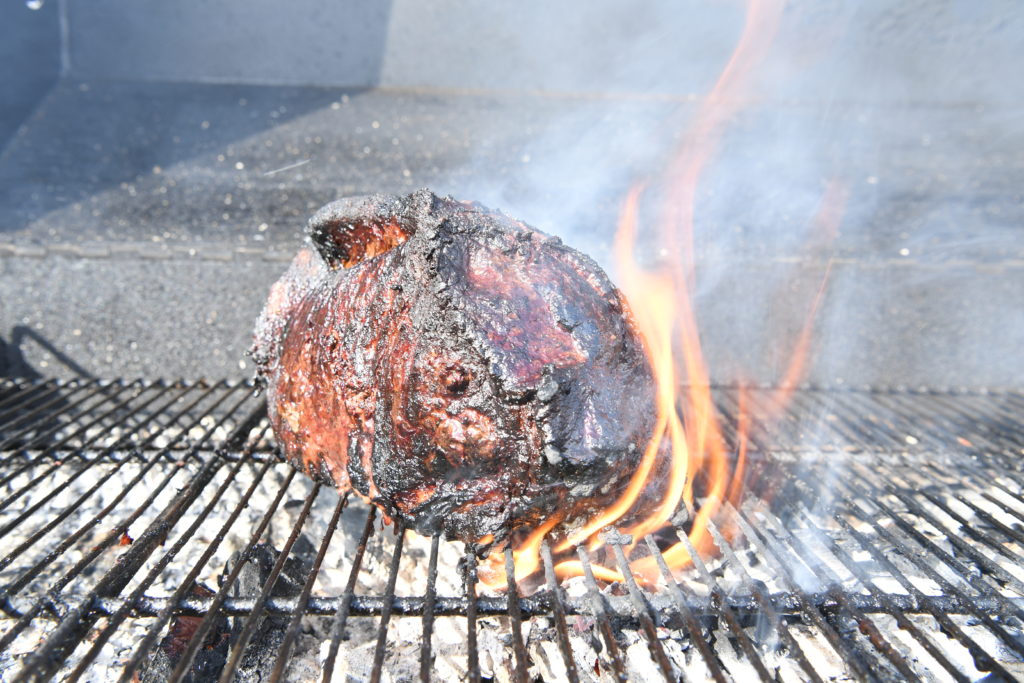 Unlike memorializing true love inside a heart on tree bark, hand-carving the beef is generally frowned upon in favor of electric slicers with especially sharp blades. And while a hint of fat can be tolerated, a bad pit beef sandwich isn't just dry, cold, or tough, but riddled with gristle.
"Trimming the beef before cooking is important," says Darrell "Cruiser" Wollshleger, owner of Cruiser's Pit Beef in Sparrows Point, which attracts men and women working various jobs around the long-shuttered Bethlehem Steel. "More important is slicing correctly so if you do have gristle, it's very small, thin strips that break down easily."
Wollshleger, who has taught the charred-on-the-outside-and-pink-on-the-inside beef game to many who went on to run their own kitchens, says that just slicing the beef thin isn't the complete answer.
"If you cut the beef the wrong way, it can become a sheet of gristle you can't chew through," says Wollschlager, a keyboardist who fronts a classic rock band called LTD. "We leave the fat on while it's cooking to keep the meat nice and moist, but trim it off before slicing."
At Cruiser's, says Alex Anthony Dominguez, owner of the Jabali coffee house in Fells Point, he requests "a mix of well done and rare bits" on his sandwich. "It's not fancy but classic Baltimore to drive past the port and the old steel mill."
Okay, beef and bun, rare and burnt, and your choice of how to dress the beauty. But what about the wood?
"That's the secret," according to Jesus Cruz, manager of Pioneer, which has changed hands several times in the past 40 years. Cruz arrived in Baltimore from El Salvador when he was a teenager. Back home, the traditional foods include papusa (flat bread stuffed with a range of goodies) and fried yuca. "We don't have anything in Central America like pit beef."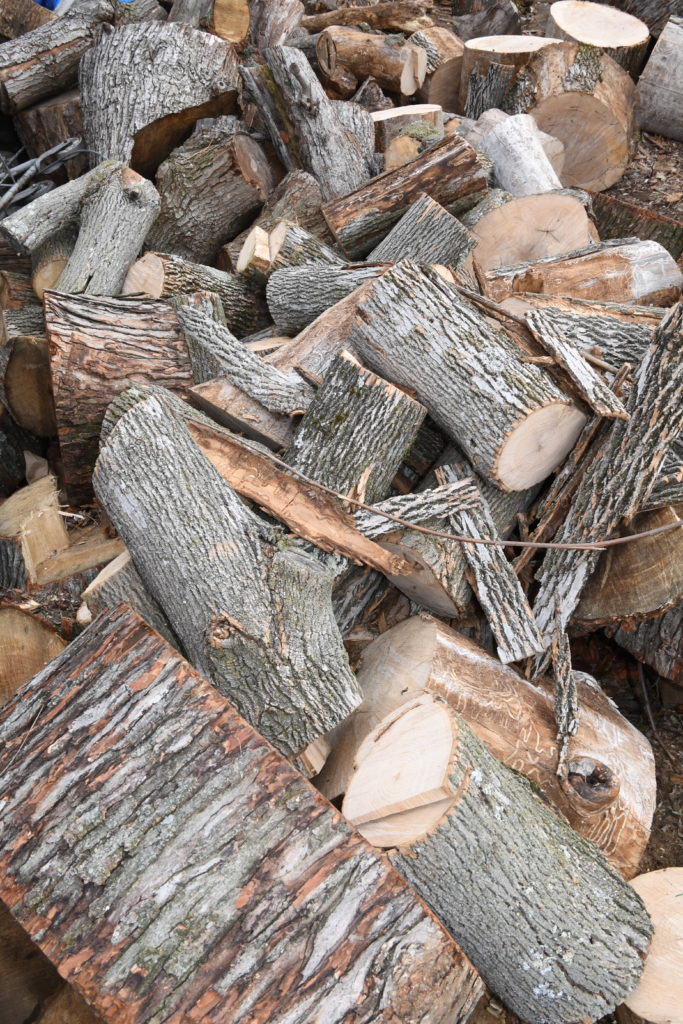 "Yep," agrees Eric Jordan, wood is key, whether cut up logs or chips. An independent, Jordan and his wife, Andrea, a nurse,­ haul their grill and smoker to private parties, church events, football tailgating, and other celebrations under the name Noble Choice Catering.
They work out of their home in Catonsville (an area with a cluster of pit beef outlets) and use the kitchen of a local Knights of Columbus hall to prep for gigs. "I put the wood chips on top of the briquettes and cook with the smoke, not the flame. The smoke gives it the flavor," says Jordan, who uses cherry or hickory chips (a quarter-of-a-cord for about $50) and Royal Oak hardwood lump charcoal. "Some people use apple wood."
Jordan, 50, is an assistant manager at Bare Bones Grill in Ellicott City and has spent most of his life in the food and restaurant business. He began doing pit beef for friends and family about 20 years ago. Andrea handles the books and the reams of paperwork it takes to legally sell food in Maryland. Over the years, it has grown into much more than a hobby—to the point where he recently had to buy a new, Amish-made Meadow Creek grill for $2,000 in Lancaster County, Pa. "The bottom fell out of the old one," he says.
There are at least two-dozen places to get a pit beef sandwich in metro Baltimore, with others on the Eastern Shore and Southern Maryland. If you're looking for one, don't search for "barbecue" for it is neither brisket nor ribs nor pulled this or shaved that. Pit beef—which evolved from the bull and oyster roasts of yore that used to reside in many an old shopping center—is a distinct entity unto itself.
In a lengthy story on pit beef published in The Local Palate, Baltimore journalist (and CBM contributor) Brennen Jensen reports that the term "bull roast" appeared in The Sun "as far back as 1882." The article spotlights the work of the late caterer John F. Langenfelder, who worked with several of his sons and is credited with spreading the popularity of the sandwich. In 1966, "John F." catered a $4.75, all-you-can-eat bull roast at the Alcazar Hotel in Baltimore, offering what we now call pit beef. It is also accepted tradition that a Langenfelder event beyond the outfield fence at the forever-mourned Memorial Stadium caught the attention of Boog Powell during a game. The aroma stayed with the big first baseman and, it's said, led to his successful stand at Camden Yards.
According to Jensen, the phrase "pit beef" shows up in an ad for a bar for the first time around 1968—a year after the debut of the Fells Point Fun Festival, which traditionally features pit beef. The Fells Point festival began as a fundraiser to fight government plans to run an interstate highway through the waterfront neighborhood, along with parts of Federal Hill. Bull roasts continue to serve as fundraisers for community causes, from volunteer fire houses like the one in Hereford ("famous pit beef") to whatever politician is promising voters the moon, the stars, and savory red meat in the dog days of August.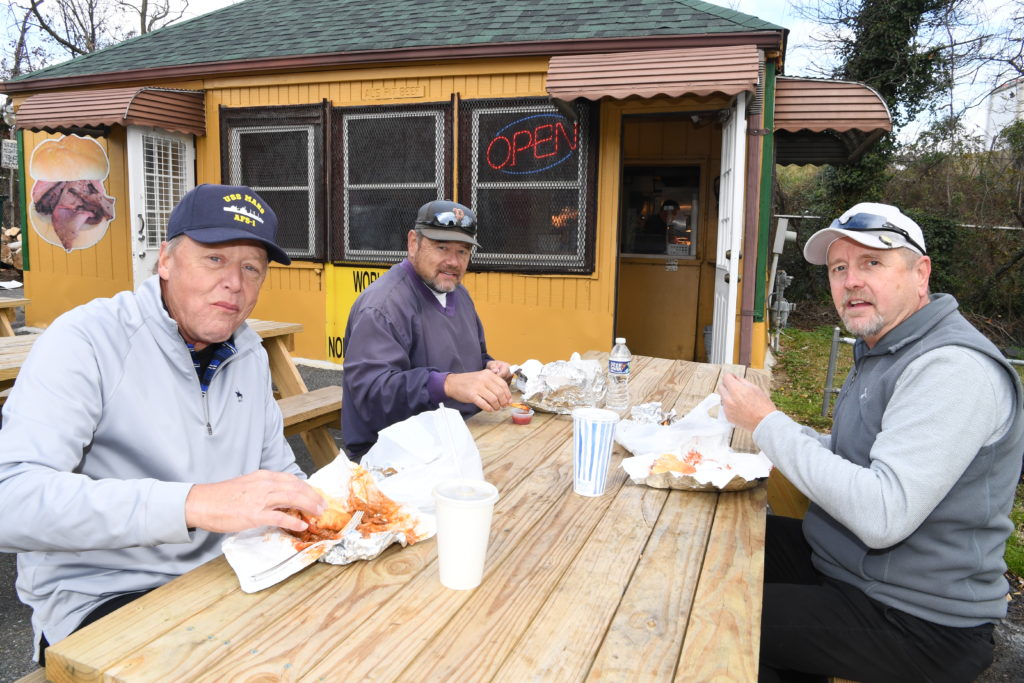 Can it be possible that they're all Baltimore's Best, as widely claimed? You and your wallet (good or bad, a pit beef with a soft drink goes for about $10 most places) must judge. Like the scores of eateries specializing in crabcakes, everyone has their favorite to celebrate occasions as simple as, "haven't seen you in awhile…"
Baltimorean Kyle Pike was keen on a place near BWI, "a gas station in Ferndale with insane pit beef. Roseda Farm in Monkton had the best pit beef I ever had. My mainstay now is Charcoal Deli on Old Harford Road."
And the good doctor Daniel R. Howard, a West Baltimore neighborhood physician who still makes house calls, prescribes "the guys on the north side of Franklin Street just past the [abandoned interstate] highway to nowhere. I've heard they're good…"
On and on and on, with the best advertisement in the world the same scent that sustained the caveman: meat over an open flame.
There is Big Falls Inn in Joppatowne (proclaiming "there is no fire without smoke"); Smokin' Joe's in Dundalk; Hot off the Coals on the Eastern Shore in Easton; Big Fat Daddy's in Rosedale; 700 South in Linthicum; and Jake's Grill in Cockeysville, where all female customers get a complimentary flower with their sandwich.
Where's the Beef?
Who has Maryland's best pit beef? That's an entirely personal choice. Pioneer Pit Beef in Catonsville and Chaps Pit Beef (with six locations, including Baltimore, Aberdeen, Glen Burnie) are probably the best known, but here are 10 more standout spots to try as you taste your way around the state.
Bayside Bull
108 Central Avenue, Edgewater
The Canopy
9319 Baltimore National Pike, Ellicott City
Cruiser's Pit Beef
2349 Ruth Avenue, Sparrows Point
Expressway Pit Beef
8388 Piney Orchard Parkway, Odenton
Hot off the Coals
8356 Ocean Gateway, Easton
Jake's Grill
11950 Falls Road, Cockeysville
Pit Boys
1515 Forest Drive, Annapolis
Smokin' Joes
2102 Merritt Avenue, Dundalk
Taylor's BBQ
720 E College Avenue, Salisbury
West River Pit
5544 Muddy Pit Road, West River
And don't let the name Heavenly Hot Dog fool you; the stand at the Northeast Market near Johns Hopkins Hospital has a strong following for pit beef. Beefalo Bob's in Pasadena offers three-buck doggy bags of gristle, day-old ends, and odd cuts. Regular customer Keith McDonald, 26, says he always picks one up to treat his pit bulls and rottweilers. "My earliest pit beef memories are coming right here with my Dad when I was a teenager," adds McDonald. "Too many places either burn it or there's too much gristle."
If this were the Academy Awards of all things beef, now would be the moment where the music starts playing before the winners have a chance to acknowledge everyone. So don't forget The Firehouse (not a real one) near Pigtown before and after Ravens home games; Wild Wolf's Beef Shack in Arbutus; and The Canopy in Ellicott City, established 1985.
How does Canopy co-owner Fern Kreis stay ahead of the competition? Pretty much like everyone else. "I'm here just about seven days a week," says Kreis, 60. "You've got to make sure everything is running right." 
Columbia resident Joe Asberry sells commercial HVAC units and eats out a lot. When home, he patronizes Bullhead Pit Beef on Berger Road. Often on the road, he'll pop in to just about any place with a sign for pit beef. "It's a craving," he says. "You'll be driving along and think, 'Man, I haven't had a pit beef sandwich in two weeks.'"