by John Page Williams
CBF's Patricia Campbell is a well-oiled oyster-planting machine.
Crew shuffling oysters down the chute into the water. – Photo by Emmy Nicklin/CBF Staff
Some of us on the Chesapeake Bay Foundation's staff think of the Delta Queen when we see our 60- by 19-foot aluminum oyster planter Patricia Campbell underway on the Bay. The two tall, black steel spuds that flank her two-story aft pilothouse look like the smoke stacks of the legendary Mississippi steamboat, but they are really hydraulically actuated vertical anchors that allow her captain, Karl Willey, to plant her firmly in one position in up to twelve feet of water, or drop one of them and spin her on that axis.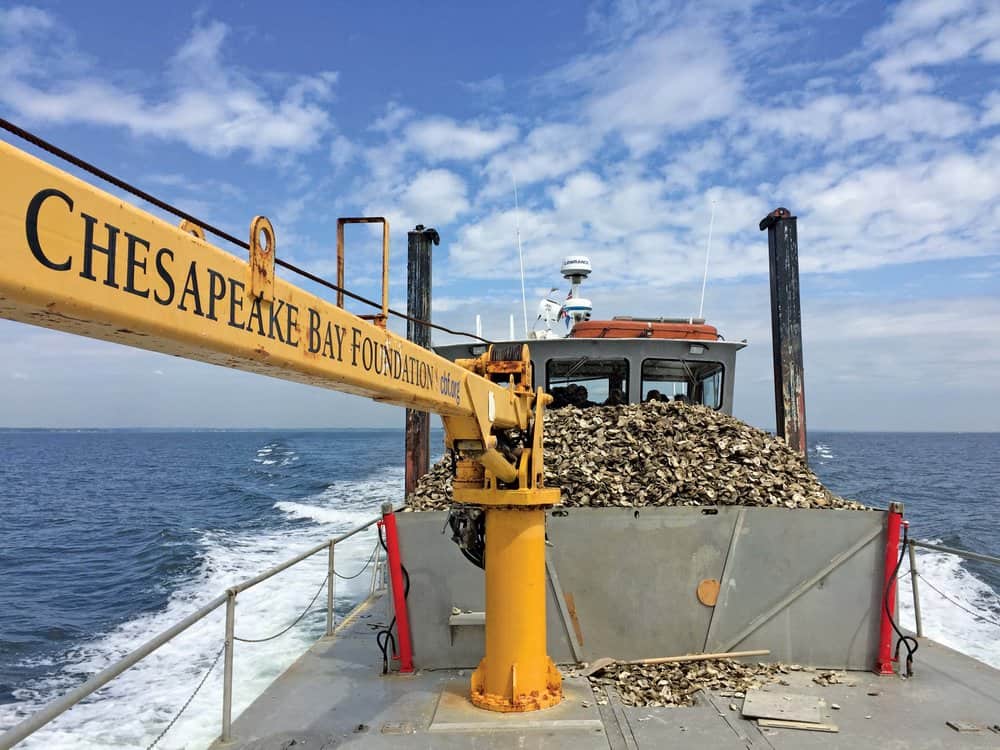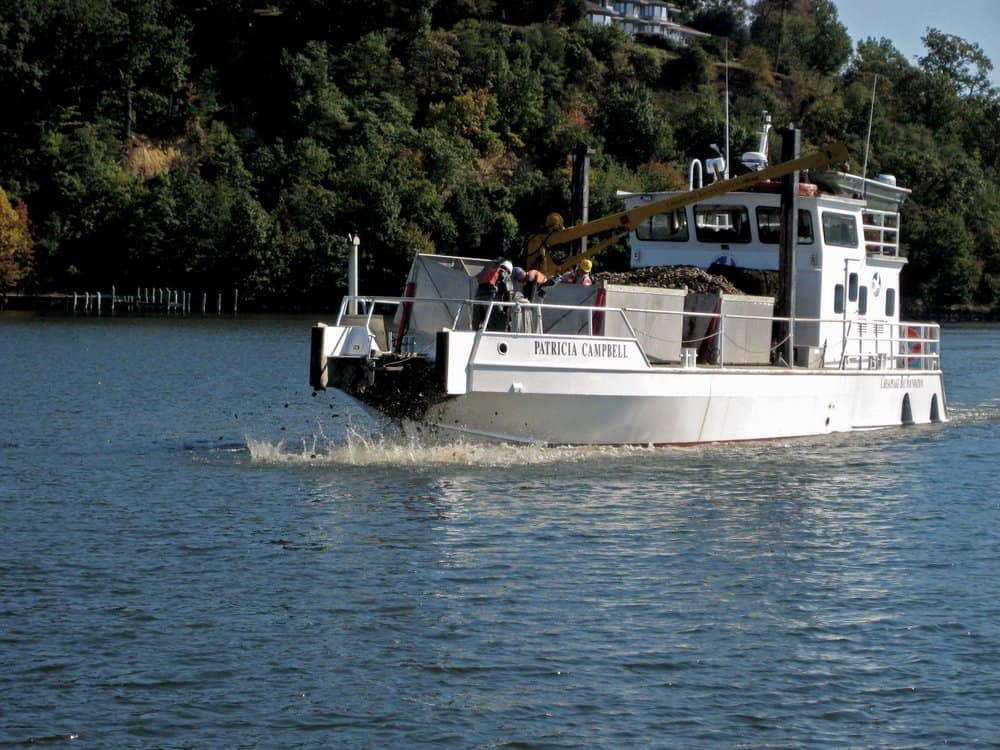 Patricia Campbell's next most obvious features are her two-ton crane on-deck, and the strange, horizontal, three-foot-diameter disc hanging off her bow. The crane, generally operated by mate Captain Dan Johannes, allows her crew, mate Pat Beall and multiple volunteers, to load up to twenty stainless steel bins onto the sides of her long foredeck. In normal operations, those bins will be full of millions of spat-on-shell, which are baby oysters that have "struck" (attached) as larvae onto old oyster shells placed in the setting tanks at CBF's Maryland Oyster Restoration Center in Shady Side. The larvae come from the University of Maryland's Horn Point Hatchery near Cambridge. On a restoration reef site, Johannes uses the crane to tip each bin so its cargo spills onto a hydraulically powered conveyor that carries the oysters down the centerline of the foredeck till they drop off onto that (also hydraulic) rotating disc on the bow, which flings them out in a circle. A GPS sensor on top of the wheel sends position information to the big Lowrance electronic display in the wheelhouse, which records the boat's planting track on a memory card.
This ingenious system is the brainchild of recently retired CBF Fisheries Director Bill Goldsborough, who adapted it from gear he had observed on the planter boats of two major oyster packers on Virginia's Northern Neck. Patricia Campbell was purpose-built for Chesapeake oyster restoration in 2003 by Midship Marine in Harvey, Louisiana, thanks to a grant from CBF trustee Keith Campbell, who named her for his wife. She's powered by twin 375-hp John Deere diesels. The crane runs on electricity from a 12-kW Northern Lights genset. In her 15 seasons, she has planted more than a billion oysters onto restoration reefs from Fort Carroll in Baltimore Harbor to Norfolk's Lafayette River including Maryland's three tributaries targeted to date for full-scale restoration—Harris Creek, the Little Choptank River and the Tred Avon River. She operates in close partnership with Maryland's Oyster Recovery Partnership, the Maryland Artificial Reef Initiative, Virginia's Marine Resources Commission and the Elizabeth River Project.
Another specialty of Patricia Campbell and her crane is setting concrete reef balls, most of them built by volunteers and most often set with oyster larvae. Three examples are Memorial Reef in the Upper Bay which was built with scrap concrete from the famous Memorial Stadium demolition, the Cooks Point Reef in the mouth of the Choptank, and the Tilghman Reef, just west of Knapps Narrows. Longtime partners in these projects are anglers in the Perry Hall and Dorchester chapters of the Maryland Saltwater Sportfishing Association, and the Central Maryland Chapter of the Coastal Conservation Association.
Building restoration oyster reefs is a major investment in the long-term health of the Chesapeake and its rivers. There's serious money from the National Oceanic and Atmospheric Administration, the Army Corps of Engineers, Maryland, Virginia and private sources going into them. Considerable scientific monitoring shows that these reefs are growing, yielding water quality improvements, more habitat for fish and crabs, and naturally spawned larvae drifting out onto public reefs to grow where they might someday be harvested. Think about all of them the next time you see Patricia Campbell headed out to a restoration project. For more information, visit www.cbf.org/oysters.