The fall spawning run of Atlantic sturgeon is well underway in the Chesapeake's rivers. Sturgeon, a federally-protected fish that has made a recent comeback in its Bay-region spawning grounds, are turning up on more rivers than ever before.
Over this past weekend, Bay Bulletin got an update from Dr. Matt Balazik, chief sturgeon researcher at Virginia Commonwealth University's Rice Rivers Center on the James River. 
Balazik started off by capturing two yearling females about 12" long that he implanted with radio tags and and nicknamed Mary Kate and Ashley [inspired by the 90s child actresses of Full House fame]. They join about a thousand other sturgeon that he has tagged over the past decade.  He and his colleagues have placed sensors the tidal length of the James, as part of a coastal network operated by other scientists to track multiple species of tagged fish.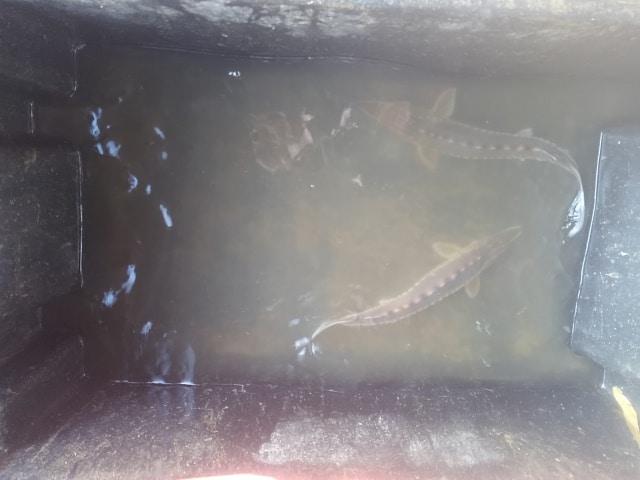 On Saturday, Matt donned scuba gear and went looking for a sensor that had gone missing when last year's high river flow dislodged the large log to which he had tied it a quarter-mile below Richmond's 14th Street Bridge.  With the last six weeks of drought, the James is running low and clear.  Remarkably, he found the sensor, still recording data of a large number of tagged males that visited that part of the river near the fall line in late September and October of 2018 and the first to visit this year.  As the run develops, boaters on this section of the James have a good chance of seeing four-to-six-foot-long male sturgeon spectacularly breaching clear of the water.  
Matt spent more of his time, though, running slowly from the deep channel cut at the base of the Presqu'ile National Wildlife Refuge up to the I-95 Bridge, towing and fine-tuning an experimental side-scan sonar that yields realistic images of sturgeon accurate enough for measuring each fish, determining where it was "seen", and verifying how deep it was swimming. This sonar is being developed by a team from VCU, Clemson University, the South Carolina Department of Natural Resources, NOAA, and the Army Corps of Engineers as a tool to scan large swaths of river (20-25 miles per day), literally counting sturgeon. It offers great potential for survey in both Chesapeake and South Carolina tidal rivers to determine stock size, movement patterns, and responses to changing water temperature. Funding for the research comes from the Endangered Species Act.
In his "spare time" –which isn't much—Matt and his team have tagged several new fish around Fones Cliffs in the Rappahannock, about ten miles above Tappahannock, along with catching and releasing several already-tagged fish.  He also notes that Wayne Fisher, a veteran waterman from Leedstown just upriver, caught and released a male sturgeon from his pound net in the same area. Matt will take the new side-scan unit to this part of the Rappahannock soon.  If you'd like to follow Dr. Balazik, his team, and these remarkable fish, like his Facebook page, James River Sturgeon.  There's also a research team working on the Pamunkey and Mattaponi Rivers, the two big tributaries of the York.  Look for their York River Sturgeon page on Facebook.
Chesapeake Bay Magazine's Chesapeake Almanac covers the history of sturgeon in the Bay watershed and their spawning movements in the September issue. To read it, click here.
-John Page Williams