The Lafayette River restoration celebration. Photo: CBF
It's first time we've heard this on the Chesapeake Bay: a Virginia waterway's oyster habitat has officially been restored.
A flotilla of boats paraded onto the Lafayette branch of the Elizabeth River Monday to help the Elizabeth River Project (ERP) and the Chesapeake Bay Foundation (CBF) plant the very last oysters on restored reefs near the Hermitage Museum & Gardens.
The 2014 Chesapeake Bay Agreement set a goal of restoring oysters in ten Bay waterways by 2025. The Lafayette was selected as one of five targeted tributaries in Virginia. The restoration effort ramped up in 2010, when ERP and CBF organized public and private partners and individuals to help clean up pollution and focus on healthy wildlife in the area.
The Lafayette now has 32 acres of restored oyster reefs. These, combined with 48 acres of existing"historic reefs," brings the waterway to its 80-acre oyster habitat target. The Lafayette's reefs are thriving, exceeding the density goal of 50 oysters per square meter.
"It's unbelievable that a part of the Elizabeth River, once presumed dead, now leads Virginia for restoration of the native oyster," said ERP Executive Director Marjorie Mayfield Jackson.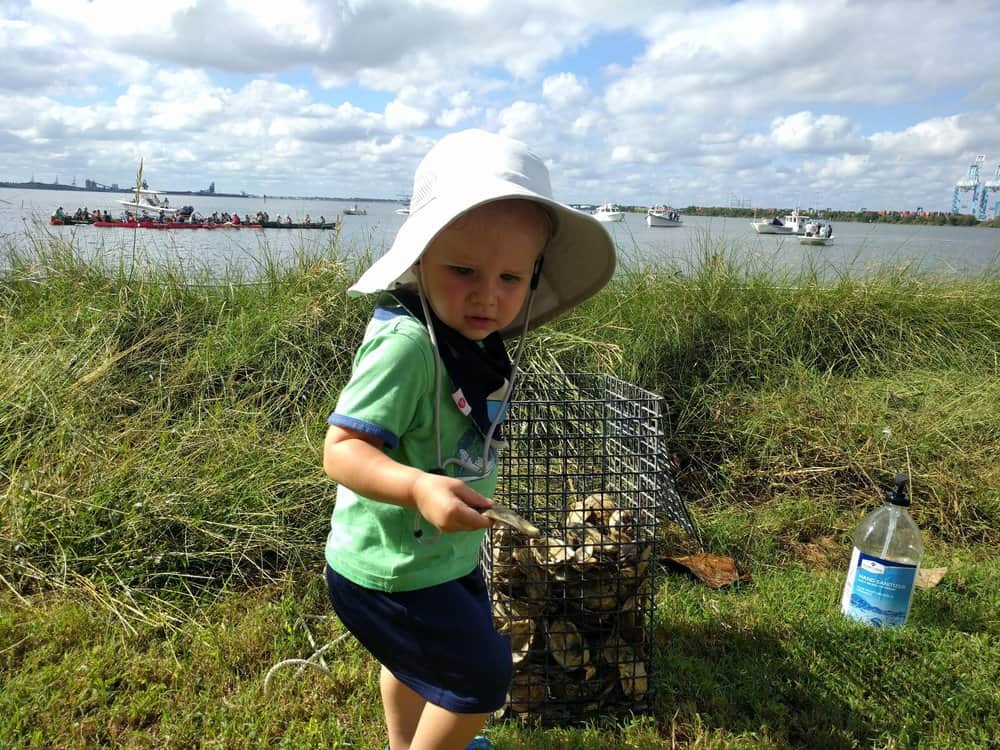 In addition to the volunteers who helped build the reefs, ERP recruited thousands of homeowners into its River Star Homes program. The residents take simple steps to keep the river healthy, like using less lawn fertilizer and cleaning up pet waste. ERP also teached up with Norfolk residents to build living shorelines, which prevent erosion and create oyster habitat. On the federal level, NOAA and the Chesapeake Bay Program provided funding and science insight.
"We thank the entire community, from volunteers to restaurants to government agencies. Every partner deserves credit, " said CBF President William C. Baker.
A healthy oyster population can improve the health of the whole waterway. Oysters are natural filters that clean the water, and their reefs protect shorelines from erosion and provide habitat for fish, crabs, and other Bay life. Biological sampling on the Lafayette also found at least 25 species of fish living around the reefs, from seahorses to speckled trout.
In the years to come, the Lafayette River oyster reefs will be closely monitored, so that lessons learned can be applied to other Virginia tributaries targeted for oyster restoration: the Eastern Branch of the Elizabeth River, Lynnhaven River, Piankatank River, Lower York River, and Great Wicomico River.
-Meg Walburn Viviano