Plenty of cities and towns across America mark the holiday season with a festive tree-lighting. But in Rock Hall on Maryland's upper Eastern Shore, the "tree" is actually a towering sculpture of crab baskets, and it's created with the help of the whole community.
Rock Hall's Community Crab Basket Christmas Tree celebrates its seafood heritage; in fact, watermen are among those who design and build it. And the "tree" also holds special meaning to individuals throughout the town, as each basket is hand-painted by request.
Rock Hall Mayor Brian Jones says the Crab Basket Tree tradition started in 2016, when several residents were inspired by Cambridge, Maryland's crab basket tree. Now in its third year, the Rock Hall tree continues to grow. Mayor Jones calls the tree-lighting "a very emotional evening that brings the whole community out."
The "tree" is actually two tree towers, made up of more than 200 crab baskets, customized to recognize loved ones and local businesses, and in memory of those who have passed.
Community members can paint their own basket or give a $35 donation to request a special basket be painted in their honor. Donors can "renew" their existing basket each year for $15. All proceeds benefit the children's programs at Rock Hall Parks and Recreation. In the tree's first three years, it has raised $8,900.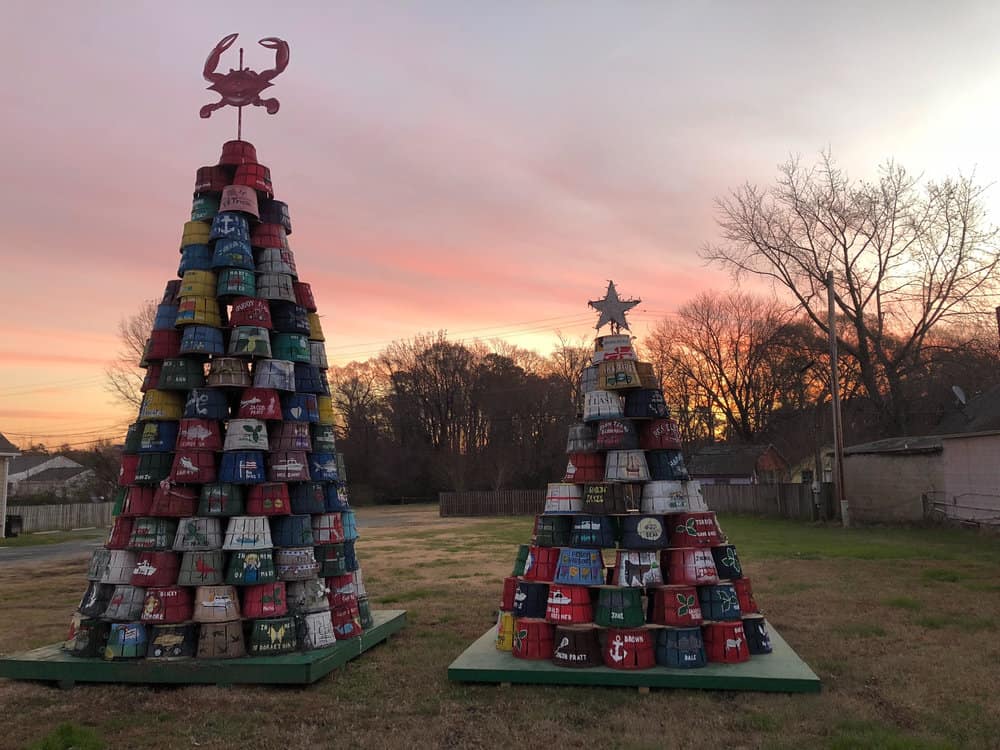 The holiday tradition is a true community effort. Chris and Sheila Lingerman of Chester River Seafood provide the crab baskets, Sheila's sister-in-law Nikki Strong and father-in-law Buffalo Strong, a Kent County waterman, help to paint them, and resident Ziggy Carter constructs the trees with the help of town staff.
Mayor Jones is especially proud of the personal tributes on the baskets that make this crab basket tree unique:
"The spirit of the 'Pearl of the Chesapeake' is expressed through this magnificent structure and brings joy and comfort to all," says the mayor.
-Meg Walburn Viviano