Mark Eustis
Photo by Martin image photography.
On a sunny August Saturday, top anglers, saltwater fly-fishing guides, cooks, helpers and more than 50 wounded warriors gathered at Dominion Marina on Kent Island for the Project Healing Waters Fly Fishing—Stars & Stripers Fly Fishing event, an invitation-only day of fishing for disabled active-duty and veteran anglers.
This is a day when the fly-fishing community gives back to disabled veterans. Marina owners and workers, crabbers, restaurant staff, small-business owners and a fleet of fishing guides and good friends with boats step up to help. This event represents a first for many of these Project Healing Waters veterans, many of whom have never fished on salt water or picked crabs for lunch. The captains take anglers out for a shot at catching striped bass and other species with fly gear on the Chesapeake. This year, the anglers fished on more than 30 boats while their spouses and kids went crabbing, fishing and cruising on the Bay, followed by a crab and barbecue feast on shore.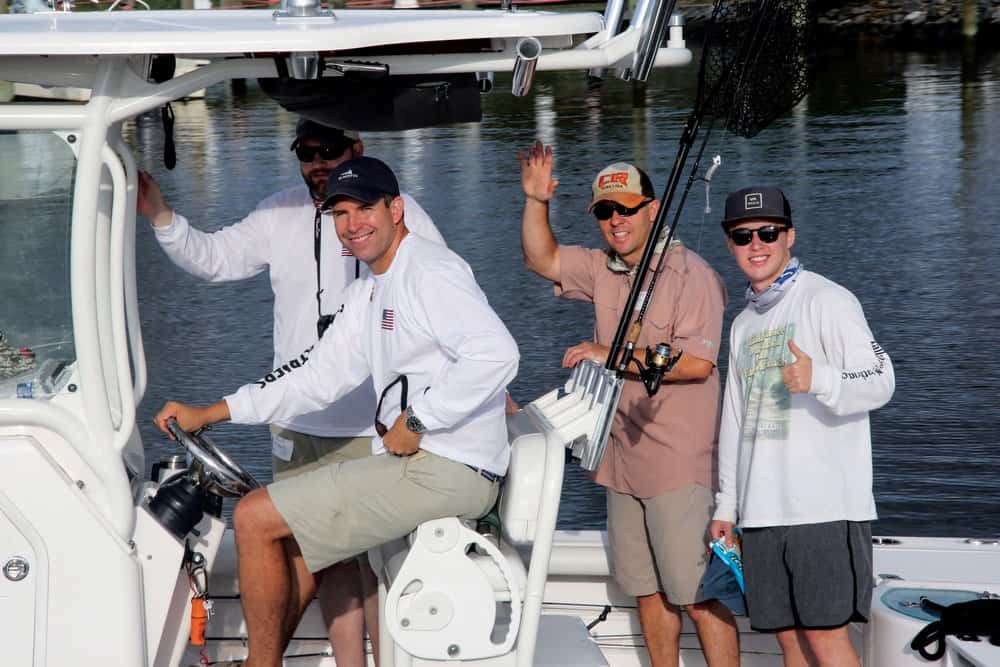 Stars & Stripers is a family event where Kent Island families show their love and appreciation for the Project Healing Waters warriors. Local service groups, including the Kent Island Elks, American Legion Post 278, Grasonville VFW 7464, the Jeff Davis and Benedict Andrew American Legion posts, and the Dyer, Obermeier, and Scheuer families contributed substantially to the event. Fisherman's Inn & Crab Deck donated and steamed endless bushels of crabs, Chesapeake Outdoors provided a quarter-ton of ice, and the Kent Island Fire Department also chipped in for the effort with material. There were many other citizen supporters who contribute especially, the late Dr. Ed Fulton and his family, who have provided the facility and land support from the beginning.
For the fishing action, Josh drove in from Virginia and George came down from Maine. They caught Spanish mackerel and striped bass fishing with Matt Reeder from Crab Alley Marina. Vern and Ben came from Erie, Pa. and caught dozens while fishing with Ed Liccione on his Parker. Mike, Terry and Ryan went out with Tom Weaver and boated almost fifty. Laszlo and Raymond each caught over 30 stripers fishing with Chesapeake Bay Magazine fishing guide Joe Evans. Jeff fished with Eivind on John Rappold's boat and learned about a great community of like-minded veterans. Keith helped Valerie learn saltwater casting on Colin Quinn's boat; then he went back to Connecticut to plan a Stars & Stripers event for New England. Altogether, the anglers caught over 500 fish. All but a few were released.
This is an event where old friends meet new friends to share a new experience and to help Project Healing Waters programs grow. Project Healing Waters Fly Fishing is a national nonprofit charity with more than 200 local programs meeting regularly in Department of Defense hospitals, Warrior Transition Units, and Veterans Affairs Medical Centers and clinics. Project Healing Waters began in 2005 serving wounded military service members at Walter Reed Army Medical Center. Today, this network serves thousands across the USA and Canada, Australia, and Europe. Disabled active-duty military working through the transition to veteran, and any disabled veteran, are eligible for Project Healing Waters.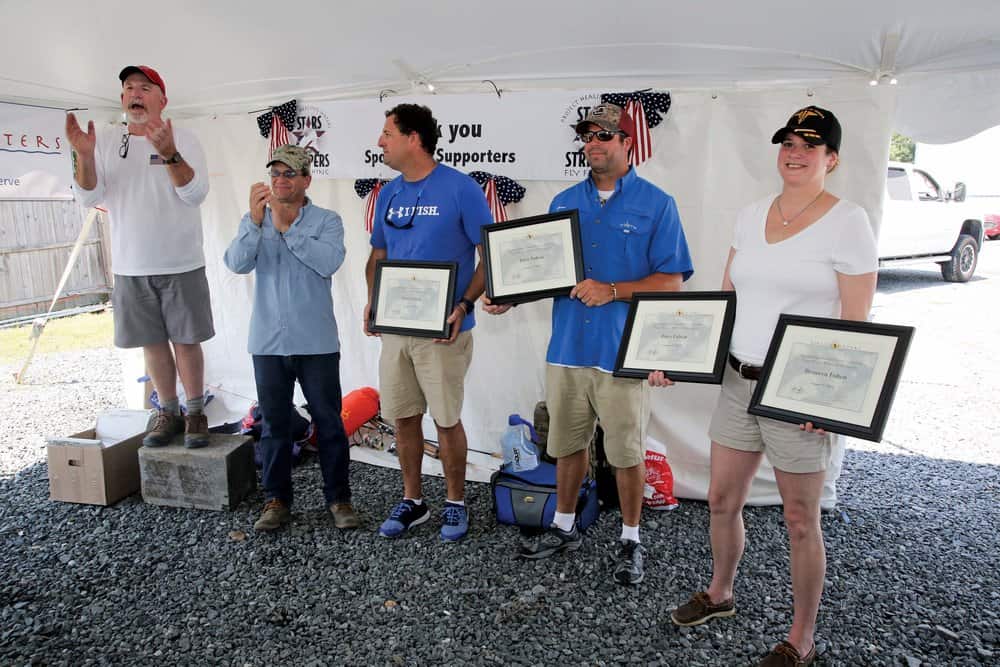 Many of the participants from 12 years ago are still helping as volunteers. For many, catching their first fish on a fly is an electric, life-affirming experience. Here is one angler's story:
"In January of 2005, my patrol was ambushed by an IED—an artillery round hidden in a taxi parked on the side of the road in Mosul, Iraq. My right arm was shredded, and I would have bled to death without a tourniquet. They put me into a coma and shipped me back to Walter Reed Army Medical Center. That was the beginning of years of heartbreak. I believed I had failed my soldiers and left them in the sand without me. The physical pain was excruciating, but I could handle that as long as I had hope that I could recover, regain function, and return to leading my men in the fight. Then I learned my wounds would heal and my arm would remain, but I could never go back. Anger, anxiety, and depression took hold. The emotional pain was overwhelming, and at times, I thought it was too much to bear. I thought I should have bled out on the battlefield. I was in hell. Then, five months after I was wounded, I got involved with Project Healing Waters. We went to a small stream. I was anxious, nervous, and on edge. Then, I stepped into the chilly water and started casting. I didn't realize until later, my anxieties went away when I focused on fishing. There was no time for anger or depression. I was standing in a cool stream, and I was in the moment. It was a beautiful thing. I'll never forget the flash of the trout's nose as it took the fly. The tension on my fly rod surged through my arm and into my chest like a bolt of lightning. Nothing had ever rocked my existence with such force, not even that IED blast five months earlier. We released the trout to live another day. And that was it—I'm gonna be okay. That was the beginning of my recovery—my return to the man my family and friends knew and loved. That experience saved my life."
Project Healing Waters programs are much more than fishing trips. Programs meet regularly to teach fly-tying, casting and fishing skills. Anglers learn and then put their talents to use at local ponds, day trips to nearby streams, and larger events and outings like Stars & Stripers. But for many, the camaraderie and friendships in the classes are as important as fishing, maybe more so.
Project Healing Waters programs bring together a special community of family and friends where disabilities don't matter and challenges are shared and overcome. Since most programs focus on freshwater, the Stars & Stripers has become a unique saltwater experience. The event has a special place in the hearts of many on the Eastern Shore, too. Learn more at starsandstripersflyfishing.com.