Pleasure boating in a commercial strength package
LOA: 28′
Beam: 10′
Draft: 25″ (engine up)
Transom Deadrise: 22°
Weight: 8,400 lbs.
Max HP: 600
Fuel Capacity: 200 gal
Available through Annapolis Yacht Sales
"Driven hard and put away wet": That's a close description of the treatment given to the skiffs the baymen of Long Island's South Shore use to harvest clams with bullrakes. Most go to their slips carrying plenty of mud as well. Alan Steiger was one of those bullrakers in the 1960s, but he also had woodworking skills, so he built his own skiff and repaired others for his friends. One thing led to another, and he began building skiffs from scratch. He made the transition to fiberglass in the 1970s with a tough, fast, able, and pretty 21-footer that ran on a semi-V, 14-degree deadrise hull with a sharp forefoot. It quickly gained a good reputation. Inevitably, recreational anglers began visiting his shop and asking for it. More things led to others, and today the Steiger Craft line offers open and pilothouse boats from 21- to 31-feet. True to their roots, they are tough, fast, able, and pretty, but most now run on 22-degree deep-V bottoms for offshore use, with four-stroke outboards from Suzuki and Yamaha mounted on transom brackets. Many of the boats still work in commercial roles, including charter fishing and law enforcement. Make no mistake, though: these are not semi-displacement workboat hulls. They are built to run hard in calm waters and sloppy seas.
A case in point is the 28-foot Miami pilothouse model, which we had an opportunity to sea-trial around the Bay Bridges with Annapolis Yacht Sales staff on a day when a northerly wind in the 'teens built short three-foot seas against a full-moon flood tide. At 8,400 pounds dry with twin engines, the 28 is a heavy boat built of hand-laid, solid fiberglass around an I-beam stringer grid. It carries a limited lifetime hull warranty. Nothing shook or rattled as we ran into the seas. The pilothouse has an upholstered portside couch with tackle drawers and general storage under and well-placed overhead grab rails. The deck is rigid, so we recommend deck shoes with well-cushioned insoles.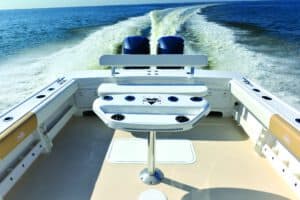 Our boat had a pair of 300-hp Suzukis, which could drive her to a top speed of nearly 50 knots. That wasn't realistic on such a blustery day, but speeds in the mid-20s were, with the engines trimmed in a bit and trim tabs down just enough to attack the seas with the hull's sharp forefoot and deep-V bottom. Rain-X on the windshield made it easy to see through spray, but the boat comes with sturdy windshield wipers as well. Running with the seas, we raised the tabs, trimmed the engines out, and rode easily. We spent some time drifting and easing along at trolling speeds in several directions. The eight-foot beam provided comfortable motion at all points. This boat has bow thrusters, but we were impressed at how well the big propellers allowed us to maneuver with the throttles, both outside the harbor and backing into the slip.
So, what is a strong, stable boat like Alan Steiger's 28 Miami good for in the Chesapeake? With her big, open cockpit, pilothouse shelter with aft curtains, and forward cabin with V-berth, head, counter, and sink; she'd make a great platform for watching sailboat races, working as a race committee utility boat, sightseeing around the Bay; and taking a crowd out to watch a sunset or Blue Angels air show.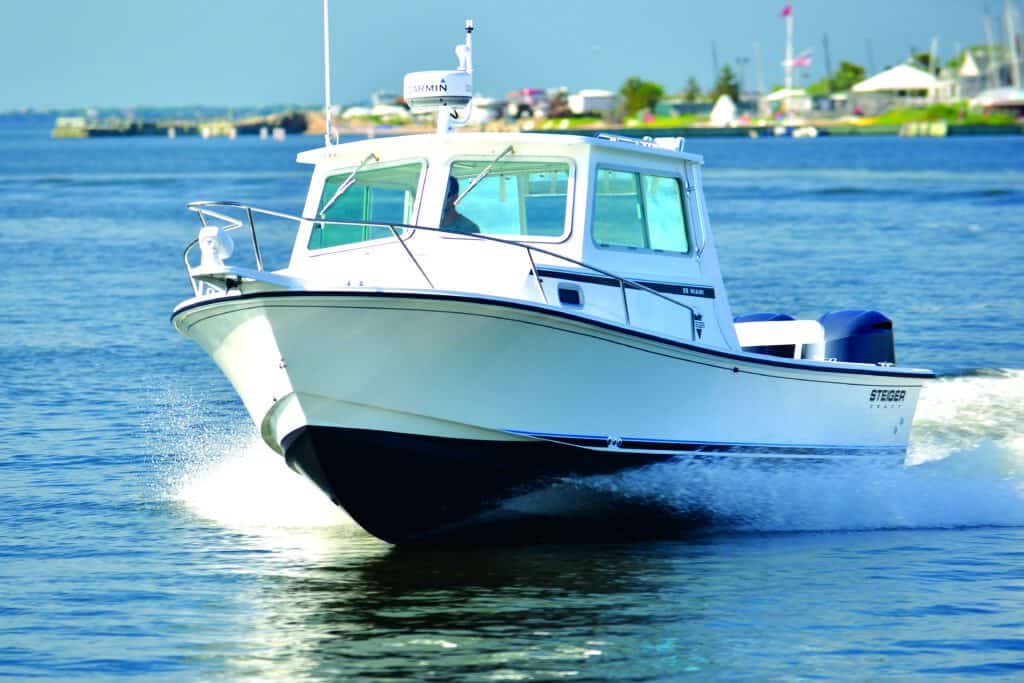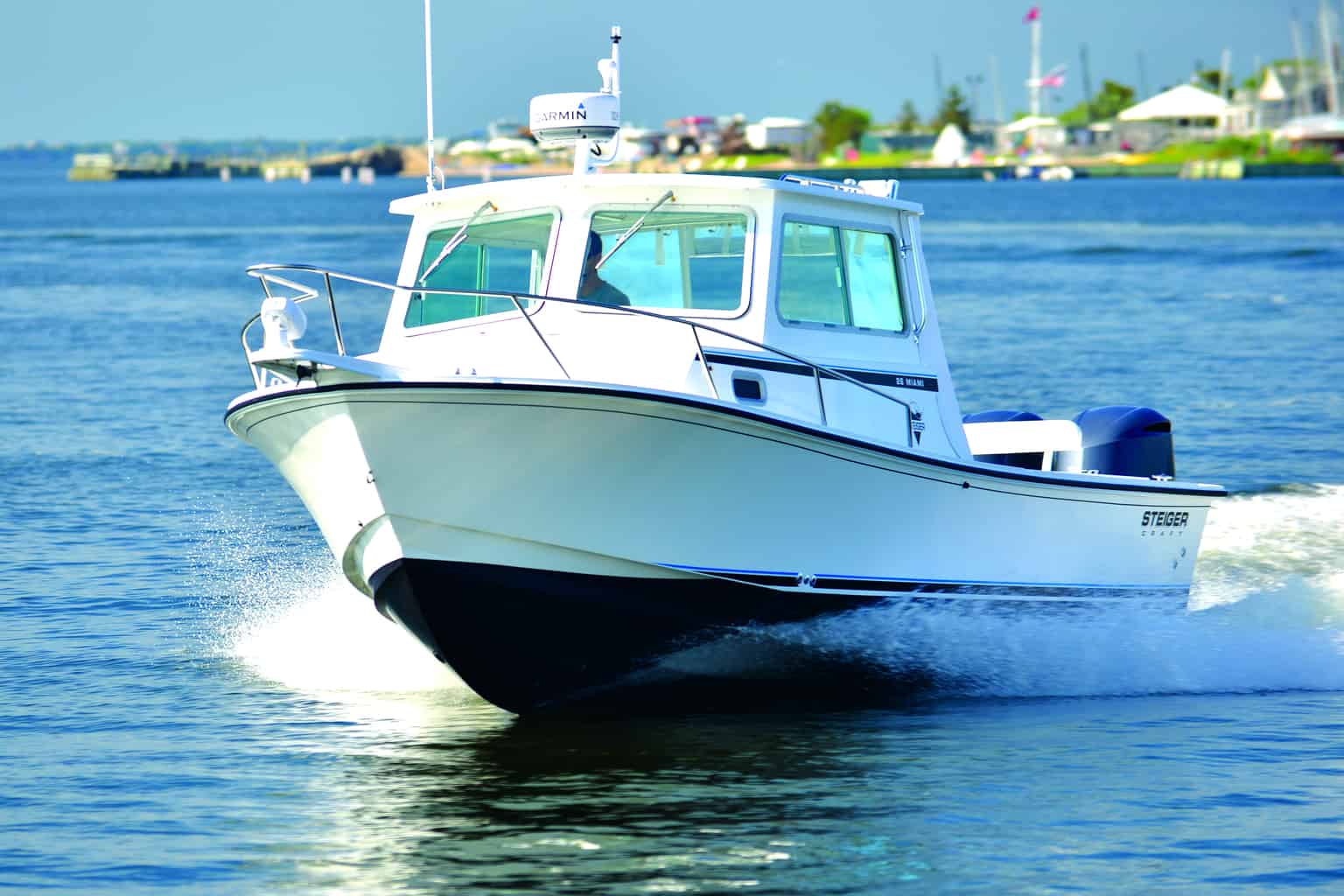 And she's very good for fishing—trolling, jigging, or drifting bait anywhere around the Bay. Her 200-gallon fuel tank and efficient engines promise enough range (over 280 nautical miles, with 10 percent in reserve) for deep-drop expeditions off Virginia Beach. Huge fish boxes, an in-sole livewell, a cockpit helm station, rod holders on the aft edge of the pilothouse, tackle drawers, toe-rails and bolsters along the cockpit washboards, under-gunwale rod racks, and Steiger's signature sinker bins along the cockpit sole under those racks allow the 28 Miami to adapt to any style of open water fishing.
The 2020 version will have an exended pilot house and larger dinette to accomodate a microwave and coffee station, and bow thrusters are now standard equipment.
These are heirloom boats, built strong enough to serve generations of water-loving families or commercial operators.