These designs are built for speed
We were lying on the beach, lulled to sleep by the sound of the waves, when our nap was abruptly ended by the frantic shout of a little boy.   
"Shark!"
We both sat up, expecting to see a scene reminiscent of Jaws. Instead, we watched as a bright yellow tour boat roared by, complete with a gaping mouth of jagged teeth and flames streaming from its gills. The vessel was the 70-foot Rudee Rocket, a Virginia Beach icon, and while we've done our share of boat-watching, we had never seen anything quite like it.
"It is eye-catching," Captain Skip Feller of Rudee Tours agrees. "Going up and down the beach, being able to draw attention like that, makes all the difference."
Although the Rocket's design is more elaborate than most, custom paint above the waterline has long been seen on large muscle boats and racers. Now, with modern advances in computer graphics and marine wraps, these same head-turning designs are available—and affordable—for everyone.
"The majority of the boats we do are center-console fishing boats," notes John Hall, Jr. While his company, AGWraps, did the graphics for Rudee Rocket, he points out that most of his clients are not commercial operations, but rather private owners of smaller vessels who want to personalize their boats.
"There are essentially no limitations to the artwork," he explains, "and there's no real increase in price for a more complex design."
With endless choices, it is up to the graphic designer to tease out exactly what the customer would like to see. "Our clients often don't come in with a set idea—they don't come in and say, 'I want a fish here, I want a boat this big in the background.' So we ask a lot of questions. Basically, we try to pull the ideas out of their heads."
The company's four in-house graphic designers start by showing clients examples of other wraps and stock images to get a feel for the theme they want. Hall says it usually takes a couple of days to develop a design, and another day or two of going back and forth with the client to fine-tune the final graphics. For most of Hall's clients, the real draw of the boat wrap is the opportunity to have a totally unique look. Creating that look is a job that requires a special kind of artist.
"I'm pretty picky," Hall laughs, when asked about what he looks for in a graphic designer. "I look for good composition skills, but also someone with a little bit of an edge. The kind of custom work we do is radical—more like t-shirt design than corporate artwork."
Leafing through the company's photo gallery, I am surprised by just how varied these designs can be. While leaping sportfish seem to be a popular motif, the finished wraps range from solid colors and geometric shapes to complex canvases of tropical sunsets, speeding boats, and mermaids. The graphics are bold and, yes, edgy. I mention they would seem as at home on a motorsports track as they do at the dock.
"That's actually how we got into marine wraps," Hall laughs. "We have a marina nearby, and the boat owners would see these custom cars we'd just wrapped sitting outside the shop. A few of them stopped in to see if we could do the same thing to their boats, and now it's a major part of what we do."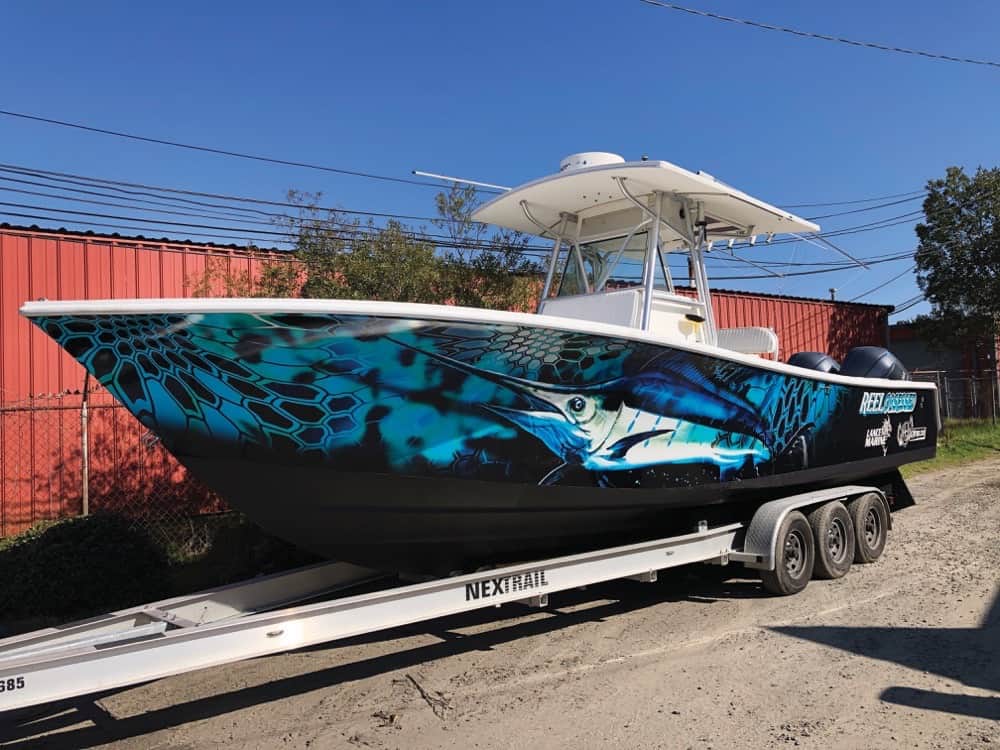 It's easy to see why. For anyone with an older vessel, re-doing the gelcoat is time-consuming and expensive. Even paying to have a mid-sized boat professionally detailed can cost a thousand dollars or more. For two to three times that, boat owners can get a brand new, custom look—one that should last seven to eight years. In addition, wraps have the benefit of being fast. Hall says the entire process, from walking through the door with a general design idea in your head to being out on the water in your "new" boat, takes just seven to 10 days. Most of that time is spent designing and printing, with clients' boats usually in the shop for no more than 24 hours.
But what about selling a wrapped boat? Could a personalized design make it more difficult to find a buyer?
"It's the opposite," Hall says. "The wrap protects the gelcoat underneath from the elements, and it can be removed without damage. Some of our clients actually cite resale value as one of the reasons they choose to wrap their boats, because it preserves the gelcoat in pristine condition."
For Captain Heller, while the longevity of the wrap over paint and the cost are factors to consider, it's variety that seals the deal. "The main reason to choose a wrap is because you can have anything you want."