Chesapeake Bay Foundation
The Maryland Department of Natural Resources (DNR) has just announced that this year, its portion of the Bay had the second-smallest dead zone on record.
Hypoxia, also referred to as a dead zone, occurs when large amounts of nitrogen is swept into the Bay's watershed by rainfall. The pollutants—farm fertilizers are notorious sources—cause large algae blooms that suck necessary oxygen out of the water column when they decompose, smothering marine life.
In the beginning of June, the National Oceanic and Atmospheric Administration, U.S. Geological Survey, University of Maryland Center for Environmental Science and University of Michigan scientists predicted a slightly larger than average hypoxic volume for the bay due to higher spring flows (January-May) and nitrogen loading from the Susquehanna River.
Results of Maryland DNR's 2017 hypoxia report show that dissolved oxygen conditions in Maryland's Bay mainstem were far below average, at 13.6% compared to the 32-year average of 18.9%.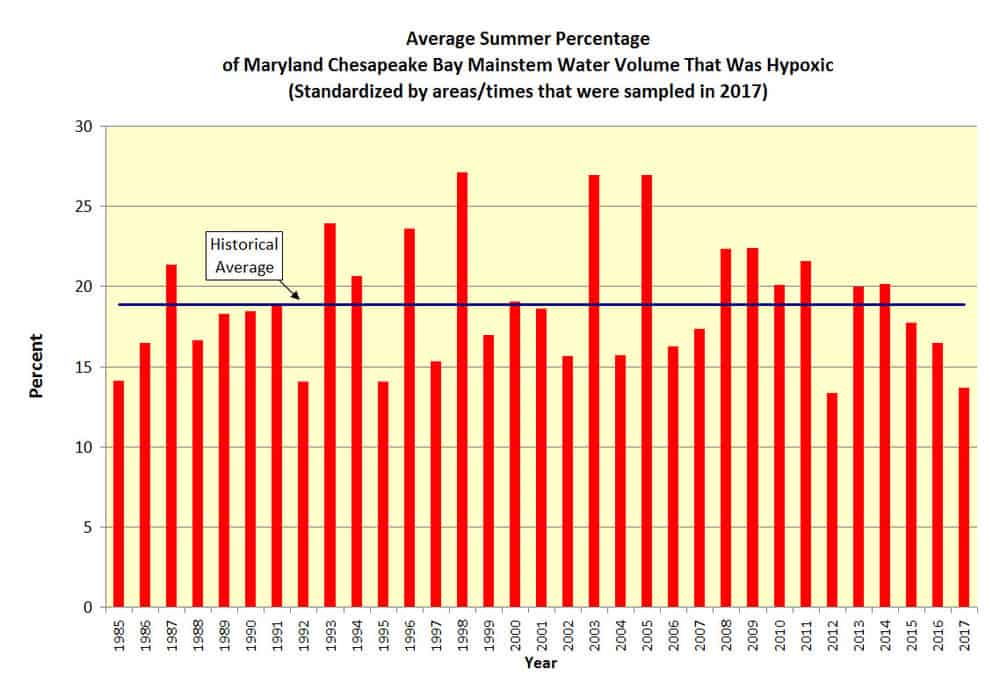 That's good news, but Maryland's findings contradict those of The Virginia Institute of Marine Science (VIMS), released earlier this month. The VIMS report found that the total amount of dead zones in the Bay, both the Maryland and Virginia sections, was the worst it's been since 2014, even if the overall duration and extent were better than in 2016.
Who's right? Are the Bay's dead zones getting better or worse? It may lie in the method of gathering data.
The Chesapeake Bay Foundation released a statement in response to the Maryland hypoxia results, in an effort to reconcile the two. The statement from Chesapeake Bay Foundation Director of Science and Agricultural Policy Beth McGee reads:
"There is scientific consensus that the dead zone is getting smaller over time, and ending earlier in the summer. This is an indication that the Clean Water Blueprint is working. But we also know that much more needs to be done to achieve a Bay that is healthy for all living creatures."
-Meg Walburn Viviano