The U.S. Postal Service's newest collection of mid-Atlantic lighthouse stamps confirms what we on the Bay already knew: Thomas Point Shoal Lighthouse is a piece of nationally-important history.
Set for release in early August, the five newest stamps celebrating American lighthouses includes Thomas Point, Montauk Point, N.Y., Harbor of Refuge, Del., Navesink, N,J., and Erie Harbor Pierhead, Pa. The long-running Lighthouse series (issued seven times now) has been illustrated for years by the late artist Howard Koslow, and these stamps are his work as well.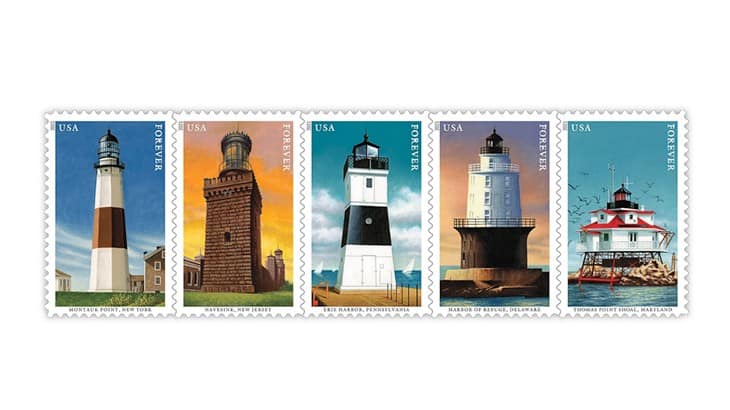 While the lighthouse selections for the 2021 collection were to be top secret until USPS announced them, the news was no surprise to Thomas Point lighthouse manager John Potvin.
"I found out about it about two years ago and was sworn to secrecy because the United States Post Office does like to let these things out of the bag too early," Potvin tells Bay Bulletin.  
Built in 1875, Thomas Point Shoal Lighthouse is the last surviving screwpile lighthouse intact its original location. Potvin puts its significance into perspective:
"It's one of only 12 lighthouses in the country that is a National Historic Landmark. It falls into the same category as the Maryland State House or the White House or the Washington Monument." The prestigious historic landmark designation bestowed in 1999 is a strong argument for why Thomas Point deserves to be incuded in the series, he points out.
So, what does Potvin think of the depiction of the lighthouse he has worked to preserve? "I like it, with one small caveat," he tells us. "The railing around the lantern at the very top of the lighthouse in the artist rendering is black. But the actual railing on top of the lighthouse is white. It was painted black when the Coast Guard took over the lighthouse in 1939."
In 2004, Potvin explains, preservationists studied early renderings of the screwpile, discovered it had originally been white, and repainted it back to white.
Preservation work on the lighthouse ramped up in 2019 with a major renovation project to replace some of its structural pieces. Bay Bulletin reported throughout the progress of this major project. Just about complete in summer 2020 despite the pandemic, the lighthouse is finally reopening for its popular tours beginning Sat., June 5. The renovations are 99 percent finished now, Potvin says.
So when can we get our hands on these special stamps? Their release date is Aug. 6.
Potvin is planning an unveiling of the five new stamps in the series at Annapolis City Dock on Aug. 7, 2021 at 2 p.m. The public is invited, and details will be forthcoming.
"The Chesapeake shines for everybody. The Chesapeake itself is a national treasure.  So many people pass by that lighthouse, so many people regard that as home.  And I think it's very important to everybody here in the Chesapeake to get recognized for what it is." 
–Meg Walburn Viviano & Cheryl Costello