Meet the Norfolk cold plunger community
When Kylie Surles lived abroad in France she found herself looking to get out of her comfort zone. At a New Year's Eve party, she met a man from the Netherlands who introduced her to his slightly unusual ritual of cold plunging. His passion for taking a winter dip convinced her to give it a try. 
"We met at the beach in Normandy and we did our dip and I felt so alive," she said. "I was so aware of my body, I was experiencing such a new sensation, and I was just in awe of it."
Surles returned to Norfolk in 2021 determined to continue the practice.
While many across the Chesapeake Bay region may participate in an annual charity cold plunge, Surles has taken her winter dips a step further. Cold plunging has become a regular part of her life and she's helped build up a community of like-minded people.
"I had a few friends who came to support the first few times and it just took friends telling their friends and then, here we are," she said, "It's our second winter now, and we've done it every winter Sunday since that first day."
Surles explained that everyone in the Norfolk Cold Plunge group has their reasons for cold plunging, but common motivators include doing something new, pushing mental and physical comfort zones, getting in touch with their bodies and the present moment, and celebrating discomfort.
"There's so many reasons why I love this," Surles said. "You just can't walk out of the cold water and feel your body tingling and deny that you are so very much alive. Sometimes we need that reminder because our day-to-day lives aren't always very exciting, and that's not a bad thing, but then we have these moments that help us feel like we are really living."
Surles also emphasized that community is fundamental to the group. "We're just there supporting each other, laughing along the way, keeping it light," she said.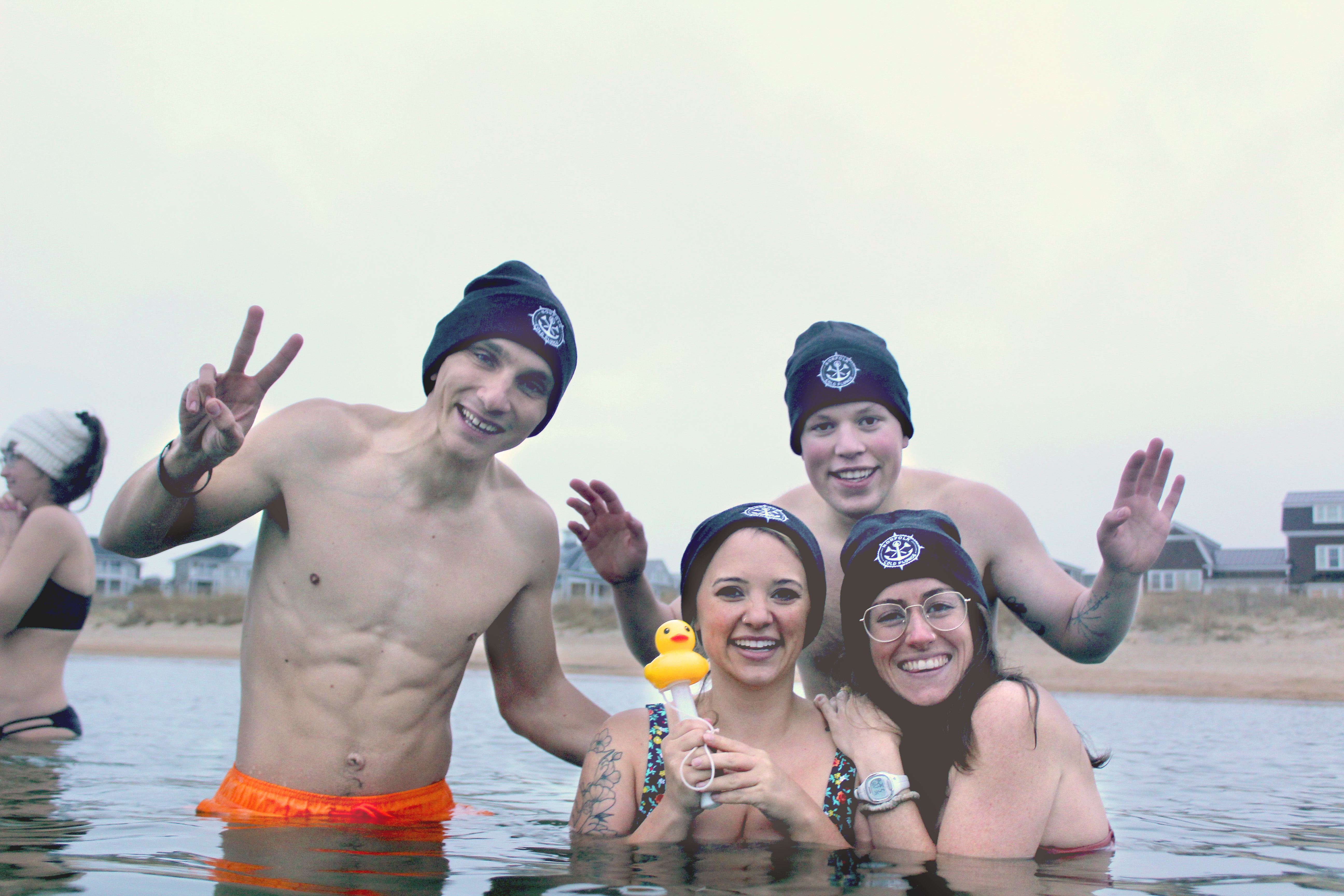 That community surprised her initially. "I had no idea that so many people would be interested in this. I thought I'd do it with some friends, or maybe I'd do it alone, but every week new people show up." Now, a typical plunge draws 30 to 40 people, and regular plungers pitch in by leading warmups and designing merchandise.
For those who live nearby, Norfolk Cold Plunge extends an open invitation. Just show up any winter Sunday at 5 p.m. at the address listed in their Instagram (@nfkcoldplunge) and Surles or another leader will walk you through the process. Their Instagram also has resources to help you know what to expect and what to bring.
For those elsewhere in the Bay, Surles recommends searching for nearby plunge groups online, which she ensures would all be equally welcoming. (Virginia Beach has the Cold Dip Crew.)
"It's all for fun," she said, "It's not a business, it's not transactional, we all show up every Sunday because we want to and because it feels good. It's so organic, and that's what I love about it."