Police are investigating not one, but two, incidents of powerboats striking the shore and crashing onto dry land, both of which happened on the upper Bay over the weekend.
Just after 3 p.m. on Friday afternoon in Middle River, the all-volunteer Marine Emergency Team 21 responded to a call on Seneca Creek and found a 30-foot Grady-White Marlin in the lawn of a local sportsmen's club. Maryland Natural Resources Police (NRP) say the Grady-White's owner had been trying to get a video of his outboard motors while using an autopilot feature on his boat.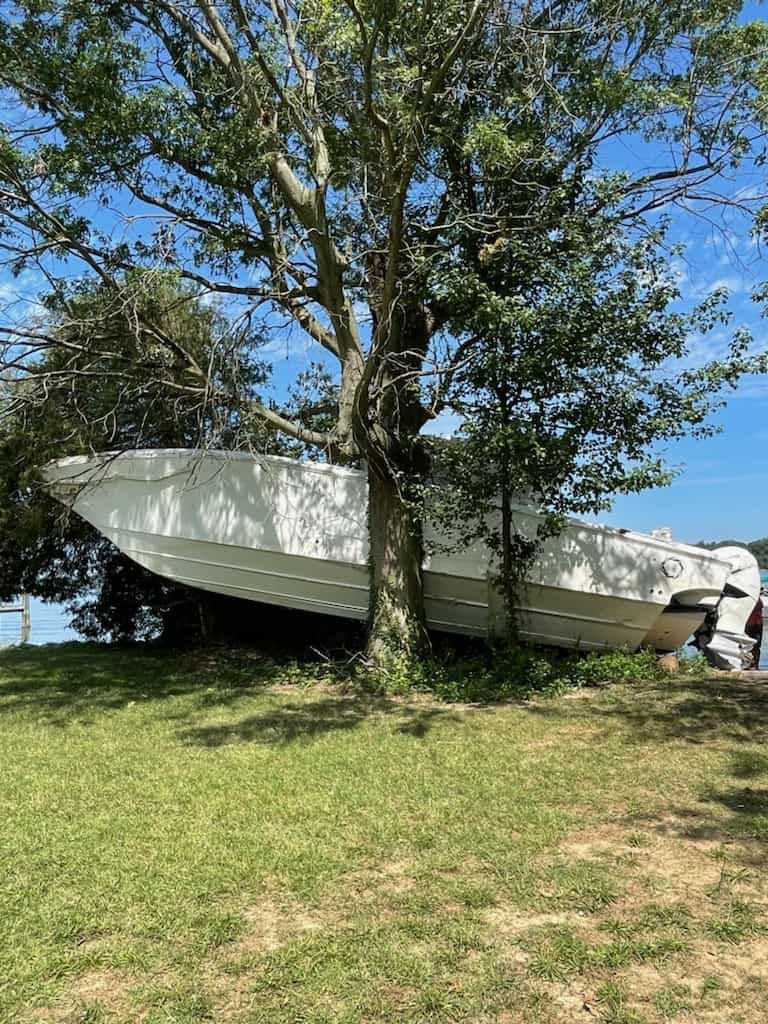 "Suddenly, his vessel was heading towards a piling. The vessel proceeded to Nollmeyer Road in Middle River and made head-on contact with the bulkhead. The vessel was entirely over the bulkhead and on land," NRP spokesperson Lauren Moses tells Bay Bulletin.
Thankfully the boat's operator was the only one on board, and he was not seriously injured. He will be responsible for removing the vessel, NRP says.
Just a day later, NRP responded to a boat crash on land in Cecil County. Just before 10:30 p.m. Saturday, a 39-foot Fountain powerboat had apparently run aground on the Elk River while going about 40-50 mph. The boat was lodged between trees in a grassy area above the shoreline.
NRP says there were six people aboard the boat at the time of the crash. Two were taken to Shock Trauma with non-life-threatening injuries, and the other four were treated locally for their injuries. Moses says alcohol is suspected to be a factor in this crash, but charges have not been filed as the investigation continues.
–Meg Walburn Viviano