The Bay's oldest and largest wooden boat gets the love she needs.
Driving over the Francis Scott Key Bridge across the Patapsco River, I could see the green knoll of Fort McHenry over my left shoulder with the skyscraper skyline of downtown Baltimore beyond. Over my right shoulder, I was surprised to be able to spot what I was looking for amid the industrial wasteland of Sparrow's Point: the upright white masts and squared yards silhouetted against the angular arms of gigantic yellow rail cranes. If I could find my way across a maze of highway construction, railroad tracks, gatekeepers and abandoned warehouses, I would make it to the drydock where the USS Constellation was getting her bottom re-caulked.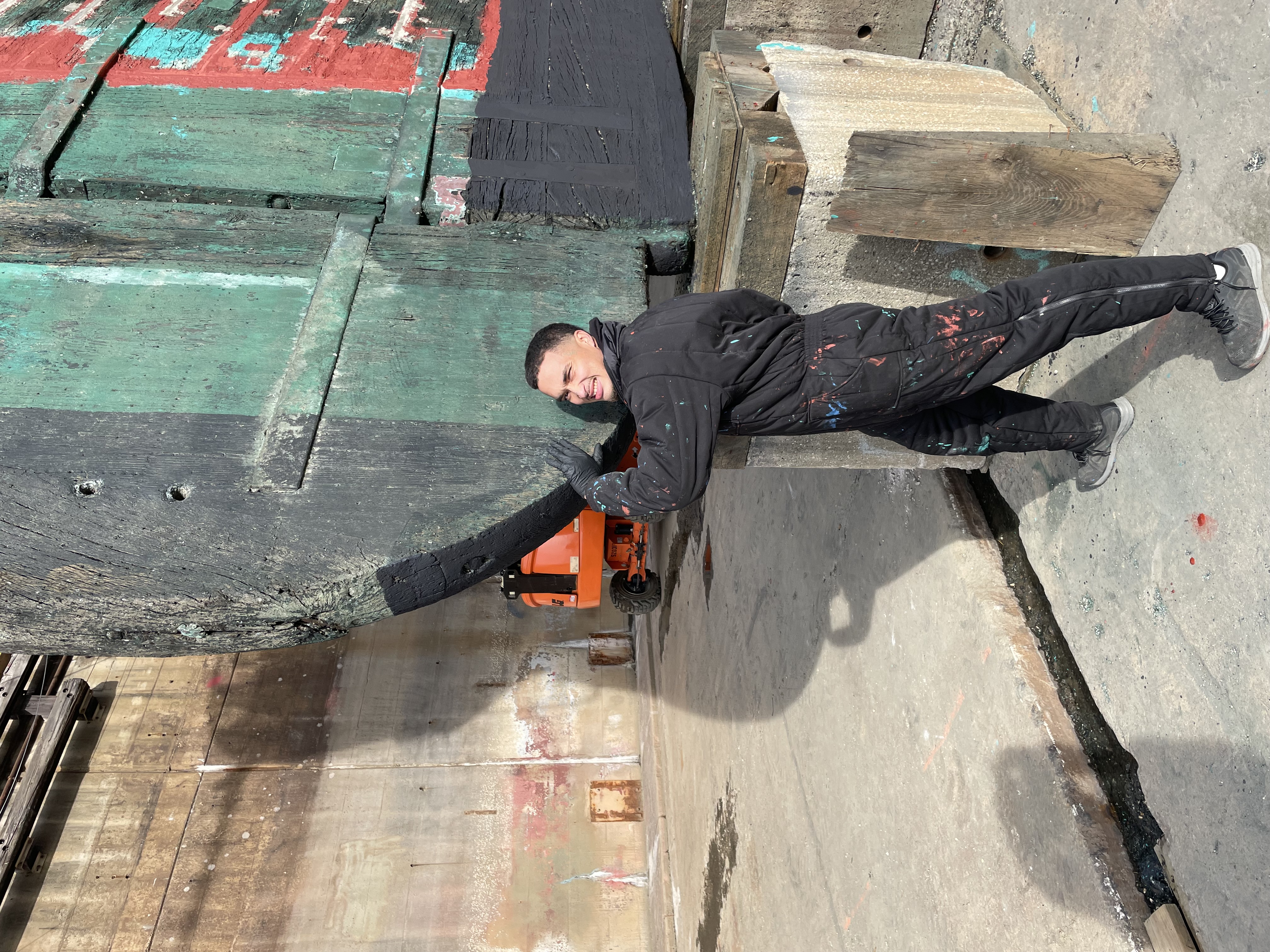 When I finally made my way there, I found the three masts and rigging poking up above the concrete rim of the drydock, while the black-and-white hull remained hidden. Perched on the rim, I looked down on the 168-year-old ship, her keel propped up on enormous blocks 30 some feet below. She is nearly 200 feet long from the rudder to the tip of the bowsprit, but sitting there in the corner of the vast concrete expanse of the drydock—big enough for Super Bowls LIII through LVII to play simultaneously—she reminded me of a toy boat left behind in an empty bathtub.
I got there at noon on one bright, chilly day in early December. As I stood at the tippy-top of the set of metal stairs that cascaded down to the bottom, I saw three tiny figures coming out from under the hull. If the ship looked like a toy, these guys looked like tadpoles by comparison. They turned out to be three of the five professional caulkers—all internationally renowned for their work on tall ships and traditional vessels of all descriptions—who were hired to do the work the Constellation needed. They were heading off to pursue another ancient tradition for tradesmen of their ilk: lunch.
I climbed down the stairs and found Chris Rowsom on top of a scissor lift, using a trowel to patch a crack in the stem of the ship with a gray, gritty substance that looked just like Portland cement. Imagine my surprise when he informed me that it was Portland cement. "We're taking care the ship's watertight integrity," he explained when he had lowered himself down to my level. Chris is the executive director of Historic Ships in Baltimore and vice president of Living Classrooms Foundation, and the USS Constellation is his charge. 
He explained that the ship had been taking on water for the past couple of years—sometimes up to 3,000 gallons per hour. (That's the volume of nearly 200 kegs of beer. Every hour.) "A wooden ship like this, you should probably drydock every five years or so if nothing else just to make sure that everything is okay," Rowsom said. The last time they did it was seven years ago. "In this case, we actually had some issues we needed to take care of, so that's what we're doing."
And this isn't just any old wooden ship; she's a "sloop-of-war." In this case, we're not talking about a single-masted boat like most modern recreational sailboats. In 17th and 18th century navies, a sloop-of-war was a designation for a fully-rigged ship—usually with three masts—with a single gun deck below the flush weather deck. The Constellation was built in the Gosport Shipyard in Portsmouth, Va., and launched in 1855. She was the last all-sail-powered ship built by the U.S. Navy. Ships built later all had some form of auxiliary steam power.
The Constellation served on the African Squadron, capturing slave ships and freeing hundreds of enslaved people. Later, she delivered food to Ireland during the famine of 1879. She served as a training vessel for the midshipmen at the U.S. Naval Academy in Annapolis until 1893. After that, her provenance became a bit fuzzy. In the early 1900s, she became confused with the ship of the same name that was built in Fells Point and launched in 1797, one of the six original frigates built by the U.S. Navy.
When she eventually landed in Baltimore Harbor in 1968, she was presumed to be that frigate. It wasn't until she underwent a major reconstruction in the late 1990s that historians concluded that it wasn't the same ship at all. They determined that the 1797 ship was dismantled in Gosport just about the same time that the new ship was being constructed in a nearby shipyard. It's possible that some of recyclable timbers (like knees that secure the deck to the hull) were reused in the new vessel.
Even though the Constellation rarely moves from her berth in the Inner Harbor, her hull still encounters wear and tear from weather, the wakes of passing boats and simple old age. So every few years, she needs attention. "Basically, we're doing some caulking using traditional methods," Rowsom explained. "We're using cotton and oakum, and then maybe a little bit not traditional: we're paying seams on top of oakum with Portland cement." The cement, he explains, seals the seams, but doesn't ooze out like putty does when the hull returns to the water and the planks swell up, shrinking the gaps between them.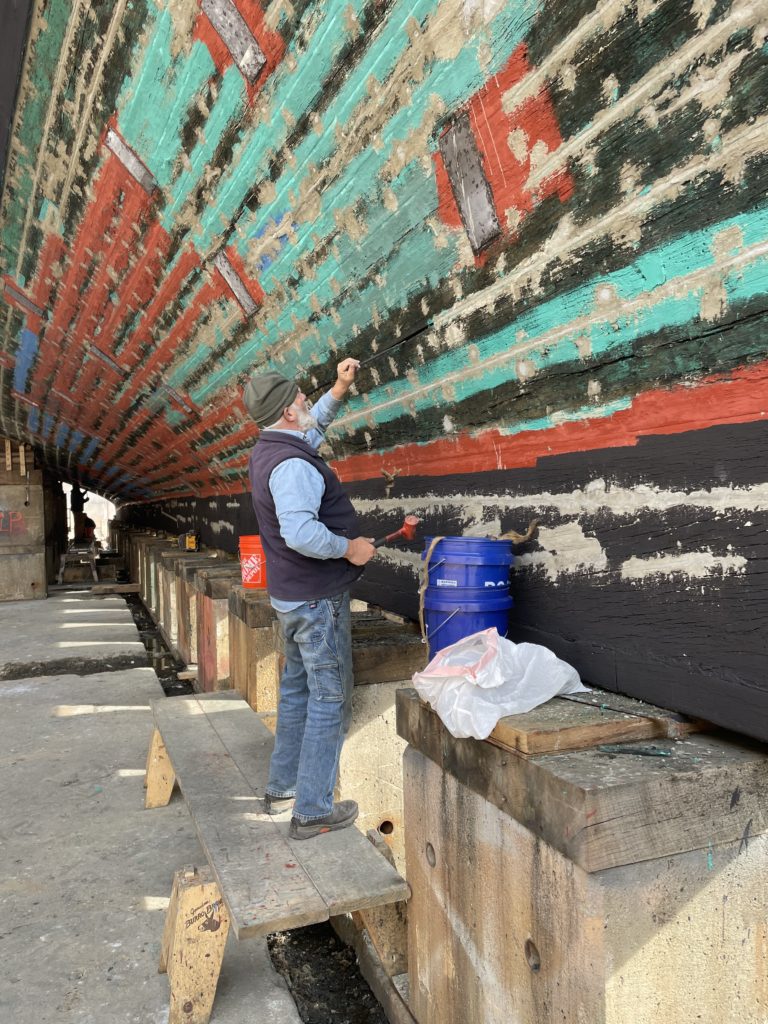 I met Frank Townsend, a professional caulker who came from Texas to help on the project, while he was working on the seams near the stern. We had one of those "Aha!" moments when we realized we had met a few months prior aboard the Maryland Dove, which was one of his last projects. (CBM featured the Dove in the October 2022 issue.)
Townsend showed me his array of chisel-shaped irons of different sizes and started with one that had a hooked blade. He showed me how it was used for "reefing" the seams; in other words, scooping out the old caulking. "Paying the seams (smearing them over) with Portland cement makes it much easier to clean them out when you need to redo them," he explained.
He twirled a length of oakum—essentially yarn made from untwisted manilla or hemp cordage, soaked in tar—and stuffed the yarn into the seam, then tapped the flat-headed iron with a mallet that had an unusually long, narrow head, like a miniature model of an old-fashioned croquet mallet. "That one went to China," Townsend grumbled when a wad of oakum disappeared in between the planks. It takes a lot of stuffing to fill the seams. These bottom planks between the keel and the waterline are just about all that's left of the original hull; the rest has been replaced or rebuilt over time. The planks were hewn from the heart of white oak, and some are four inches thick, 18 inches wide and up to 50 feet long. Townsend and the other craftsmen re-caulked about half of the nearly 5,500 linear feet of seams between them, inch by inch.
The plank ends meet at "butt joints," which are particularly prone to leakage. Rowsom explained that there are no fewer than 220 such joints on this hull, and to keep them sealed, each one has been covered with a lead patch.
The team of five professional caulkers led by Mike Vlahovich got support from pre-release inmates from Baltimore City Corrections, five young Black men who are learning a new trade. I met Brandon Blount, a young man whose enthusiasm for the project was evident. He challenged me to a game of trivia and we rattled off facts about the ship at one another. This fellow knows his nautical history. He was particularly interested in Frederick Douglass, another young Black man who worked as a caulker in the shipyards of Fells Point not all that far away. While this is Blount's first real job experience, it will have been his last before earning his freedom, just as caulking was Douglass' last job before he escaped slavery.
"I'm liking this experience," Blount told me. He's learning all kinds of skills he hopes to put to use when he starts his new life outside the correctional system. Painting the bottom is okay, he says, but he really likes to run the forklift. He asked me to take a picture of him to send to his sister and struck a pose, giving the mammoth rudder a hug.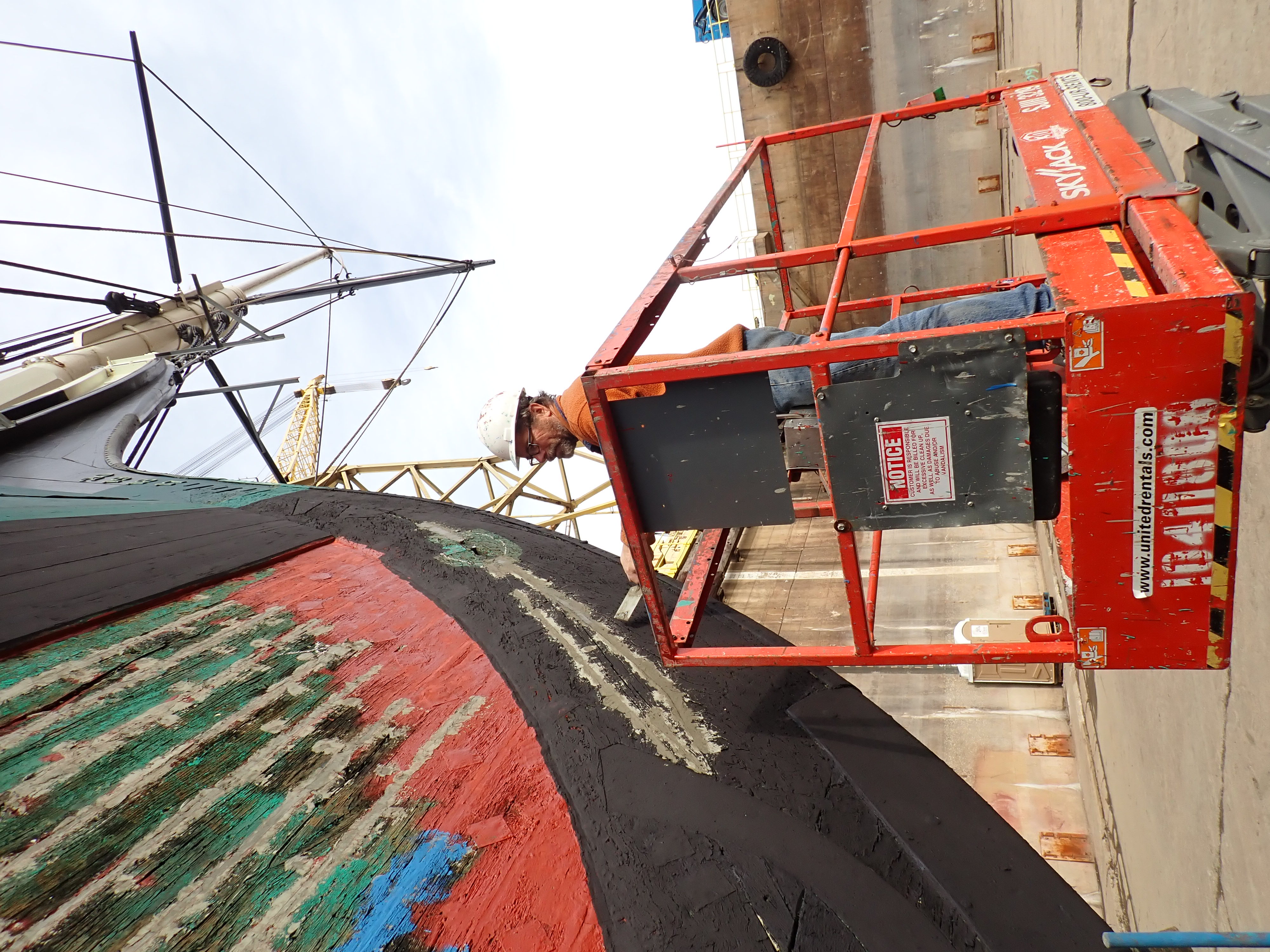 Chris Rowsom said he's grateful for their help. "Everybody's been great, I couldn't have done this without them. They've been a really, really valuable asset, and I think they've enjoyed their time here as well. They definitely have a sense of pride that they're working on a ship with such history, and particularly on a caulking project, because most of our guys are African American, and in the 1850s the Blacks of Baltimore, free and slaves, were primarily engaged in the caulking trade, so that's something the guys can relate to from a historical perspective."
The apprentices are working as part of Living Classrooms' "Project Serve" program. Project SERVE (Service, Empowerment, Revitalization, Validation, Employment training) addresses the issue of high unemployment and high recidivism among returning citizens in Baltimore City. SERVE provides on-the-job training for 150 unemployed adults per year in marketable skills.
The cost of the restoration project—between $850,000 and $1 million—was covered by the State of Maryland, Maryland Heritage Areas Authority, the City of Baltimore's Capital Cultural Support Fund and Tradepoint Atlantic, which donated the use of the drydock and ancillary support services.
Just eight weeks after the start, on December 19, 2022, with all the seams and butt joints sealed and plied with concrete, and with the hull sporting a new coat of copper-colored bottom paint, the drydock filled up with Patapsco River water and the ship floated with barely a whisper of a leak. A MacAllister tugboat at her side, the USS Constellation made her way back up the river and moored safely at her berth in Baltimore's Inner Harbor.
"Constellation is the oldest and largest example of Chesapeake Bay wooden boat building left in existence," Chris Rowsom told my CBM colleague Cheryl Costello in a video interview for Bay Bulletin. "Once it's gone, it's gone. Nobody's going to be recreating this, so it's important to preserve. I want our visitors to come away with an appreciation for the people who served aboard her." 
USS Constellation's and its Museum Gallery are located at Pier 1 in Baltimore's Inner Harbor. You can go aboard to take a tour, talk to a crewmember, participate in the Parrott rifle drill, or see what's cooking in the galley. The Constellation also hosts educational and overnight programs for all ages. For information on the Constellation's programs, log onto historicships.org/explore/uss-constellation.
---
CBM's editor Jefferson Holland writes about the Chesapeake Bay in poetry and prose. He lives in Annapolis with his wife, Louise White, their rescue retriever, Millie, and two cantankerous cats.