Colonial Beach, Va. photographer Bobby Hooker took this photo of the replica coming up the Bay.
A lot of people on the Atlantic coast and the lower Bay probably did a double take this week, when they spotted a full-size replica of Air Force One being towed around Cape Henry, up the Bay, and into the Potomac River.
What the heck is it doing here? The Boeing 747 is part of The Air Force One Experience, a "unique traveling exhibit" that offers tours of a recreated presidential plane, to show people what riding Air Force One is like for the Commander-in-Chief. The plane was most recently based in Rhode Island, and will now be based at the National Harbor waterfront in Maryland.
The plane left from Quonset Point, Rhode Island late last week, and was towed down the coast before entering the Bay at Cape Charles and traveling north to its future home at National Harbor on the Potomac. It was accompanied by towing vessel Sea Crescent, as well as an assist tow vessel, the Island Trader.
Social media was abuzz with images of the oversize load. Brendan Moon took this video as it passed under the Harry Nice Bridge on the Potomac River: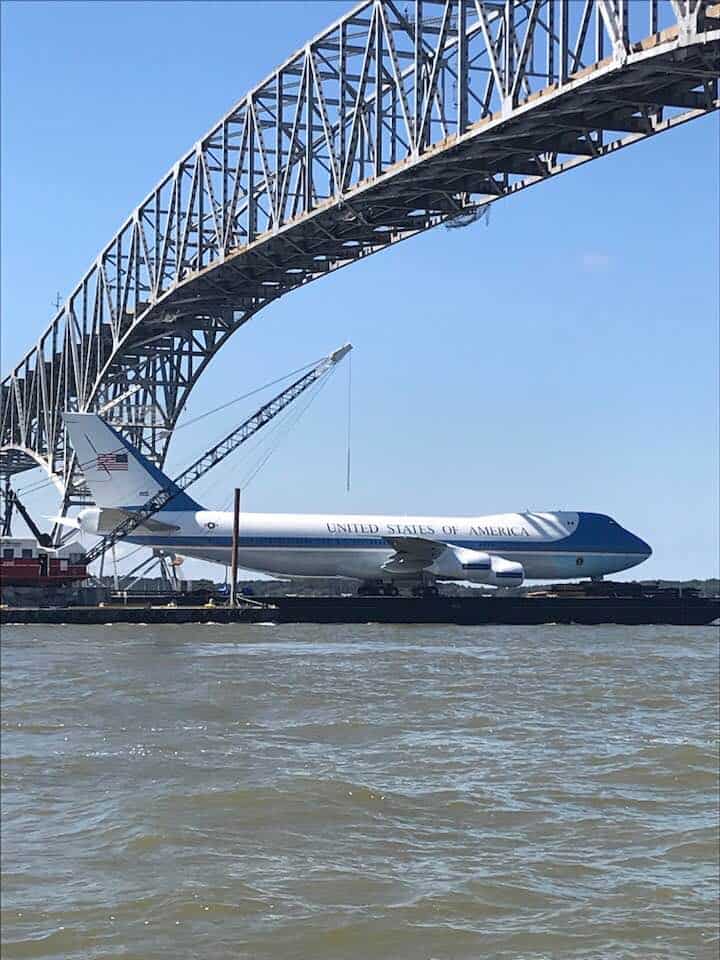 A U.S. Coast Guard Notice to Mariners warned, "Mariners are urged to use extreme caution when transiting in the vicinity of the lead towing vessel SEA CRESCENT while it is engaged in towing the barge carrying the B747, and remain well clear of the SEA CRESCENT, its barge, and the ISLAND TRADER."
The Air Force One Experience will open at National Harbor on October 19, according to its website. Ticket prices range from $15 for children to $35 for adults at peak times, with discounts for military service members, college students, and seniors. For more information on the exhibit, click here.
-Meg Walburn Viviano