The Virginia Institute of Marine Science (VIMS) is taking bathymetric surveys to a new level. These surveys, which map the depth and shapes of underwater terrain, are usually conducted by research vessels. However, VIMS is using a high-tech robot to map waters that are not accessible to traditional research vessels.
Dr. Grace Massey, who has been surveying oyster reefs for VIMS, needed a tool to survey the shallows she could not reach with the VIMS survey fleet. The answer was a robot craft named Louie. He looks like boogie board with electronics on top and an alien-looking transducer on the bottom. He is colored in red, white, and green, resembling the flag of Italy. That's how he got his name. Someone thought the robot looked like an Italian flag, so Luigi was suggested as a name, but that was shortened to Louie.
According to Dr. Massey, "Louie can operate in water that is only a few inches deep. I carry spare props just in case one gets damaged. And, once Louie is programmed, we can just let him run his grid pattern all by himself." Occasionally Louie wanders off course. "I can always take over manual control any time I need to, "chuckled Dr. Massey.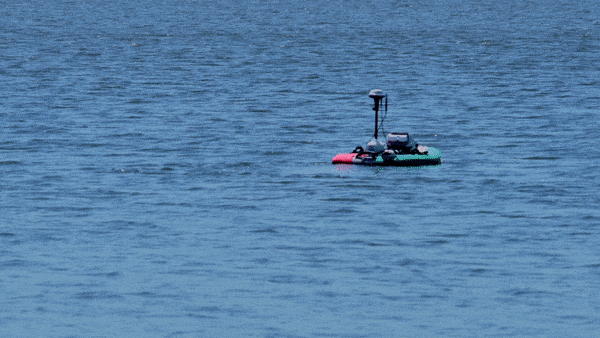 Louie is guided by a base station that is set up in a stationary location on shore. Dr. Massey and her
crew use a chase boat to transport Louie to his starting position. From the chase boat, they can monitor Louie's progress from the safety of deeper water.
These oyster reef surveys were funded by the Virginia General Assembly. The goal is to have accurate surveys of man-made restoration reefs. When Bay Bulletin caught up with Dr. Massey and Louie, they were surveying the oyster reefs in the Lafayette River near the Norfolk International Terminals. That reef contains a mix of structures such as hard bottom, mounds of oyster shells, and concrete reef balls. They also surveyed the reefs off the Hermitage Museum.
According to Dr. Massey, the results of the surveys will likely be made public at some point, but at this time she did not know when or in what format. Oyster reefs are popular with anglers but hazardous to boaters, so Bay Bulletin will let you know when the survey results are available. In the meantime, if you see this little robot scooting across the water, please stay out of his way.
-Kendall Osborne