You've passed by it a thousand times.
"And the times, they are a changing…" —Nobel laureate Bob Dylan
If you like boats, and old boats in particular, and you travel up and down Route 50, Maryland's busy highway to the ocean, you must have noticed Marine Mart and American Outboard. They sit across the road from each other, a mile or so apart, halfway between Wye Mills and Easton, and it seems as if they've been there forever.
They are wild and overgrown and out of place and time, museums for old boats and motors and trailers plopped down in a landscape of grain fields, fast-food shops, motels, strip malls and convenience stores. They're places where broken things got taken to get fixed, and if they couldn't be fixed got tucked away somewhere so their bits and pieces could be used to fix other things some day, or maybe never at all.
I'd sped by these places for years, racing along to St. Michaels or Cambridge or the beach, eyes fixed on the destination. Then one day, heading east, I slowed and turned into Marine Mart, which has a big iron gate at the entrance and a winding lane past boats and trailers and mounds of castaway motors leading to the main building, a sprawling, yellow wooden structure tucked against the headwaters of Skipton Creek.
"The county wouldn't let us put up a sign" on the building, explains the proprietor, Irvin Horn, a gray-haired, barrel-chested graduate of Easton High who was raised upstairs from the shop, on the top floor of the two-story structure his mom and dad, Ruth and Victor, built from scratch. Because they lived there, it was considered a residence rather than a business, he says with a rueful shake of his mane, so no sign was permitted.
Nonetheless, it's where he's worked on boats and outboards from the time he was big enough to turn a wrench, and he'll soon be 70. First, though, there was a house to build.
"Everything you see here was built with our own trees, poplar and beech," says Irvin, casting a glance across the low-slung pole barns and sheds that dot the 4 ½-acre tract bordering the tidal creek. The farmer who owned it sold the patch to his dad in 1955, when Route 50 was built and the new highway cut off this little, untillable corner from the rest of his farm.
"The whole place was nothing but trees. My dad had them cut down and he hauled them to the sawmill in Cordova on an old farm wagon. They milled them down to timbers that we hauled back here and started building."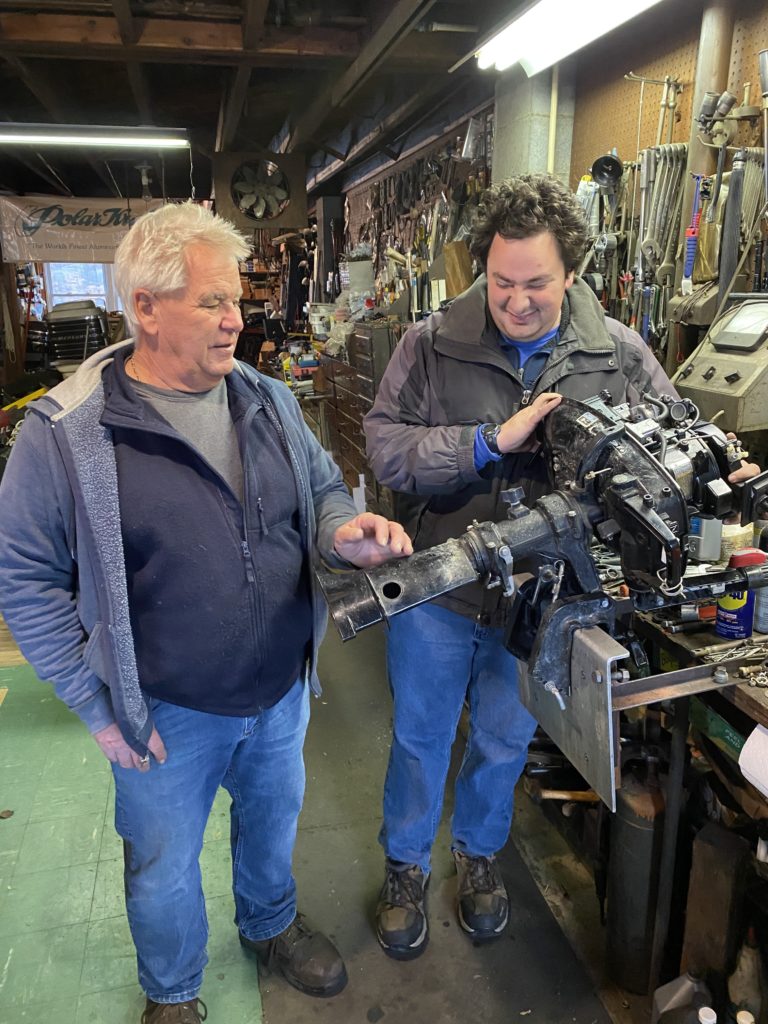 When the main house and shop were finished, Victor moved his official Mercury Outboard dealership and his family over from Easton and began selling and fixing boats and motors. Irvin learned the trade by osmosis, at his father's knee. And so it went, 40 years and more from the 1950s to the turn of the new century, when Victor Horn figured it was time to retire and sell the business to his son, who was keen to take over. "It's all I ever did," says Irvin.
He was in his element. "From the 1950s through the 1980s, outboards didn't really change that much," he says. "You give me an old two-stroke motor that don't run, I can give it back to you in two or three days with everything right—rings, cylinders, carburetors, all fresh and running like new."
Nor was it boring. "Not like on an assembly line where you do the same thing day after day. It's challenging fixing things. It makes you think. You get deeply involved in something."
Then, as we all know, along came computers and fuel-efficient four-stroke motors, more like automobiles than marine engines. For old-time mechanics like Irvin, who does not speak computerese, they get harder to work on every year. "The new stuff, it's not repair. It's just parts-replacing. You plug it in, the computer tells you what's wrong, and then you start replacing things. With the old motors, it was knowing the technology and how it works. It made you think."
As the landscape changed, business slowed and by 2010, Irvin had to drop his official relationship with Mercury. The head office demanded a certain level of sales every year for certification, and Marine Mart was not keeping up.
It was a blow, and a warning sign, but Irvin has a son, Dylan, who is a chip off the old block. Irvin hoped the next generation could make the jump to the new technology and maybe save the operation. Dylan, now 23, gave it a go. He worked alongside his dad as a youngster, learning the things you learn by doing, then after high school went to a marine technology school in Florida for a year and tackled the new language. "I got my degree," says Dylan, who still works with his dad as Irvin once worked with Victor. "But it was kind of a pain."
Unlike the old two-stroke motors, the newer, microchip-driven outboards are constantly being updated and upgraded. Technicians need to keep up, and Dylan found he did not love the work. "You need training every year, and I didn't take it."
It doesn't help that the Horns stayed wedded to Mercurys, which had kept the place going for so long. I once asked Irvin if he could help me out with a balky Johnson I owned that needed some love. He said he didn't work on Johnsons.
"It's not that I can't," he said. "I won't!"
If I knew then what I know now, I might have taken that motor across the road to Dora Kawalek and her two grandsons at American Outboard, which has the same worn, overgrown appearance as Marine Mart, with old boats in the yard and dimly lit rooms full of antique outboards and parts inside, in various stages of repair and decay. Dora's place is a little fresher—they opened in 1985—and her grandsons are well versed in the computer world, though they still prefer the older two-strokes, and specialize in digging up parts for antique motors that folks can order online from across the country and around the world.
But Dora's place is a story best held for another day. They'll be around for some time.
I'm more concerned with the sad prospect of one day crossing Skipton Creek on my way east, taking a glance to the right halfway up the hill and finding no more the emerald-green oasis called Marine Mart. No more acres of boats, motors, trailers, hoists, consoles, bearings, gaskets and carburetors. No winding lane, no smiling Irvin, scratching his head to reflect on where he might dig up a replacement for that tilt-and-trim part you need, or some springs for your sagging boat trailer.
"I'm getting ready to retire," he says, "and I'm not sure the boy is going to keep it going."
"It's a pretty piece of property," I say. "Someone will surely want to buy it."
"You think?" he says.
Let's just hope it's not just another soulless convenience store.
Angus Phillips was outdoor editor of The Washington Post for 35 years, covering the fishing, hunting and boating scene both locally and globally. He's lived in Annapolis since 1983.