We were making good time now. The beefy deadrise fishing boat cleaved wide the Chesapeake's glassy surface like a hot plow over fertile earth, leaving white foam and bubbles in its path. The diesel engine hummed a throaty tune, oddly in-sync with the idyllic environs. Soon the passengers, once giddy and chatty with excitement as we boarded, settled in for the trek from Deal Island to the rockfish grounds where the Bay meets Tangier Sound. Across the stern, the sun crept ever higher over the vast marshland. Like us, it was seeking out the promise of a new day full of big ocean-run rockfish, camaraderie and a few laughs.
This memory from several years ago is as fresh and vivid as if it happened an hour ago. I can still smell the fried chicken and the spicy hard-boiled eggs slathered in Old Bay, and taste my first cigar of the day chased by a cold beer. Did we catch our limit that day? What was the hot lure? Who caught the largest striper?
I haven't a clue anymore, but I can say that this singular recollection kicked off a cavalcade of opening day memories and of many past Aprils, the month that marks the start of the fishing season for so many of us.
These clips reveal themselves in no particular order, but rather as a collage of recollections from scores of trips over two decades from the top of the Bay down to Tilghman Island and Chesapeake Beach and points farther south where the Bay waters open wide. Each place presents opportunities as exciting as the next, and we make each chase in honor of the mighty striped bass, an iconic fish so revered it is Maryland's official fish. But, does Maryland possess a proprietary lock on the striped bass? It does not. Virginia, Rhode Island, New Hampshire, New York and even South Carolina also boast the striper as their state fish.
This silvery fish, with a tail as stout as an oar and glinting green flanks highlighted by stripes, is coveted by commercial and sport fishermen and women from Maine to the Carolinas. Its history is at least as long as that of the great American experiment, and, like our country, has sometimes teetered on the brink of collapse. Despite being nearly loved to death from time-to-time, the species endures and so too our relationship to it.
On the Bay, trolling is the traditional method charter captains and thousands of sport anglers employ to catch a spring trophy during the month-long pursuit of large ocean-run stripers. Using heavy boat-rods and reels loaded with 40- to 60-pound test line, anglers drag lures of inventive if not nearly magical names on Billy Bars, tandem rigs and umbrellas. Those who do well consistently use painted lead lures tipped with white or green nine- to 12-inch soft plastic baitfish imitations that mimic the herring and shad also pulsing up or down the Bay, either pre- or post-spawn.
As popular and effective as trolling is, it is not the only way to get in on the action. At the most basic level, you can cast bloodworms or cut bait from a pier or the shore. The Matapeake pier, Chesapeake Beach and Sandy Point come to mind. You can also anchor out and chum fresh menhaden over natural oyster bars such as Hackett's Point, Podickory Point and Love Point.
Light-tackle and fly-fishermen head to the Susquehanna Flats for a special spring opportunity to pursue big rockfish in shallow water. The main difference here is that the Susquehanna Flats season is strictly catch-and-release and runs only until May 6. If past is prologue, we can expect one to three days of good fishing followed by much slower action, sometimes lasting as long as a week, if the weather turns sour. Like their kin swimming in the Bay, Flats stripers target forage fish (shads and herrings) in the six- to 12-inch range, so your lures and flies should resemble those baits both in profile, action and color. Big, gaudy rattling, topwater plugs are the norm, especially during low light, to bring a monster strike. While the mythology surrounding the Flats bite has fallen some in recent years, it is still possible to hook a huge fish in shallow waters (3 to 7 feet). The reality, however, is most rockfish caught and released are males under 30 inches. And often the fish will seek out deeper edges (10 to 20 feet) at different times of the day, so be prepared to move and change tactics.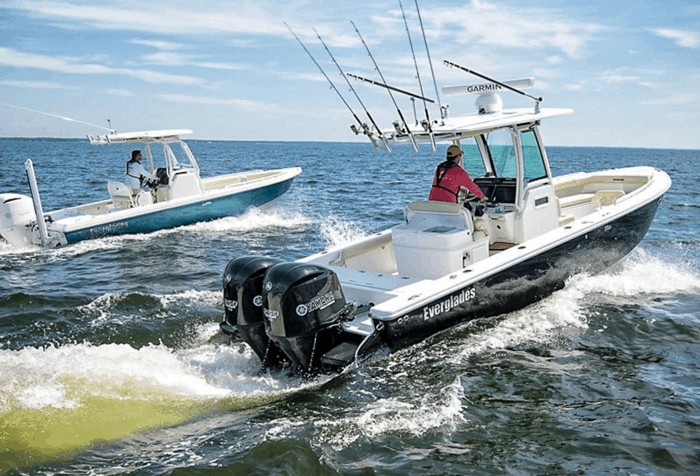 Of the many Flats trips I've guided anglers, one stands out. Much of the day was spent in search of clean water and tolerable water temperatures (54°F–60°F), critical for success. Both were as scarce that day as a carb-fueled buffet at a South Beach fashion show. It was shaping up not as a fishing trip but a tedious boat ride. If the grown father-son anglers aboard, who had fished Montana's sweet waters for trout and Florida's flats for tarpon, didn't mind, how could I? Unlike other accomplished fishermen who tell tales of chest-thumping conquest, theirs were sinewy experiences rich in humor, humility and humanity. It happened when we least expected it, of course. The patriarch made perhaps his 100th cast of the day. Only this time, the rod bowed deep, and the reel screamed as the big fish burned line. After some pandemonium he gained control and deftly coaxed a nearly 40-pound post-spawn cow to the boat. It was a good fight, masterfully played, and long enough to gratify the gentleman on his 80th birthday, yet swift enough to minimize any appreciable stress on the fish.
My anglers were quizzical when I pulled a cradle net from beneath the gunwale. Cradle nets were designed to handle catch-and-release large musky and northern pikes. Some Chesapeake light-tackle guides and anglers have adopted them for more careful handling of these big rockfish. The angler brought his fish alongside, and I scooped her up flat. Her entire body weight was evenly distributed and supported by the rubberized cradle. I never laid a hand on the fish except to remove the hook from the corner of her jaw.
I'd be remiss not to mention other fish worthy of our attention in the spring. In late March and April, you can have a blast throwing flies and small lures to both hickory (jacks) and American (white) shad. For the jacks, the upper James, Rappahannock, Gunpowder rivers and Octoraro creek host this annual shad party. The upper Susquehanna the Potomac below Great Falls (Fletchers Cove) can be prime for the larger white shads.
As I wrap up my inaugural Chesapeake Bay Magazine column, I'm certain other anglers are also dreaming of their own season openers. What that exactly means for you, however, I won't presume to say. I can only tell you that once I hold my season's first ocean running rockfish, I'll again tumble into rapt curiosity over what that fish's life under water might be like. It's likely that a tinge of melancholy may overcome my knowing that I'll never know its secrets. Yet I'll happily maintain a deep appreciation for this wild fish, oblivious to my existence until the moment our eyes meet.