The blue crab population in the Chesapeake Bay remains healthy despite the year's chilly temperatures and ice cover, according to the 2018 Blue Crab Winter Dredge Survey.
Sampling in the Bay during the 2017 Blue Crab Winter Dredge Survey. Photo: Maryland DNR
The survey results, released by the Maryland Department of Natural Resources (DNR), show that although the adult crab population declined due to the year's cold and ice, the number of young crabs that made their way from the Atlantic Ocean to the Chesapeake, where they grow and mature, increased by 34 percent in 2018.
According to the DNR, the bay-wide population decreased from 455 million last year to 371 this year, likely attributable to the overall decrease in adult crabs. The survey found that the spawning female stock decreased 42 percent, and the adult male crab population declined nearly 25 percent. However, the adult female abundance was among the 10 highest recorded in the survey's history, and the juvenile crab count reached 167 million, a 34 percent increase.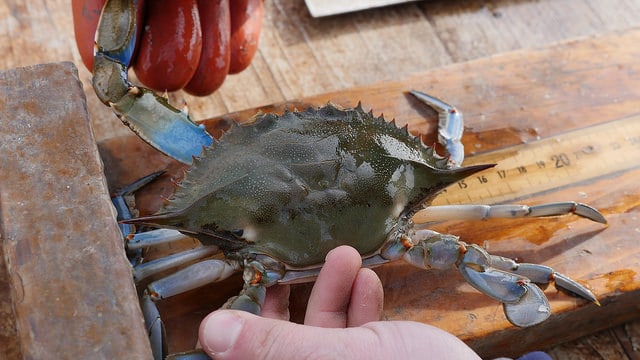 Mark Belton, Secretary of Maryland Natural Resources, says the results indicate that efforts to manage blue crabs are working. "Even with the erratic weather, which included snow in April, the blue crab population remains well within parameters, showing that the state and our partners are managing the species well." Chris Moore, Senior Regional Ecosystem Scientist with the Chesapeake Bay Foundation (CBF), agrees. "Conservative, scientific management, designed to ensure a robust female crab population, is paying dividends," Moore says.
Glenn Davis, Chesapeake Bay Stock Assessment Committee Chair, says that even though the number of spawning-age females is down, it's above the minimum number considered safe. The amount of young crabs is encouraging, too, he says. "Last year we had very few young crabs entering the bay. Those juveniles grew through 2017 and endured this year's cold winter to become the 2018 class of spawning adults."
Conducted by the DNR and the Virginia Institute of Marine Science (VIMS) since 1990, the annual Winter Dredge Survey captures, measures, and releases blue crabs at 1500 sites in waters more than five feet deep in the Lower Bay, Middle Bay, and the Upper Bay/Tributaries from December through March.
To learn more about the survey, click here.
-Laura Boycourt