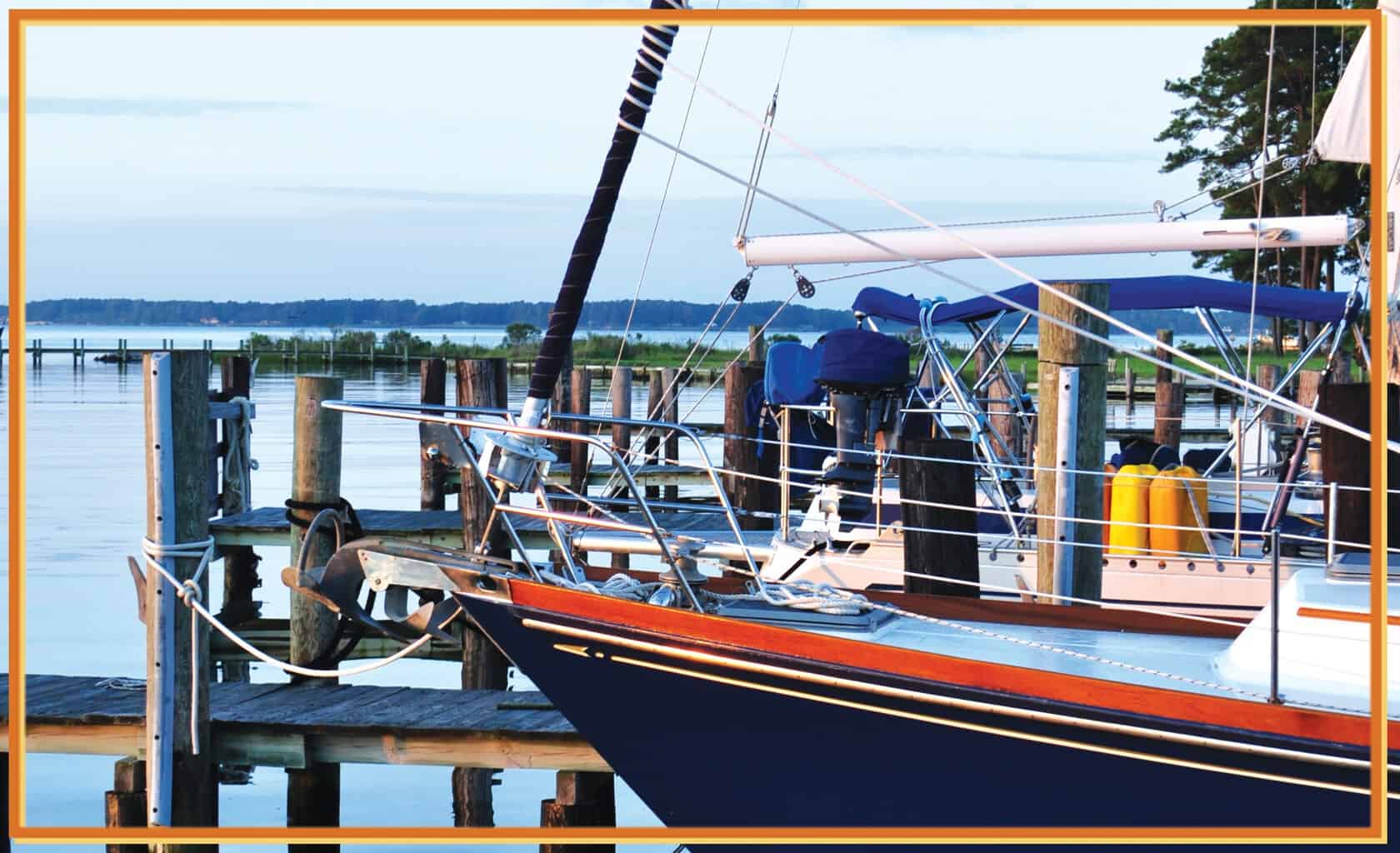 The singular town with more boats than residents
---

The popularity of Deltaville as a summer destination seems like an anomaly. On the one hand, Deltaville is not officially a town at all. It is more like a crowd of boats with a sprinkling of people. Yes, it has a good hardware store, a couple of restaurants, several fun shops and a post office, but really, that's about it. There is no downtown in downtown Deltaville. Why then does it also have a dozen good-sized marinas and boatyards, a fist-full of busy fishing charters, a good-sized West Marine and a first-rate little marine museum?
Take a good look at the map and the answer will become clear. Deltaville's pointy peninsula sticks out into the Chesapeake Bay like Jimmy Durante's nose. It is bounded on the north by the lovely Rappahannock River, on the east by the Bay and on the south by the charming Piankatank River. In other words, Deltaville is not near anything, and there's not much there when you're there, but it is nearly surrounded by some of the best sailing, cruising, fishing and paddling waters on the entire Chesapeake. Which is why Deltaville proudly declares itself the boating capital of the Chesapeake Bay.

Take a look around Deltaville and you'll find it hard to put your finger on just where the town is. The answer lies along the shoreline. Yes, there is a main road in, and there are a few local roads, most of which wander briefly through quiet neighborhoods before ending at the water. That makes trying to see Deltaville by car a fairly trying business. You'll discover that you are better off touring the town by boat, whether you arrive on your own cruising boat, you tow it behind your car, you bring it tied to the top of your car, or you charter it after you get there. Because that's the heart and soul of Deltaville: marinas and boatyards. Everything else is pretty much incidental. From Broad Creek off the Rappahannock on the north to Stingray Point on the east and Jackson Creek and Fishing Bay off the Piankatank on the south, it's all about the water. And it has always been that way. Deltaville began as a center of boatbuilding and, when that industry faded, evolved into a center for recreational boating.
Its western-most point is Stingray Point, where explorer Capt. John Smith was stung by, yes, a stingray. He thought he was a goner but recovered sufficiently to enjoy roast stingray and mashed potatoes that night for dinner. (Just kidding about the mashed potatoes.)
Getting around to restaurants, shops, maritime museum, hardware store and West Marine without a car can be a little bit of a challenge from most of the marinas. Bicycles are a good option, and several of the marinas can provide them. Marina loaner cars and friendly residents work as well.


If you are coming by boat
Deltaville lies roughly 50 nautical miles north of Norfolk/Portsmouth and about the same distance south of Solomons Island. It is more than 90 nm south of Annapolis and Baltimore. This makes Deltaville a popular stop for boats cruising up and down the Bay. But when you are looking for a fun weekend on the water, you will probably want to save Deltaville for one of those long weekends you've had in mind.
Once you reach Deltaville, you'll have three choices for finding a marina or a place to drop anchor. All three are good options. Two are well-protected from just about any kind of a blow; the third is perfect for maximizing those sultry summer breezes, yet it is well-protected from northerlies. All have marinas, boatyards and anchorages. Of course. This is Deltaville.
Let's take them one at a time. If you are coming from the north, Broad Creek off the Rappahannock makes the quickest approach. It is well marked and lined with marinas. Word to the wise, however: Broad Creek is subject to shoaling at its entrance, so follow the markers carefully and keep one eye on the depth sounder.
If you are coming up from the south, follow the channel markers into the Piankatank River, being careful to avoid the shoal off Gwynn's Island. You can cut green "3" by about half a mile, but keep an eye on the depth sounder. About two and a half miles inside the Piankatank, just past green "5", look north and you'll see the first markers for Jackson Creek. The channel is a bit complicated at first glance (midway, it makes a sharp dogleg to port), but follow the sequence and you'll be fine. Once in, you'll find two branches. To starboard, you'll find a marina and boatyard and a couple of good places to anchor. To port, you'll find Fishing Bay Yacht Club and several well-protected anchorages.
Finally, if you continue up the Piankatank around Stove Point Neck—watch the mile-long shoal—you'll soon find yourself aiming toward Fishing Bay, a lovely natural harbor; one of the Bay's most famous. Boats from all over the world drop anchor in this deep and relatively protected bay. Some summer nights the bay looks like a city of lights. Here too you will find one of Deltaville's oldest boatyards and a very comfortable marina.
If you are trailering in
From Baltimore, your best bet is to follow U.S. 301 south to U.S. 17. From Washington, choose either the Beltway to the U.S. 17 exit toward Fredericksburg or cut over on U.S. 50 or S.R. 4 to 301 and then down. In either case, leave 17 at Saluda and follow S.R. 33 into Deltaville.
From the Hampton Roads area, find your way to I-64 and then U.S. 17 north. Leave 17 near Gloucester on S.R. 14, then north on S.R. 3 and finally S.R. 33. Whew, it's shorter than it sounds, only about an hour and a half from Norfolk. The Washington/Baltimore jaunt is considerably longer, three and a half to four and
a half hours.
Well, your maps app can handle all of that. The important thing is: Where are you going to launch the boat? For a boating-crazy town, there are fewer options than you might think. Here are your choices. In Deltaville itself, you can launch at either Norview Marina or nearby J&M Marina. Both will cost you $10 in launch fees and both will set you out on Broad Creek. J&M's ramp is probably the better of the two, especially if you need much depth to launch and recover. Outside of Deltaville, you can launch on state-owned Mill Creek Landing in Wake, Va. Follow the boat-ramp signs off S.R. 33 before you get into Deltaville. The parking area is a bit tight and it can get crowded, but it's open 24 hours a day.
If you are launching a kayak, canoe or SUP
Take a look at the general driving directions above or use your map app to get to Deltaville. Once there, you will need to use a little ingenuity to find places to put in. You can launch from the boat ramps at Norview Marina and J&M Marina on Broad Creek, and any number of the other marinas and boatyards have areas where a launch is possible off the docks or shoreline. In addition, there is what was once a town dinghy dock on Jackson Creek at the end of Lovers Lane that may work. At low tide, though, it's a wicked drop from the pier, but a land-launch might be possible. Alas, there is no parking. Finally, also on Jackson Creek, Fishing Bay Yacht Club, which has launch areas for its small-boat fleets, may be able to accommodate you in quieter moments.
If you'd like to arrange for a boat
No boat? Chartering a sailboat in Deltaville has a lot going for it. You can stay on it while in town. Anchor out. Spend your holiday out cruising the middle and lower Bay. We recommend Norton Yachts, where you can charter any of several Hunters and Jeanneaus.
Rather charter a fishing boat and captain? Deltaville has them aplenty Here are just a few: Restin' Easy with Capt. Trip Mathews out of Norview Marina, Patty Lee II with Capt. Berend Tyson out of Snug Harbor Marina on Fishing Bay and Miss Ella with Capt. Tom Narron at 804-370-7394. There are plenty more. You'll find a list here.
What about renting a paddle craft? Try Jackson Creek Outfitters for renting kayaks, paddleboats and small sailboats. You'll find them at Deltaville Marina. They are also a good source for paddling suggestions in the area.


Marinas
Deltaville may be a little light on boat ramps and four-star restaurants, but it more than makes up for all that when it comes to fishing and cruising boat facilities. In fact, once your boat is afloat, Deltaville has just the right place for your weekend adventure. It has so many right places that we don't have room to mention them all here. Instead, we'll do what we did with that other boating capital, Annapolis, and just give you a few of our favorites. It's a tough job, but that's what we're here for. So, we've limited ourselves to one for each of Deltaville's three boating destinations.
Broad Creek
This is the toughest choice because this short, sweet Rappahannock River tributary has nearly a dozen marinas and boatyards, each with its own advantage over the others, from Stingray Point and Regatta Point marinas at the east end to Chesapeake Cove Marina at the west end, where Bob and his son Bo reign supreme. We could have picked any of those, or Norton's, Norview's or Walden's.
Instead, we're going to single out a sentimental favorite, Deltaville Yachting Center, which is located in a cove of its own about midway up the creek. Lew and Onna are always friendly and helpful. They have a good service yard and there is a loaner car. We enjoy the room to walk the dogs (always important), the bit of nature around us, and our dockmates, who are welcoming and have good stories to tell (like discovering a young fox that had inadvertently wandered into their forward berth one night).
On Broad Creek, you will find gas and diesel at Norview's, Norton's, and Chesapeake Cove marinas.
Jackson Creek
This one is easy because our choice is the only marina on Jackson Creek. But we'd single it out anyway. Deltaville Marina and Boatyard has all the usual amenities of a modern marina, from restrooms and showers to loaner bikes and a loaner car. It has an extensive repair facility and a new floating fuel dock. All of that is good, but what makes Deltaville Marina and Boatyard particularly appealing to us is that it is the only one of two Deltaville marinas within walking distance of restaurants (Café by the Bay, 18 minutes), the hardware store (Hurds, 20 minutes) and West Marine (30 minutes). It is also next door to the Deltaville Maritime Museum.
Fishing Bay
Here's another easy choice. If you are looking for a marina rather than an anchorage on Fishing Bay, head for the little lighthouse on the dock at Fishing Bay Marina. We love stopping here so we can spend hours wandering past the workboats in the covered slips (we always find covered slips quite wonderful and mysterious), then rounding the basin and exploring the boats in the slips on the other side. Did we mention the pool? It's terrific. And there are the usual amenities and loaner bikes.
Fishing Bay Marina is the other Deltaville marina within reasonable walking distance of "town." West Marine is about a mile up the road. And our favorite Deltaville restaurant, The Table at Wilton, is 30 minutes away on foot, as is J&W Seafood.
Fishing Bay is not a big marina, but it's a very comfortable one. We always feel immediately at home. You'll also find gas and diesel here.
If you need work done, you need not go any farther than Chesapeake Boat Works, an old-style working boatyard, right next door. It's all in the same Farinholt family as Fishing Bay Marina, as is Stingray Point Boat Works, a do-it-yourself and repair yard on Broad Creek.
Bed & Breakfasts
Whether you are keeping your boat in a marina or behind your car, you can opt for a special weekend ashore at Deltaville's Heaven Scent Bed & Breakfast, which is located in an old and beautifully restored farmhouse just off S.R. 33 (isn't everything in Deltaville?). Innkeeper Pat will even pick you up at the marina. Children and pets are welcome. Breakfast is delicious. The atmosphere is totally laid back. If you can't relax here, you have forgotten how.
Campgrounds
Here's a final good option for visiting Deltaville: Cross Rip Camp, which can accommodate tents and RVs. Water and electric are available. It has a small dock on the Piankatank near Jackson Creek with several slips, and makes a great place to launch a canoe, kayak or SUP as well as small sailboats such as Hobie Cats. There is a fresh water pond, lots of wildlife and trees and a sand beach on the Piankatank for swimming.

On the water
The Rappahannock River
Let's begin with what Deltaville does best. Its genius is to have some of the best boating anywhere right outside its door. Come out of Broad Creek and you will find yourself near the mouth of the beautiful Rappahannock River. Turn to port and cruise upriver to Locksley Creek, where you can stop for a lunch of fresh local oysters at Merroir. We'll have more on this in the Where to Eat section.
Cruise a little farther upriver and stop at charming Urbanna (a town that well deserves its own Weekenders story) with its unusual restaurants and auto parts/marine supply store, old downtown with historic general store and drugstore soda fountain, its marinas, and its elegant homes.
Want more? After the Norris Bridge, cross the river and cruise up Carter Creek to Irvington and The Tides Inn for lunch (another weekend-worthy stop). Then turn up the next inlet and find yourself on the enchanting Corrotoman River, with tributaries shooting off this way and that and deep water all the way.
Fancy some fishing instead? Simply leave Broad Creek and let go the lines. You'll have plenty of company in the waters at the mouth of the Rappahannock.
The Piankatank River
Leave Jackson Creek or Fishing Bay (or come around past Stingray Point from Broad Creek) and take a cruise up the little-known Piankatank. Explore Wilton Creek, one of the Chesapeake's best hurricane holes. If you can get under the 43-foot high S.R. 3 Bridge, spend the afternoon in the perfect little bay behind Berkley Island. Just keep an eye on the depth sounder to stay off the surrounding shoal.
Here's a great cruise off the Piankatank. Come out of Fishing Bay or Jackson Creek and head for the opposite side of the Piankatank, following the markers carefully (there are shoals off practically everything here) through Hills Bay until you come to green "1". Then you have a lovely choice. Either find green "1" for Queens Creek to starboard. It's a narrow entrance, which has recently been dredged to seven feet, with six to seven feet inside. There is a very secluded anchorage just inside.
Your other option here is one of our favorites—Gwynn's Island. From that original green "1", look directly south for green "3", then make the turn into Milford Haven following "3a", "3b" and then red "4". Just ahead you find 12-foot tall Gwynn's Island Bridge, Virginia's busiest swing bridge. If it's operational (it has a lot of issues) it will open on request. Just beyond it to port, you'll find an anchorage and the new slips belonging to the Hole-in-the-Wall Waterfront Grill. Stop in for a lunch of fresh local oysters and seafood, then stroll around to explore one of the Chesapeake's most unusual locations, including Callis Wharf, once a busy seafood wharf and steamboat stop, but now a busy oyster hatchery.
Continue up Milford Haven until you reach delightful Stutts Creek.
If you are braver than we are and have a shallow draft boat, you can try your hand at Hole-in-the-Wall inlet from Milford Haven out into the Chesapeake. It's tricky, full of shoals and devilishly difficult unless you follow a local skipper through. The Coast Guard has even thrown up its hands and removed their nav aids. On second thought, just turn around and go back the way you came.
The Chesapeake Bay
Come out of any of Deltaville's havens and you will soon find your way out into the Bay. Raise your sails and soar. Open up the throttle and whoop. Load up the bait and wait. It's all glorious!
Around town
Borrow a bicycle or loaner car, climb into the dinghy or paddle around the bend, but get yourself to Deltaville's pride and joy, the Deltaville Maritime Museum and Holly Point Park Nature Preserve.
If you want to understand Deltaville, you'll need to experience its museum, because it is the product of its residents, full and part-time. They love their museum, and rightly so.
When their museum caught fire and burned in 2012, the town mourned briefly then set to work building it back even better. The scheduled events went on as planned, and in 2014, the museum reopened with a grand exhibit of favorite Chesapeake marine artist John Barber's paintings. The building itself is constructed as an homage to its lost Stingray Point Hotel.
The real stars of the museum are its handsomely restored 1924 buyboat, F.D. Crockett, and the Explorer, the museum craftsmen's 2007 interpretation of the 1607 John Smith shallop. The museum's perennially sold-out boatbuilding week in July is the facility's Super Bowl.
Shopping
Need boat supplies? Deltaville is your place. For many years, tiny Deltaville had not one, but two West Marines. Now instead it has one jumbo-sized West Marine. Hurd's Hardware is located practically across the street on S.R. 33 (where else?). Hurd's Hardware is the kind of local hardware store that we all dream about—it has everything and then some. Hurd's, which has been around since 1946, knows its market and stocks its shelves accordingly. There are fishing and boating supplies, as well as a vast array of gizmos and gadgets and whatnots, enough to fix everything you own. All you have to do is ask.
Even the shops in town specialize in things of a nautical nature. Our particular favorite is Nauti Nell's, which, of course, is also located on S.R. 33 and has been a Deltaville mainstay since 1994. Founded by world cruisers who fell in love with Deltaville, Nell's is chock full of nautical items for gifts and consignment items for more practical purposes. It has books, DVDs and CDs, mostly dedicated to the Chesapeake Bay. You'll find several other fascinating shops along S.R. 33 as well, including a couple of antiques shops.


Dining in Deltaville
While restaurants are not Deltaville's forte, there are just enough good/fun ones to keep your palate pleased. Cocomo's is a laid-back tiki-bar affair, handy to marinas on the north side of Broad Creek. A word of warning though, Cocomo's has a history of closing, then reopening, then changing its name, then changing its name back, and so on. The bottom line is that we can't promise it will be open when you are there. We hope it is.
Café by the Bay will give you a good start in the morning with coffee and breakfast sandwiches or get you over the lunchtime munchies with sandwiches. For dinner, saunter down S.R. 33 to The Table at Wilton, which is also open for lunch and breakfast on Saturdays. So good!
For fresh seafood in Deltaville, bike or hike to J&W Seafood and Gourmet Market for local oysters, mussels, clams and, of course, fresh local crabs. J&W also has a nice bait and tackle shop. You can also get your Virginia fishing license here.
If you need groceries, drive or take a loaner car (okay, you can bicycle too) up S.R. 33 to the Deltaville Market, a small but adequate IGA grocery store. ⚓︎
---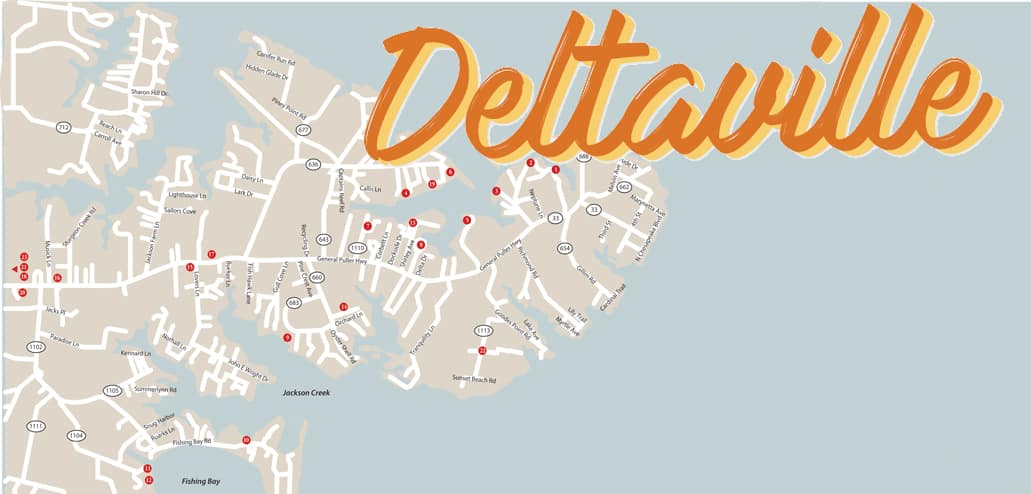 Points of Interest
Restaurants & Markets
Accommodations