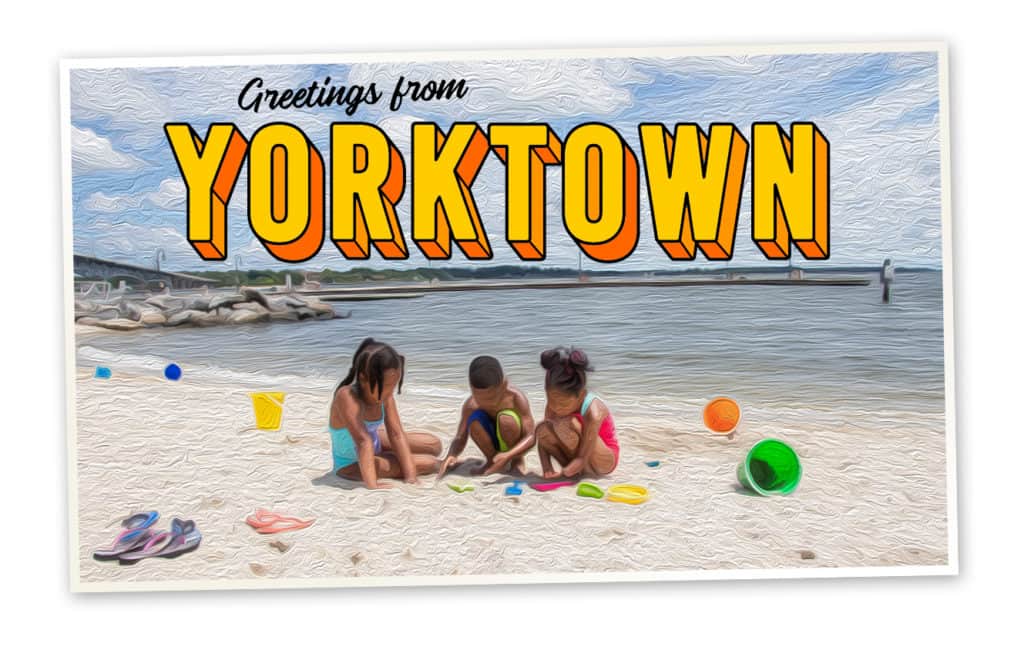 A long history and a very nice beach

You already know why you're going, right? Yorktown, scene of the last battle of the American Revolution—the one where Washington does some bobbing and weaving to fool the British. The French lend a hand with troops, some fancy naval footwork, and a bit of very good siege advice from the Comte de Rochambeau. You know how it turns out: General Cornwallis throws in the towel, the English cry "uncle," and we get our own country. Yes, that Yorktown. The thing you may not know is that in addition to all that first-class history, Yorktown also has a great marina, a great beach, a mile-long Riverwalk, restaurants, shops, and a watermen's museum. In addition, it's only a few leagues (that's Colonial-speak) away from Williamsburg and Jamestown.

As with nearly all our Weekends on the Water destinations, practically everything we're going to talk about in this section is within easy walking distance of your boat slip or on-land lodging. The distance from Yorktown's Riverwalk or adjacent Water Street on the north to Ballard Street on the south border of the village is only about two long blocks, and from Yorktown Battlefield Memorial on the east to U.S. 17 and the Watermen's Museum on the west is only about seven or eight short blocks, depending on your route. But don't be fooled; it may be a small area, but it's jam-packed with things to see and do.
Although Yorktown was settled by the English in 1691, only about half a dozen 18th-century buildings remain. Its colorful history of two wars, plus a devastating fire and its dwindling importance as a port city, resulted in the destruction of most of its earliest buildings. But there are some fine examples left, and the town itself has managed to meld the centuries in an entirely graceful way. The take-away here is that Yorktown is both fascinating and fun, while also being easy to visit, whether you arrive by boat and take a slip in the marina or you drive in (with or without
your own boat) and stay in one of the town's bed-and-breakfasts or at its waterfront hotel. Shops and restaurants are generally (but not all) clustered around the waterfront and Riverwalk, while the B&Bs and historic sites are sprinkled throughout.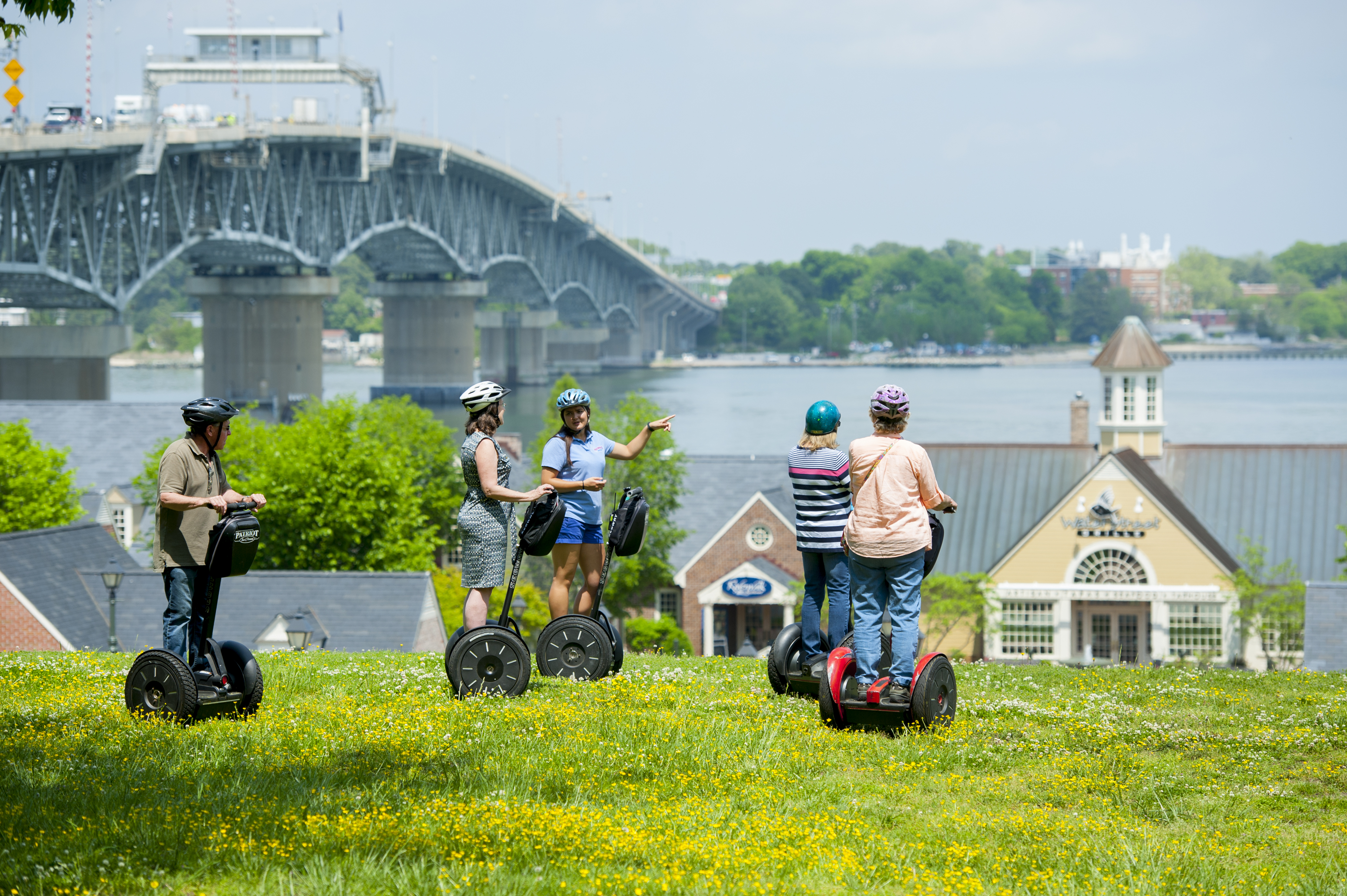 By boat
Yorktown lies seven miles up the York River on its south shore, strategically located at the river's narrowest point (half a mile wide) and opposite Gloucester Point. It is also tucked beside the modern-day George P. Coleman Bridge. While I have you, here are two interesting things about the Coleman Bridge. First, it's the only double-span swing bridge in the United States, and the second-largest in the world after a Suez Canal bridge. Second, it's the only bridge across the York River until after it splits into the Pamunkey and Mattaponi rivers 25 miles upstream.
For boaters, Yorktown is a convenient 25-mile trip from Portsmouth/Norfolk and just around the corner from Hampton. For those in the northern Bay, it's a lovely but significant trip down 125 miles from the Bay Bridge. For slower or less time-pressed cruisers, this means a couple of stops along the way: Solomons and then Deltaville, perhaps, though there are dozens of variations to be found. π
Once you've turned up the York, the most convenient plan is to dock at Riverwalk Marina, which is owned by the town. Be sure to call for current docking advice before you arrive because the flow can be quite brisk. If you want to anchor out, you'll find some very pleasant anchorages across the York inside Sarah Creek. You'll also find York River Yacht Haven there, which will provide transportation to Yorktown. There are more marinas nearby, including Wormley Creek Marina on the south shore of the York.
By car
Yorktown is about three to four hours from the northern Bay and about an hour from the Norfolk area.
If you want to launch your trailer boat, you'll find a nice double ramp across the river at Gloucester Point. Riverwalk Marina has slips for smaller boats. If you've brought your own paddle craft, you can launch it easily from the dinghy landing at Yorktown Beach on the east side of town.

Riverwalk Landing Piers
The town marina is clearly the most convenient. The long docks form a kind of breakwater against most of the chop, and current, in the river. And as long as the weather doesn't kick up a storm, this is an ideal spot for visiting Yorktown—everything is just a few steps away. If you get tired while in town, just catch a ride on the free Yorktown trolley, which circulates through town regularly. The docks are secure, with a gate code on the entry and restrooms. Water at the docks is 20- to 30-feet deep, so depth is definitely not a problem. Riverwalk Landing hosts Thursday evening concerts in summer and fall; it's delightful to sit on your boat and listen.
Duke of York Hotel
The Duke of York has the distinction of being Yorktown's only waterfront hotel … and, in fact, its only hotel altogether. It's architecturally unobtrusive and very comfortable. It's also right next to the beach (and everything else). And it has a pool.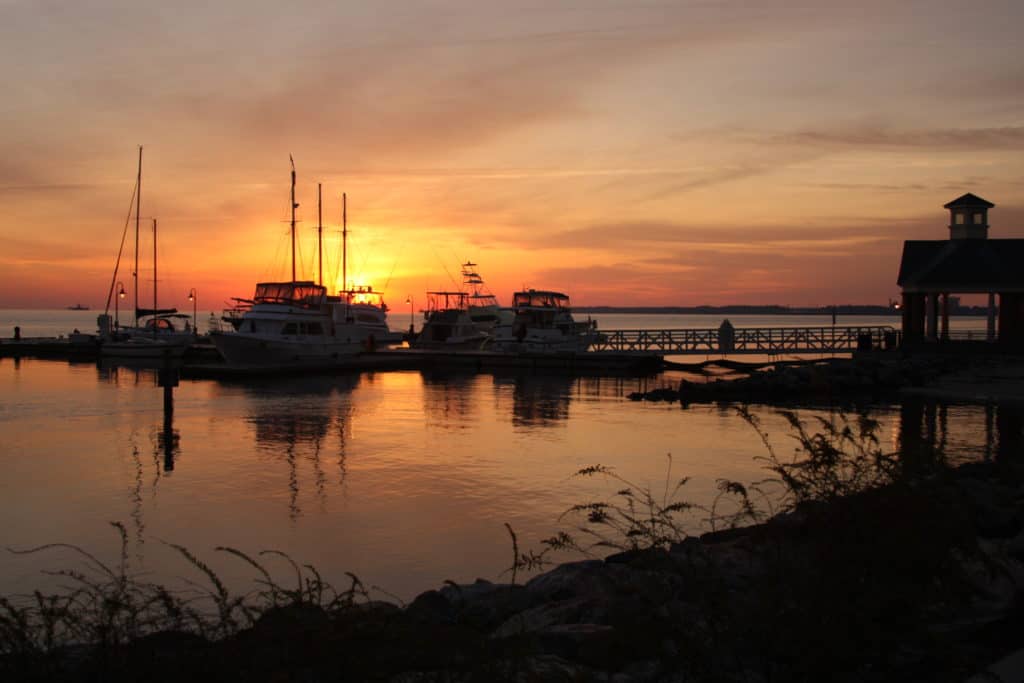 B&Bs
Sprinkled about town you'll find three excellent bed-and-breakfasts, and Yorktown Cottages. In our experience, you can't go wrong with any of these. It just depends on what you are looking for.
Hornsby House Inn is located on Main Street and has been a guest house for three generations. It is beautiful and elegant and looks exactly how you imagine a bed-and-breakfast in a historic village should look.
Marl Inn Bed & Breakfast, a modern, colonial-style home, is located on Church Street, which makes it easy to stroll into town and down to the waterfront. Like Hornsby, it has five guest rooms.
York River Inn Bed & Breakfast sits on a bluff above the river not far from the Watermen's Museum and the rest of Yorktown. It has three elegant guest rooms.
Finally, Yorktown Cottages is composed of two charming cottages, both on Ballard Street and both an easy walk from the town's sites and waterfront.

Immerse yourself in history … and download the app
The siege of Yorktown and subsequent surrender of Gen. Cornwallis to Gen. Washington was a pivotal period in the formation of this country. That's why, walking the streets of Yorktown, the past is never far away. Most of the town and its immediate area are part of the Yorktown Battlefield section of the Colonial National Historical Park, which also takes in the Colonial Highway and Jamestown. East of town is Yorktown Battlefield Visitor Center, where you'll find displays and a replica of a quarter section of a British warship, as well as the adjacent battlefield. To the west you'll find Yorktown Victory Center, which includes a recreated military encampment. In town, you can visit half a dozen sites, including the Custom House and the Moore House, where some of the pre-surrender negotiations took place.
The best way to keep track of where you are and what you're looking at is to download the Yorktown Tour Guide, available for free on your phone's app store. The best way to get around—and get some good information along the way—is the free Yorktown shuttle.
Take to the water
Even if your boat is tucked into Riverwalk Landing Piers, you will want to take advantage of at least some of Yorktown's opportunities for getting out on the water. We'll start with one of our favorites.
Not every town has its own dedicated schooner, but Yorktown does. The Alliance, a 105-foot long, three-masted schooner, sails out of Yorktown from Riverwalk Landing several times a day. The morning cruise is for young pirates, the afternoon cruises sail the York, and the sunset cruise is for, you know, unwinding after a long day of sightseeing.
Here's another good way to enjoy Yorktown by water: Visit Patriot Tours & Provisions and rent a kayak or SUP. Boats generally launch from the beach near the Watermen's Museum. If you'd rather keep your feet on the ground (or nearly so), Patriot Tours will rent you a Segway for a two-wheeled guided tour of Yorktown and the park areas.
Finally, if you'd rather just play in the water from shore, Yorktown has a string of very nice public beaches, beginning just east of Riverwalk Landing. You can also launch your own paddle craft from here.
Visit the Watermen's Museum
Follow Riverwalk west, under the U.S. 17 overpass, and you'll come to the Watermen's Museum, where you'll get a fascinating look at the traditional tools of the trade, boat models, and fishing displays. Inside, you'll learn about the life of the Chesapeake waterman. Outside the museum, you'll find a log canoe, engines, dredges and boatbuilding shed.
Enjoy seasonal entertainment and amusements
All summer long, Yorktown offers plenty of entertainment, including free Riverwalk concerts, a big and gloriously diverse weekend market, and periodic programs where you can "Stroll with a Historian." For these friendly academic perambulations, check with Mobjack Bay Coffee Roasters, which manages the tours. For the rest, check out Yorktown's website, visityorktown.org. And if, late in the afternoon, you believe you have fallen so deeply under historic Yorktown's spell that you can hear a fife and drum company, you're not dreaming. It's just a regular day's-end event in the life of this fascinating town.
Do a little shopping
Of course, you'll need to do a little shopping between serious historical touristing. Be sure to stop by Auntie M's American Cottage for one-of-a-kind crafts and Viccellio Goldsmith for one-of-a-kind jewelry creations. Both are along Riverwalk. Don't miss Yorktown Bookshop, where you'll find used, rare, and hard-to-get books, and Gangsta Dog for all the things you didn't know your dog needed. Look too for Black Dog Gallery, the Gallery at York Hall, and the Yorktown Arts Federation's On the Hill Gallery. And of course, all of those historic visitor centers you'll be visiting have their own gift shops as well.
Take a side trip by car
Yorktown is one point in Virginia's historic triangle. The other two points, Williamsburg and Jamestown, are only a few miles away. If you decide to visit, be sure to take the Colonial Parkway, also part of the Colonial National Historical Park. It's one of our favorite drives. This 23-mile route was built from the 1930s to the 1950s, and while you obviously won't feel as if you are back in the 18th century, you will get a feel for what it was like to drive many of America's highways in the mid-20th century. The idea was to create a road between historic sites that was free of commercial development, truck traffic, and billboards.

Breakfast and brunch
Traditional 7 a.m. ham 'n' eggs may be a scarce as hens' teeth in Yorktown, but that doesn't mean that you can't greet the new day with gusto and coffee. On weekends, you can add to the menu with more choices. Here's what we like. π
Day in and day out, you can wake up at 9 a.m. in a proper Yorktown style at Mobjack Bay Coffee Roasters and Petite Café, which you'll find at the top of the hill on Main Street in the historic Cole Digges house. In addition to fresh-roasted coffee, you can fortify with scones, croissants, and an assortment of breakfast sandwiches.
Not up until 10 or so? Then you can add the reliably delicious wonders of Carrot Tree Kitchens to your list of morning choices. Enjoy coffee and a couple of ham biscuits, or shoot—go straight for the carrot cake like everyone else.
On the weekends you can rise with the roosters and breakfast at 7 a.m. in the former Beach Delly location on Water Street. Larry's Alehouse & Deli moved its famous hard-lemonade business into the vacated storefront this spring, but you can get plenty of good deli and breakfast food here as well as coffee and tea. Then come back for lunch or dinner and enjoy the other, more potent goodies Larry's has to offer.
Also on the weekends, we recommend Water Street Grille, where you can sit outside overlooking the river and enjoy a sumptuous brunch. Our personal favorite? The crabcake Benedict, of course!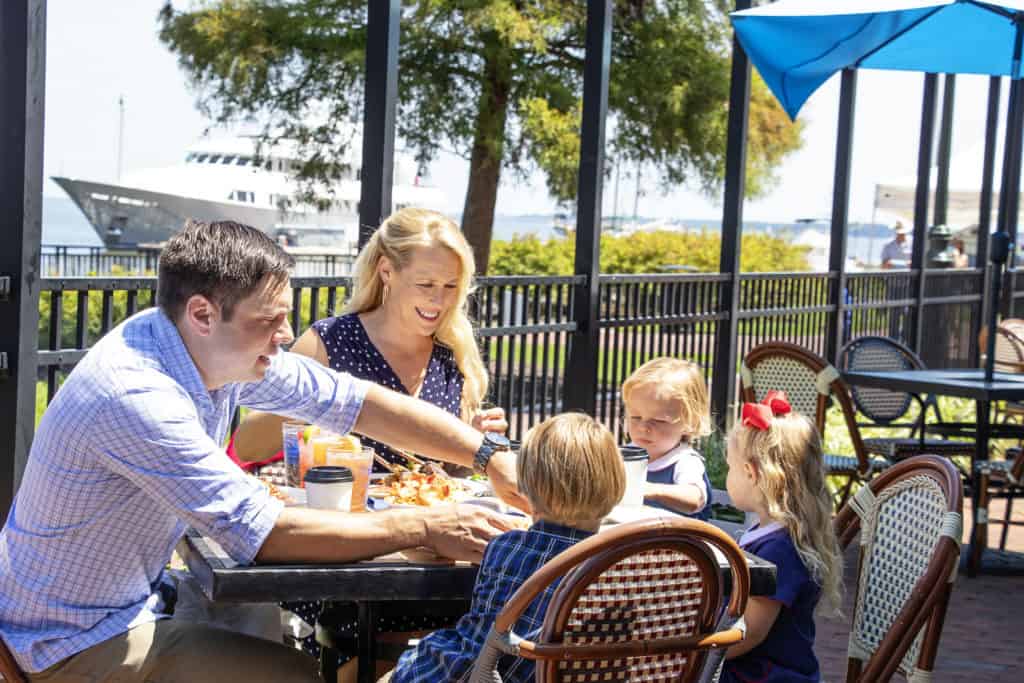 Lunch and dinner
Let's stick with the Water Street Grille while we're already sitting by the water. But now it's time for lunch or dinner. So how about local oysters, colossal shrimp, PEI mussels, littleneck clams? Or stone-oven pizza? Tapas? Whole fried fish? Steak frites? We know you didn't ask, but we always go for the house-made ceviche, and we almost never pass up the bouillabaisse, because it has everything in it. The Grille also has about 20 local beers on tap, and you don't even need to know what day of the week it is, because it will be open.
While we're at it, let's revisit two other favorites, Carrot Tree and Larry's Alehouse. At Carrot Tree, we recommend a cup of the Brunswick stew paired with a few of their signature biscuits for lunch. That should leave just enough room for one of their big desserts. Carrot Tree closes at 4 p.m., though, so don't count on it for dinner.
Look to Larry's well into the evening for its signature hard lemonades on tap, as well as local St. George brews and other area offerings. Look to Larry's too for fresh seafood and excellent sandwiches.
Now we get to talk about Umi Sushi, a Japanese-Korean restaurant that has been a Yorktown favorite for a number of years now. And there's good reason. Umi Sushi is located right on Riverwalk and is open for lunch and dinner. After warming up with one of the sushi combos, we go directly for the bulgogi dupbap.
That leaves the Yorktown Pub, which is just off the beach and is open from 11 a.m. to 11 p.m. We go for the gonzo burger. And, of course, they have craft beer on tap too.
Enjoy! ⚓️