Travis Pastrana has defied death as an X Games champion, motocross and supercross rider, NASCAR and rally-race driver, and performed record-breaking stunts. What does Maryland's most famous adrenaline junkie do next? Offshore powerboat racing, of course.
Pastrana, an Annapolis native, will join the Miss GEICO Offshore Racing Team for the 2020 World Offshore Championship Series. The stunt rider will share the cockpit of the 47-foot Victory catamaran with world champion throttleman Steve Curtis.
Curtis believes Pastrana's unique background will give Miss GEICO a leg up this season: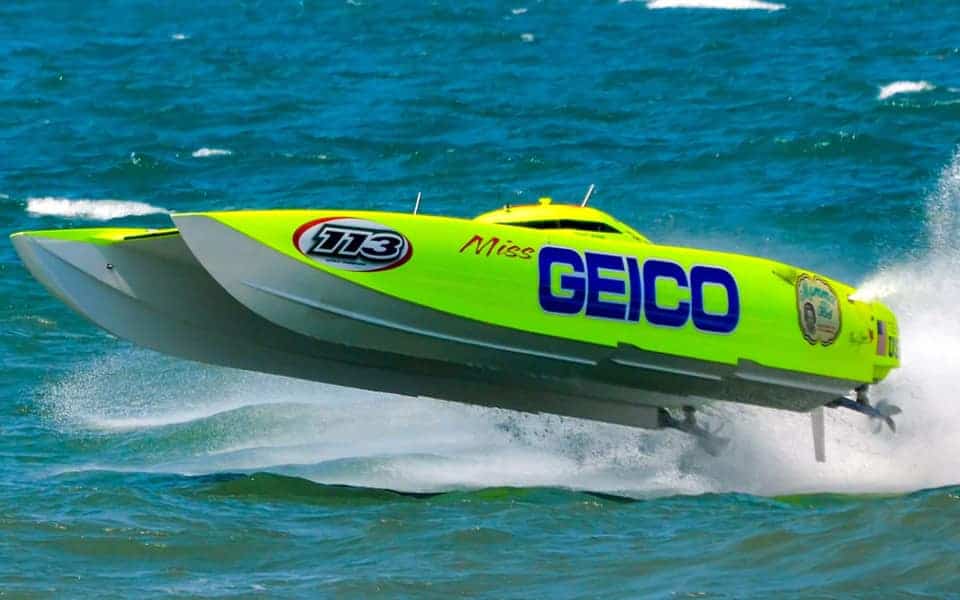 "As an expert in off-road motorcycle racing, Travis' ability to adjust to changes in the terrain will translate perfectly as the driver for the Miss GEICO Offshore Racing Team," Steve Curtis said. "With the increasing level of talent in the Class ONE race series, competition is at an all-time high. The 2020 season is guaranteed to showcase some of the best action ever seen in the sport of offshore racing."
Pastrana is known in the Bay region for his Davidsonville, Maryland compound, a mecca for dirt bike riding and partying known as Pastranaland. He runs his own motor sports live touring show called Nitro Circus. His upcoming offshore racing tour will look a little different.
Miss GEICO competes in Class ONE, against some of the fastest boats in the world. All the boats in the class have 1100-horsepower twin race engines, weigh exactly 11,750 pounds, and use the same propellor dimensions. Miss GEICO is made of carbon and Kevlar. This season Class ONE boats will compete in Cocoa Beach, FL; St. Petersburgh, FL; Sarasota, FL; St. Clair, MI; Michigan City, IN; and Fort Myers Beach, FL.
Pastrana can't wait to get started.
"Challenging myself on the highest possible level while having fun with some of the most passionate people on earth has been the foundation of my racing career," said Pastrana. "Last year, I had the opportunity to race my good friend Brit Lilly's offshore powerboat, and was introduced to the world of offshore racing. I am excited to learn from the best with the Miss GEICO team and see what running through the waves at 160 mph feels like."
When Pastrana is unable to attend a race, Lilly, himself an American Powerboat Association Hall of Champions Inductee, will take the driver's seat.
The Miss GEICO boat was on display at January's Progressive Baltimore Boat Show, but if you want to see it in action locally, the racing team will be back in October at Maryland Fleet Week and Airshow Baltimore, alongside the U.S. Navy Blue Angels and international Navy vessels, commemorating the 75th anniversary of the end of World War II.
–Meg Walburn Viviano