Photo: MERR, taken under NOAA permit #18786-03
In the midst of a string of humpback whale deaths on the Atlantic coast, a young female humpback has washed up dead on the beach at Cape Henlopen State Park, just north of Rehobeth Beach.
The dead whale was first spotted floating at the mouth of Delaware Bay, west of Cape May Point, on Saturday. By Sunday, it had washed up at Cape Henlopen. The Marine Education, Research and Rehabilitation Institute (MERR), which responds to all marine mammal strandings and emergencies in Delaware, examined the animal.
A MERR team performed a necropsy and determined the whale was a young female. Scientists are working to find out the cause of death, and studying samples to learn as much information about her as possible. Using photos and a genetic sample, they may even be able to find the identity of this whale.
This humpback whale is the 85th to die on the Atlantic coast since January 2016. The National Oceanic and Atmospheric Adminstration (NOAA) has since declared an Unusual Mortality Event for humpbacks from Maine to Florida. NOAA also "assembled an independent team of scientists to review data, sample stranded whales, and determine the next steps for the investigation."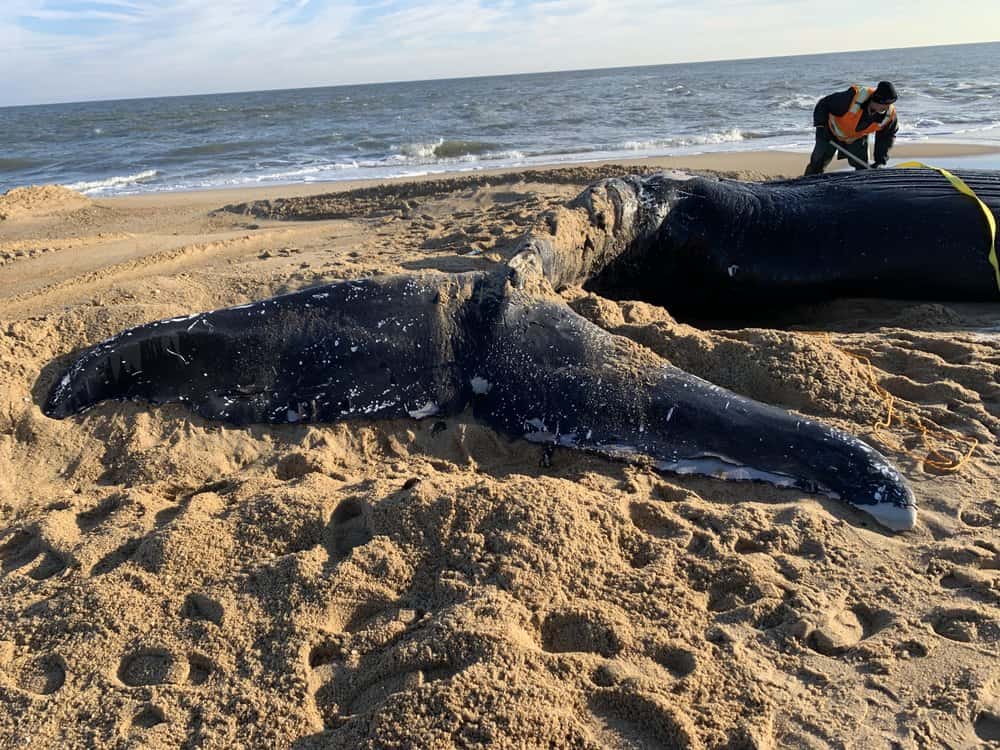 Jennifer Goebel, spokesperson for NOAA Fisheries Greater Atlantic Region, tells Bay Bulletin that some of the whales have shown evidence of boat strikes before they died, but that finding is not consistent across all the whales that have been examined. "More research is needed," Goebel explains.
The most recent whale has been buried, with the help of the Delaware Department of Natural Resources.
-Meg Walburn Viviano